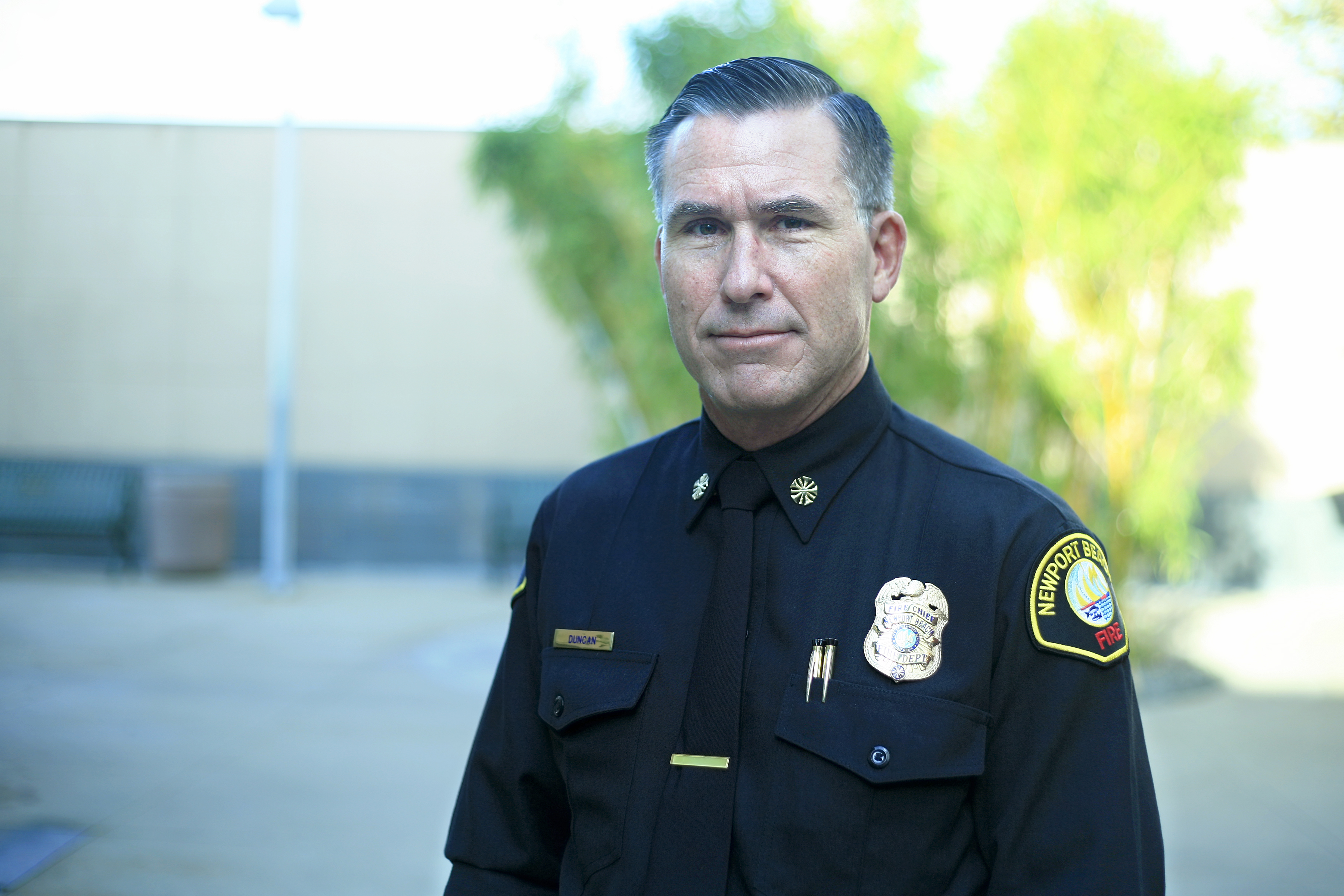 With the wave of fires throughout California recently, a local fire department leader was a timely speaker during a morning meeting this week.  
Newport Beach Fire Department Chief Chip Duncan spoke to about 60 people Thursday during the NB Chamber of Commerce's monthly Wake Up! Newport meeting.
Duncan was appointed as interim fire chief in early 2016 and was officially promoted to the top of the department in October.
During the early morning forum Duncan discussed fire coverage in Newport Beach, the department's history, recent wild land fires in California and potential concern locally.
"Last year was a busy fire season," (in terms of wild land fires), unlike anything he has seen in his 32 years of service, Duncan said.
They had 87 strike team and task force responses, he pointed out.
Most recently, Newport sent three engines (as well as some additional employees for staff positions) to help fight the massive Thomas Fire in Ventura County in early December. They were helping out for about two weeks.
"They were working hard," Duncan said.
The Newport engines provided structure defense and established control lines around the fire.
Ventura requested assistance from fire agencies throughout the state due to the number of structures and lives threatened.
As of Thursday, the blaze – which has been burning for a month – was 92 percent contained. According to Cal Fire, it spread over 281,893 acres, destroyed 1,063 structures and damaged 280 structures.
Closer to home, Newport Beach also assisted during the Canyon 2 Fire in Anaheim Hills in October.
Duncan heard the call on his radio as the blaze started to spread.
"I knew the thing was going to go south in a hurry," he said Thursday.
Newport lent five engines, one truck, and a variety of fire personnel to the Canyon 2 Fire. Their main duty was structure protection and preventing flames from overtaking homes in the fire's path.
During the question and answer period a resident asked about a local area of concern: Buck Gully. She is "terrified" about a fire in the Newport Coast nature preserve.
"All you need is one spark," she said, with a little wind, "the whole of Buck Gully (would) go up in flames."
As a longtime Newport local, she remembered when Buck Gully was considered a "severe fire hazard." The recent fires across California have re-ignited that worry, she added.
The concern about Buck Gully is warranted, Duncan noted.
"It is what it is down there," Duncan said.
It was once considered a "very high" fire hazard severity zone, he confirmed. His predecessors changed the designation based on a number of factors. Previously, the fire department and City Council tried to do more "fuel management" – clearing brush and vegetation – in Buck Gully, Duncan recalled, but a number of residents failed to comply. It's challenging to get people to follow through, he added.
The area is still closely monitored, he pointed out.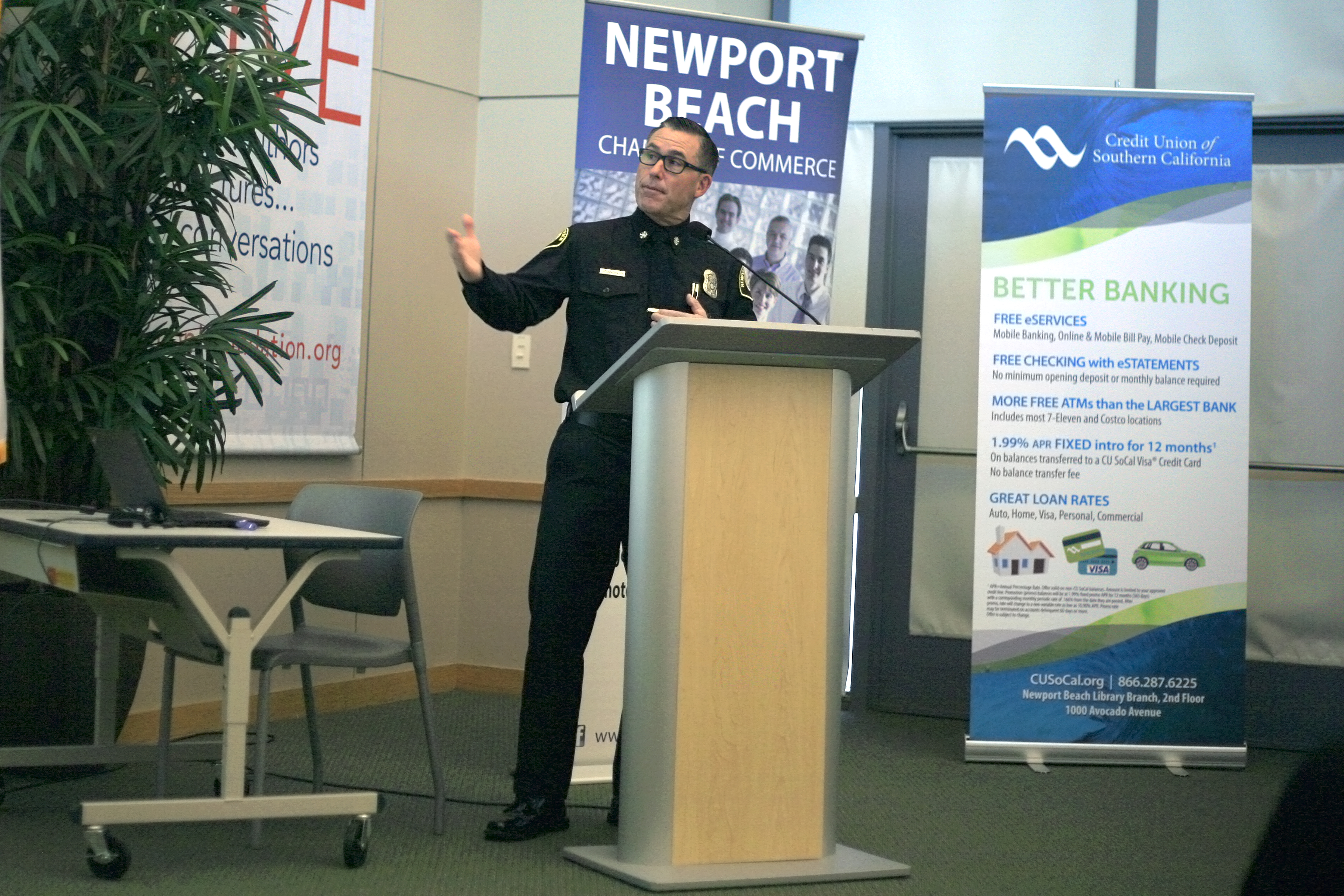 Newport Beach is a very geographically diverse city, he said. There are beaches, hills, wild land, the  bay and high rises.
"We've got a lot of challenges when it comes to public safety," Duncan said.
On top of the wide range of environments in the city, Newport Beach's population swells from about 88,000 to 300,000 with summer visitors.
He also pointed out that the department generates $3.8 million in revenue, primarily through billing insurance companies and medicare.
Every day there are 38 firefighters on duty covering 26 square miles from eight stations spread across the city, Duncan explained. Average response time is 3 minutes and 42 seconds.
The number of total calls has increased by approximately 19 percent since 2013, according to NBFD figures. The department responded to 12,145 total calls in 2017. About 80 percent of the NBFD incidents have a medical component, Duncan noted. Actual fire calls have been trending downward since the 1970s.
Newport has had a strong focus on the medical side for more than 50 years, he said.
They began advanced first aid in the 1960s and had emergency medical technicians on board by the 1970s. By 1975, the department had eight firefighters graduate as certified paramedics. In 1996, NBFD implemented paramedic transportation system.
"We have a long history of innovation," in the medical field, Duncan said. "We have always had our toes in the water, so to speak, with medicine, even back in the early days of the fire service."
They have always been on the forefront as things have evolved over the years, he said.
"One of the things we've always prided ourselves on here in Newport Beach is we do not sit around and wait for the next new thing to come up," Duncan said.
Recently, NBFD participated in the Community Paramedicine Alternate Destination Study.
It was a "very exciting" program, Duncan said. It allowed the paramedics to transport patients that fit certain criteria to an urgent care center instead of the emergency room. It worked really well, he added.
The hope was to relieve ER overcrowding, reduce costs, transport patients to more appropriate care sites to meet their needs, and increase emergency services availability and options for the community.
State officials want to analyze the data, review the program and "re-tool" it, Duncan explained.
"It's my hope that this does not die because I think it's a really important (program)," Duncan said. "This is something we need to keep our eye on."
Duncan also briefly spoke about relocating the Lido station.
They appreciate the Council support, he noted. City Council voted 6-1 on Sept. 12 to purchase the property at 2807 Newport Blvd., where a closed McDonald's sits, for $4 million from MNG Newport Beach, LLC. The city plans to move the fire station currently located at 475 32nd St. to the new site. Councilman Kevin Muldoon dissented.
The existing fire station is more than 60 years old and is at the end of its useful life, according to staff. It does not meet operational needs for equipment and is scheduled for replacement.
"I think we've gotten our buck out of that station," Duncan said Thursday.
Although not everyone is one board with the idea.
Muldoon said during the September meeting that while the response time and traffic impact are estimated to be about the same, he can't justify it creating potential quality of life issues for the neighbors when redeveloping the current site would be adequate.
"The problem I have with this decision is I have residents who are coming to me who are concerned about a nuisance," he commented at the time.
A few of those residents spoke up during the Council meeting. Neighbors were primarily concerned about the noise and lights that the "McFire station" would cause in the community.
For more information, visit newportbeachca.gov/government/departments/fire-department and newportbeach.com.