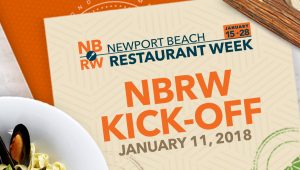 January has barely begun and already the local dining scene is heating up, thanks to special culinary events including the annual Newport Beach Restaurant Week, Bluewater Grill's annual France versus Italy fish stew battle, and SideDoor's Ultimate Cheese & Charcuterie Backyard Party.
Newport Beach Restaurant Week
If it's January, that means it's time for the 12th annual Newport Beach Restaurant Week, which returns to town Jan. 15-28.
If you're counting, that's actually two weeks, which gives diners extra time to take advantage of incredible dining deals from more than 60 local restaurants ranging from small diners like Sessions West Coast Deli and Campus Jax to larger bistro such as Andrea at Pelican Hill and Nobu.
I'll have more details and a lengthy look at Restaurant Week menus in next week's column, but before Restaurant Week officially starts, Dine Newport Beach is hosting an intimate dine-around experience that will kick off the food festivities on Thursday, Jan. 11 at Fashion Island's Lincoln Experience Center.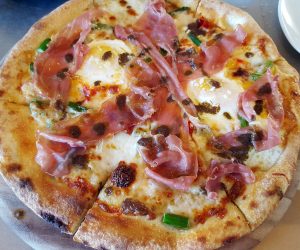 Attendees will be given a culinary passport to taste event-exclusive dishes from Nobu, Sessions West Coast Deli, CUCINA enoteca, The Bungalow, Balboa Lily's, Andrea, and Mayor's Table from the soon-to-open Lido House hotel.
At the end of the event, attendees who received a stamp from each vendor will be entered in a raffle.
Tickets are $35 and includes tastings for each booth and two glasses of wine (from local vino sensation Color Wine) or beer. Only 100 tickets are available for this event and a limited amount remain, so visit DineNB.com/Restaurant-Week and get your tickets before they're gone. I'll see you there!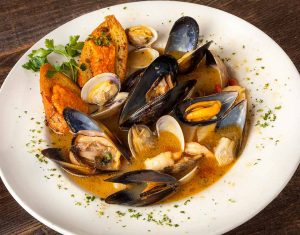 France Versus Italy at Bluewater Grill
Bluewater Grill restaurants in Southern California (including the original location in Newport Beach) kick off the 2018 Bluewater Second Tuesday Monthly Tasting Series on Jan. 9 with one of my favorite annual foodie events: a showdown between Europe's two famous fish stews (French Bouillabaisse and Italian Cioppino) paired with hand-selected wines from each country.
The Bouillabaisse vs. Cioppino tasting event is a month-long promotion, and includes separate bowls of French Bouillabaisse, made with saffron and garlic, and a tomato-based Italian Cioppino, for $34.95. At the Jan. 9 event, Bluewater Grill adds a complimentary glass of French Pinot Blanc and an Italian red. After that, the wines can be ordered separately to accompany the fish stews.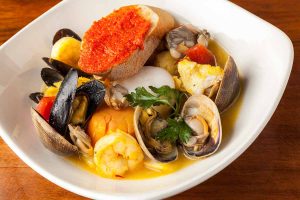 The French Bouillabaisse is also available as a seasonal special through February.
Bluewater's monthly tasting events are hosted the second Tuesday of each month, and feature seasonal seafood specialty items paired with hand-selected wines.
Naturally, reservations are recommended for the Jan. 9 event. Visit BluewaterGrill.com.
Ultimate Cheese & Charcuterie Party  
Last year, SideDoor gastropub in Corona del Mar began presenting a new series of monthly culinary events dedicated to exploring boutique creameries and specialty cheeses. A different creamery was featured at each event.
Twice a year the series culminates in what SideDoor dubs "the ultimate celebration of fromage" with the Cheese & Charcuterie Backyard Party.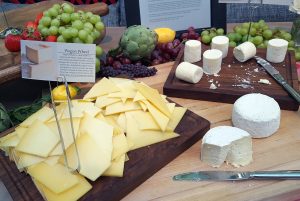 The next party takes place on Wednesday, Jan. 17 from 5 to 9 p.m. at the Five Crowns greenhouse and patio adjacent to SideDoor, and showcases the previous four creameries of the series: Jasper Hill (September 2017), Rogue (October 2017), French Theme (November 2017), and Andante (December 2017).
The evening includes cheese, charcuterie, passed appetizers and one glass of wine from the Caymus wine portfolio. SideDoor's own certified expert and cheese monger, Tracy Nelsen, will be on hand to educate guests on the various cheeses presented and to recommend the perfect pairings.
I attended this event last summer and was impressed with the array of cheeses and variety of charcuterie. Signage at each fromage station offered background on each cheese, making the event both tasty and educational. The charcuterie was over-the-top delicious and included wild boar salami smoked over applewood, Toscana salami made with fennel pollen, black truffle salami, and duck salami. I have no doubt the January event will serve similar salamis.
A nice selection of breads and crackers accompanied the cheese and charcuterie.
Tickets to this cheesy party are $45 and include tax and gratuity—a terrific value considering the quality of the cuisine.
Visit sidedoorcdm.com and click on the Events tab, or call (949) 717-4322.