Human Options, the leading organization in advocating for those experiencing relationship violence in Orange County, hosted its annual Fall Luncheon on October 6 at the Lido House Autograph Collection in Newport Beach to help raise awareness and inform attendees about relationship violence during Domestic Violence Awareness Month.
The event raised $245,000 for Human Options.
Donors, volunteers, supporters, and friends of the organization attended wearing a variety of purple outfits – the color of domestic violence awareness – to help raise critical funds for Human Options' relationship violence programs.
These include a 24-hour hotline, emergency shelter, walk-in centers, transitional housing, counseling programs, legal advocacy, and community education.
During the program, guests were able to participate in a social hour where they could purchase raffle tickets for a night at Lido House or a Duffy boat ride. They were also able to connect with other attendees while enjoying lavender lemonade and sparkling lavender champagne.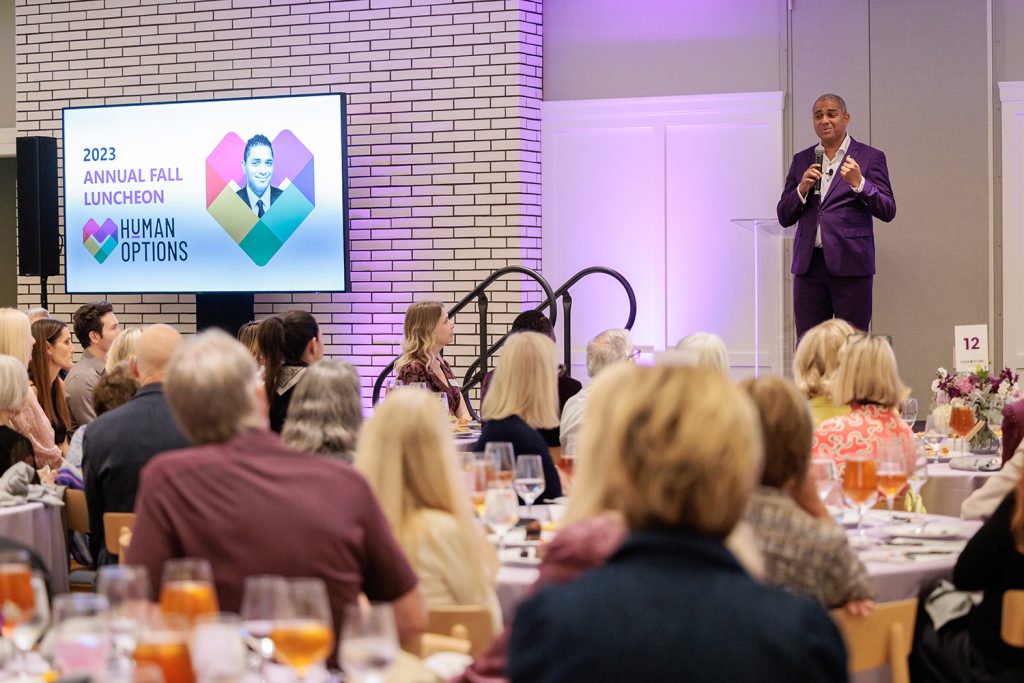 The event featured keynote speaker William Kellibrew IV, an international victim advocate, as well as a client of Human Options who shared her story through a video presentation.
"October is Domestic Violence Awareness Month, and it's always impactful to host our annual luncheon at this time to address the work we do for those affected by relationship abuse," said Maricela Rios-Faust, CEO of Human Options. "We are grateful that two survivors of abuse shared their stories with our supporters, reinforcing the significant work Human Options does within the community. Their strength is a testament that survivors can heal and grow by breaking the cycle of violence and being connected to help."
Throughout its history, Human Options has impacted the lives of 500,000 people affected by relationship violence through its programs such as its emergency shelter, transitional and permanent housing, counseling, safe option for seniors, military program, teen ambassador program, personal empowerment program, family support services, and 24-hour toll-free hotline.
Human Options encourages victims to call their 24-hour hotline at (877) 854-3594 to access shelters and other supportive services, including therapists and counselors. If anyone is in imminent danger or has a physical emergency, call 911. Additionally, Human Options provides immediate assistance and supportive services at several walk-in Family Resource Centers location throughout the county.
For more information about Human Options, please visit www.humanoptions.org.