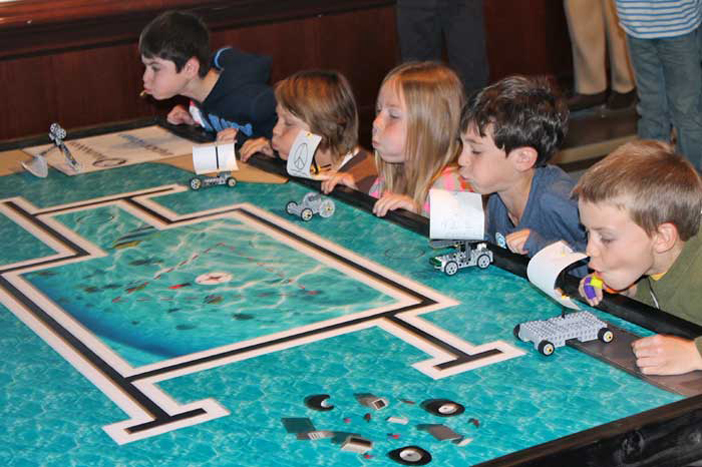 The subjects of countless poems, songs and movies, the world's oceans are home to an estimated 97 percent of all of life forms on earth, and are the focus of study by the smartest and bravest scientist/explorers the world has ever known.
And now, Orange County's youngest explorers-to-be can learn about the oceans at the year-old ExplorOcean Innovation Lab, located behind the Ferris wheel at the Balboa Fun Zone.
With its 2010 christening, ExplorOcean (previously known as Newport Harbor Nautical Museum) became this country's "first experiential ocean literacy center open to the general public."
ExplorOcean's educational programming is "based on the Seven Principles of Ocean Literacy as formulated by a national assemblage of scientists, policy makers and educators," said Wendy Marshall, Ed D, director of education for ExplorOcean.
"Principle seven states 'The ocean is largely unexplored.' That is our big message," Marshall shared. "This is the mantra that guides everything we do. We want to develop the next explorers."
Not only do the ExplorOcean's mentors on board explain fundamental ocean facts, "we also teach (intellectual) risk taking, problem solving, questioning and observational skills. We teach things that aren't measured on the SATs: leadership, collaboration, persistence, resilience, and curiosity," she said.
And all of it is presented in an environment of hands-on displays, touchy-feely exhibits, invention kits, 3-D Printer production, interactive ocean-themed experiments lab, and more, all specially designed for youth ages K-12.
"We show them how to investigate and understand, innovate and communicate what they learn," Marshall said, "and to accept failure if something doesn't work."
The Innovation Lab is an idea-generating facility, and kids learn that not every idea is a winner, but a winner is anyone who generates ideas.
Marshall is an idea factory unto herself, whose goal is motivating youngsters with the ocean as the backdrop. An extreme long-distance runner, the 41-year-old educator and mother of two generates many of her participatory ideas during 30-mile jogs.
Two of her innovations include the Sea Perch Program and the robotics underwater program, which she and her team take out to schools whose constricted budgets preclude transportation to the lab.
Kids learn to design, construct and operate little submarine robots that act like their sophisticated "distant cousins," the type currently searching the depths of the Indian Ocean for the Malaysian airliner so tragically lost.
She also introduced the EcoTech program that utilizes a radio controlled, battery-powered quad-copter with digital cameras attached. Students produce mini-documentaries that promote ocean health and/or develop ocean "defenders."
All of this generates excitement in young minds, Marshall enthused, adding that involvement with ExplorOcean is actually an exercise in "explore mind."
Experiential learning takes place at a variety of venues, from the in-house lab out into the field – from the Back Bay flats and Little Corona tide pools to the USC marine lab at Catalina's isthmus.
Currently, ExplorOcean attractions include the Ocean Literacy Center, the Innovation Lab, ExplorOcean Media Lab and the Steele Model Pavilion – where "dry-docked" in glass cases are a fleet of the finest ship models to be found anywhere that represent the Golden Age of sailing ships.
Contact the writer at [email protected]