A group of kids traveled across the globe last week to represent their school and their country in a math competition, and they returned on Sunday as champions.
Students from St. Mary's School in Aliso Viejo participated in the 17th International Maths Quest 2014 in Berlin. The two teams of four each included Newport Beach residents Gordon Withrow, Keith Openshaw and Lauren Hughes, all 11.
Other students on the team included Stephen Masson, Angie Yogaratnam, Cole Engleman, Ella Kang, all sixth graders, and Jack Paroly, a fifth grader.
The two St. Mary's teams came in first and fifth place.
"They did such an amazing job," said Nancy Qushair, math teacher and one of the Maths Quest team coaches. Dustin Mittelsteadt was the other teacher and coach.
"It was a really cool experience to go and compete for our school, and the U.S.A. at an international math competition," Hughes said.
It was an honor to represent their country, all three Newport kids agreed.
The European Council of International Schools held the event at Berlin Brandenburg International School.
"It was very big and very clean," Withrow, a fifth grader, noted about the campus.
Children under the age of 12 from 29 different schools around the world competed in the event, held April 3-6.
Maths Quest was started in 1996 by Monica Parker, a primary school teacher at King's College Madrid. The emphasis is on "fun and enjoyment, so that every team leaves feeling they have performed well," according to ECIS.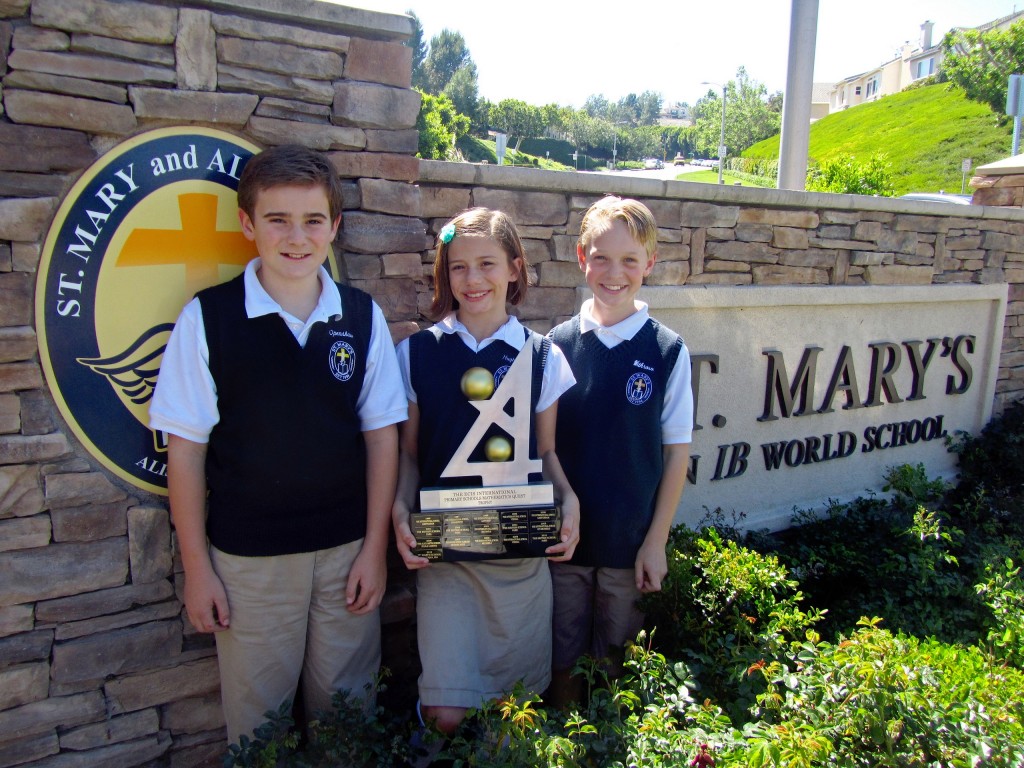 St. Mary's was officially invited to the competition 10 years ago and has participated almost every year, Qushair explained.
This is the first year the school has been able to take two teams, Qushair said.
St. Mary's representatives arrived in Potsdam, Germany, on March 31. They spent a few days sightseeing before heading to Berlin.
On Thursday they shadowed a student during the day, including attending classes.
"I was surprised they didn't just have an English class on the side, all of their classes were in English," except for their German class, Hughes, a sixth grader, commented.
The first day of competition they visited the German Museum of Technology and answered questions. Later, they visited the Reichstag (German Parliament).
The second day they did individual and group rounds, the kids explained. The ended the day by completing a practical challenge.
"It was pretty challenging," Withrow said.
Challenging, but fun, Openshaw, a sixth grader, added.
The students put in a lot of work into the program, Qushair praised.
Along with about 20 other St. Mary's students, the mathletes trained twice a week during lunch beginning in September. In the last month, they doubled their efforts with some after school practice as well, Hughes added.
"As teachers, if we can get kids to get excited academically, about math, that's a definite positive," Qushair said.
There are a lot of other positive aspects to the program as well, she added.
"It's not just math," Qushair said. "We look at this whole program as more of a cultural experience."
It challenges them in many different aspects, she said.
"It was a difficult task," she said, "and they came through so well."
The program also helps students think about the various elements of math, work collaboratively with each other and get an understanding about the world around them.
"I like math because it's everywhere and you need it… in life," Hughes said.
They also learned independence, responsibility, team work and tolerance, she said.
"Math is all around us," Qushair said, "not just in a textbook."