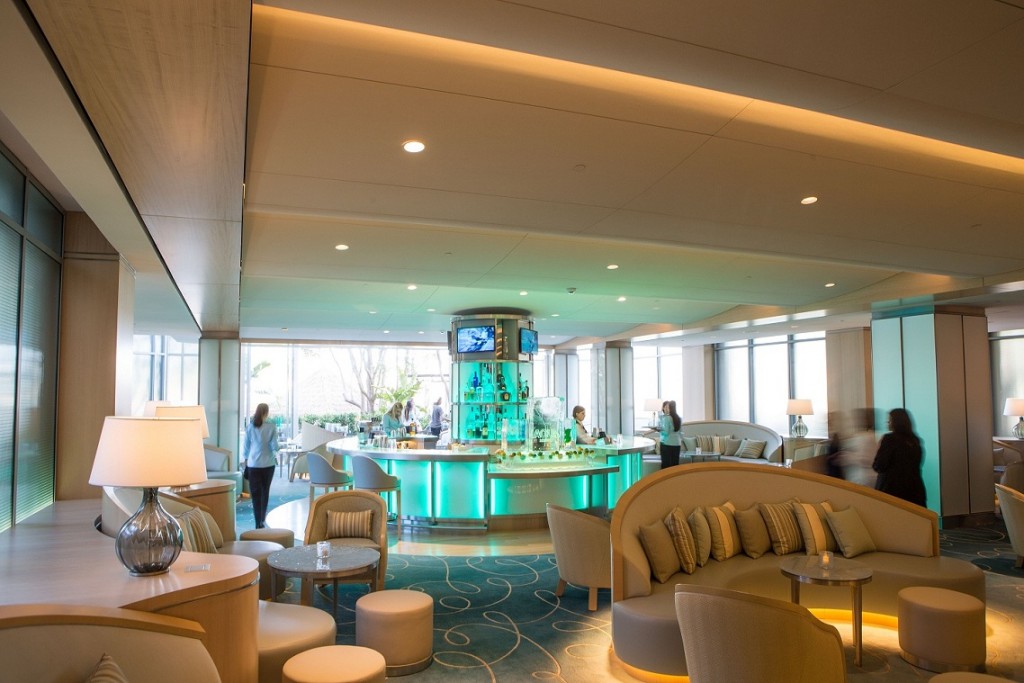 First time guests will enjoy The Island Hotel's ambiance and amenities, but locals and returning guests are doing double-takes.
Gone are the old lobby lounge and restaurant; in their place, the new Oak Grill, featuring indoor and patio dining plus a contemporary California menu, and  Aqua Lounge, with a 360-degree bar and a rotating program of resident DJs.
Also new: an updated pool area with a contemporary poolside bar, private cabanas, a refurbished fitness center, remodeled event space including the largest ballroom in Newport Beach, a new text concierge program; complimentary wireless Internet, guest customizable mini bar; Keurig coffee makers available in all rooms, a 24-hour Market Place featuring fresh foods, healthy snacks and specialty items, and the exclusive Island Club, a luxurious 2,000-square-foot lounge on the hotel's 20th floor.
According to the Irvine Company Resort Properties, which owns and manages Island Hotel, all 292 guest rooms and suites now feature new vibrant pops of color (ocean-inspired aqua, sunset orange, coral, lilac and sage) to reflect the region's coastal lifestyle. Accommodations sport bold, modern fabrics, rich woods, polished marble and California-inspired artwork.
"Island Hotel continues to set the very highest standards for luxury, service and amenities in Southern California," said General Manager Gerard Widder. "Although our new look is inspired by the prestige and appeal of Newport Beach, we have introduced contemporary boutique-like services and modern splashes of color to create a coastal ambiance of casual, fun elegance for today's traveler."
"Today's traveler wants authentic, local experiences," added Lindsey Ueberroth, president and CEO of Newport Beach-based Preferred Hotels & Resorts. "The newly transformed Island Hotel now meets that need with a beach-inspired décor, convenient yet sophisticated services, regional cuisine and a lively coastal scene."
The Island Hotel celebrates its 10 year anniversary this year (it was built in 1986 but operated as The Four Seasons until the Irvine Company assumed management in 2005 and renamed the hotel).
For more information, visit IslandHotel.com.