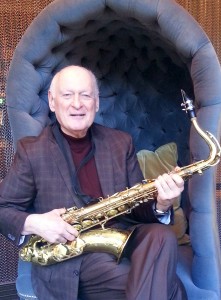 By Christopher Trela | NB Indy
While serving as president of Segerstrom Center from 1997 to 2006, Jerry Mandel used to practice his saxophone during lunch and after work in a small practice room at Segerstrom Hall, never knowing where his musical endeavors might lead him.
While Mandel was at The Center, he helped raise funds for the new concert hall, but also wanted to have a smaller space for more intimate shows.
"I kept lobbying for it, and when Henry Samueli agreed to make the donation for the building, I went to the board and asked if they would approve the theater if I had a donation. They said yes, and I said I have a donation," recalled Mandel during a recent phone interview.
Mandel helped design the theater with a cabaret-style setup in mind.
After the new theaters were opened, Mandel retired but continued to hone his sax playing. Now, Mandel fronts his own band, plays most Thursday evenings at Bayside restaurant with pianist Ron Kobyashi, and sits in as a guest sax player with various groups.
This Saturday, Nov. 14, Mandel will be doing something he never dreamed of—performing in the Samueli Theater as a guest sax player with the vocal group Act Three.
"I am playing on a handful of tunes, but it's really their show," said Mandel, who noted that a portion of ticket sales will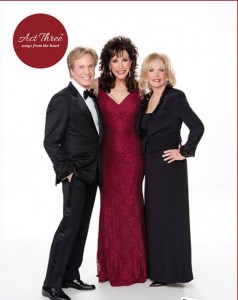 go to charity: The School of the Arts in Santa Ana.
Act Three is comprised of vocalists Lynn O'Hearn Wagner, Judy Whitmore and Bill Grubman, who along with their 12-piece band and Mandel will take concertgoers on a nostalgic return to the old Coconut Grove days in evening that pays tribute to the Great American Songbook and the music of Cole Porter, George Gershwin, Vernon Duke, Johnny Mercer and others.
The performance will benefit the Artist Scholar Sponsorship Program at the Orange County School of the Arts (OCSA), which provides financial assistance to qualified students from socio-economically disadvantaged backgrounds.
Act Three made its debut at Carnegie Hall in New York City last October, and like Mandel are proving that you're never too old and it's never too late to follow your dreams.
"Simply because you are older doesn't mean your personality or aspirations change," said Wagner. "Act Three came together out of a shared lifelong passion for musical performance that had laid dormant in each of us since childhood. There is really nothing more fulfilling than performing for the joy and fun of it."
That attitude is shared by Mandel, who played sax in high school but stopped when he decided he would never be any good. "It took me 40 years to understand it was not a lack of talent; it was a just lack of dedication," he noted.
For more information about Act Three, visit actthreesingers.com.
To purchase tickets to the performance, visit SCFTA.org.