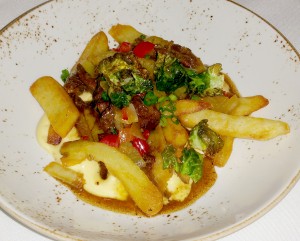 By Christopher Trela & Catherine Del Casale
 We love attending musicals at Segerstrom Center for the Arts, because it also means we get to enjoy the themed musical menu at Leatherby's Café Rouge before the show.
Leatherby's executive chef Ross Pangilinan always creates an inventive menu that revolves around the music and plot of each show that comes to The Center.
Now through Nov. 22 is the musical "42nd Street," an old-fashioned, fun-filled treat with stellar tap dancing and terrific singing.
Chef Ross' three course, prix fixe ($45) menu for "42nd Street" starts with a
choice of "Young and Healthy" butternut squash soup (a thick and flavorful delight) or "Philadelphia," a cheesesteak dish with oxtail, house made cheese whiz, and Kennebec fries that we devoured.
For a main course, we had the "You're Going Out There a Youngster, but You've Got to Come Back a Star" dish of crisp chicken
roulade with parsnip tortellini, pear, forest mushroom sabayon and wild arugula, and the "You're Getting to Be a Habit With Me" forest mushroom risotto with roasted broccoli rabe and oven dried tomatoes.
Both dishes disappeared fast. Christopher was partial to the risotto and savored every bite.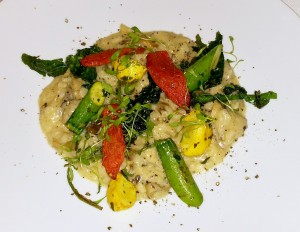 Dessert was "Lullaby of Broadway" house made sorbet, and "Forty-Second Street" butternut squash cheesecake with cranberry sorbet, vanilla Chantilly and pomegranate seeds.
"The cheesecake is fabulous," exclaimed Christopher. It's so smooth, and the cranberry sorbet is a surprisingly perfect accompaniment to the cheesecake. The pomegranate seeds are a great touch—they add a fun texture to the dish."
As usual, Christopher brought a bottle of Tobin James wine to accompany dinner—in this case, the Private Stash meritage, 2011.
After dinner, we strolled next door to watch "42nd Street." This is one of those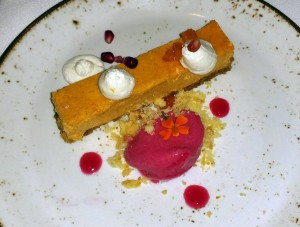 classic shows that dates back to the 1930s but has been revived several times. This touring production features newcomer Caitlin Ehlinger (see Artscapes in this issue for an interview with Ehlinger) as Peggy Sawyer, a young Broadway hopefully who has eyes on making it on the Great White Way.
At only 19, Ehlinger is terrific in the role of the cute ingénue. She has some impressive dance moves (she's an incredible tap dancer) and a voice to match. But the entire cast is also in great form as they move from one big tap routine to the next. OF course there is a plot involving a diva leading lady and a workhorse director, but the plot mainly serves to get the actors from one song, and dance, to another, which is fine because the musical moments shine.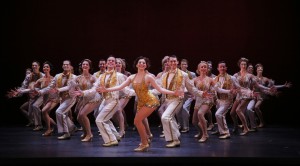 Whether on the plate or on stage, "42nd Street" comes back a star.
For information on Leatherby's Café Rouge, visit PatinaGroup.com. For tickets to "42nd Street" visit SCFTA.org.