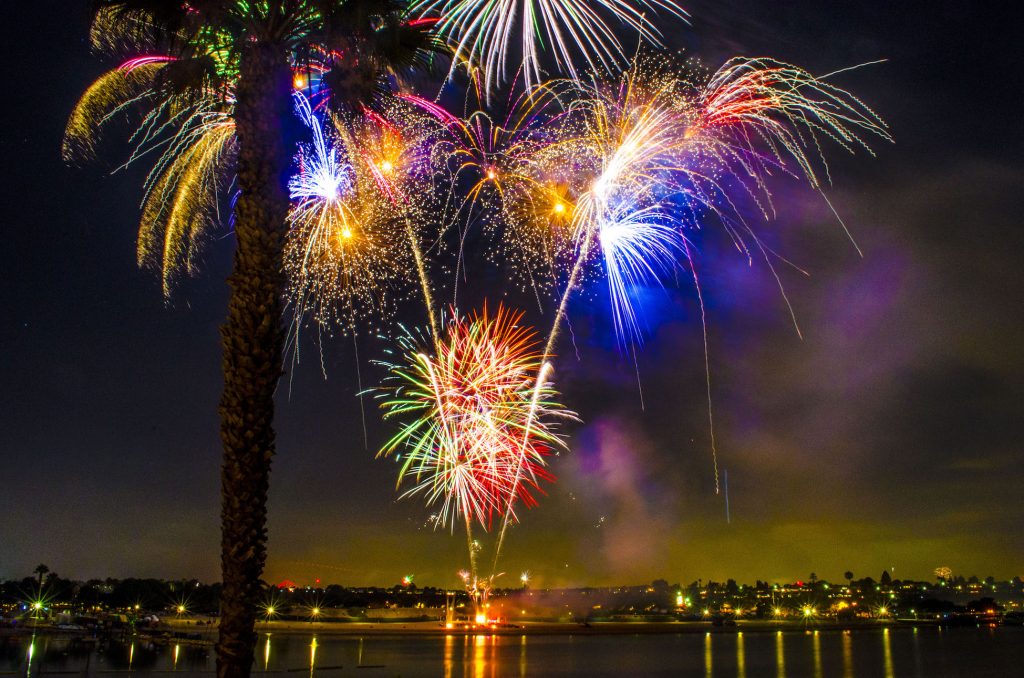 Ready to have some fun on the Fourth of July? Myriad community celebrations are being held throughout the city, starting in the morning and going through the evening with a spectacular fireworks finale.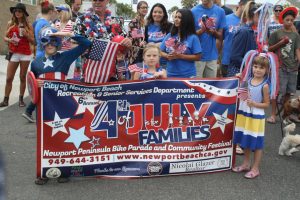 4th of July is for Families: Newport Peninsula Bike Parade and Community Festival
The City of Newport Beach will host the annual Newport Peninsula Bike Parade and Community Festival starting at 9 a.m. with a bike and dog parade at Balboa Blvd. and 36th Street. The parade heads down Balboa Blvd. to Channel Place Park for a free festival including carnival games, giant slides, jump houses, arts & crafts and food. Parade participants are encouraged to decorate bikes, scooters, wagons and strollers, and please bring dogs on leashes. The festival will run from 9:30 a.m. to 11:30 a.m.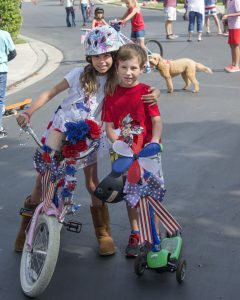 Independence Day Parade & Celebration at Mariners Park
The City and the Mariners Elementary School Foundation will host the annual Parade and Celebration at Mariners Park, 1300 Irvine Ave. The parade will begin at the corner of Commodore & Mariners Drive at 10:30 a.m. and the celebration will be held from 11 a.m. to 1:30 p.m. at the park. There will be food for sale and wristbands available for purchase that allow participation in fun games and activities. Wristbands are $15 each ($10 for toddlers) and can be purchased at the event. For more information, visit the Mariners Foundation website at marinersfoundation.com.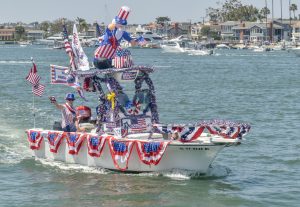 Old Glory Boat Parade
The annual "Old Glory Boat Parade," sponsored by the American Legion Yacht Club and the American Legion Post 291, will be held in Newport Harbor on July 4, beginning at 1 p.m. See the harbor at its patriotic best as boats decorated in red, white & blue cruise the perimeter of the harbor.
Fourth of July Flyover
The Condor Squadron Officer's and Airmen's Association, a non-profit organization founded by a group of WWII fighter pilots, will fly four AT-6's over Huntington Beach, Newport Beach, Laguna Beach, Dana Point and San Clemente on July 4. They will begin over Huntington Beach and expect to fly over Newport Beach between 6:10 p.m. and 6:15 p.m.
Newport Dunes July 4 Celebration and Fireworks Extravaganza
The City is co-sponsoring a Fireworks Extravaganza with the Newport Dunes Waterfront Resort, 1131 Back Bay Drive. The fireworks show will begin at 9 p.m.
Prior to the fireworks, Newport Dunes Waterfront Resort offers a day filled with fun activities fit for the whole family. Celebrate Independence Day on the Back Bay with live music and food trucks. Back Bay Bistro will also host a special 4th of July Buffet dinner with two seatings and a variety of live food stations.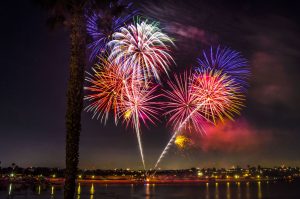 Arrive early and experience all that Newport Dunes has to offer including an inflatable water park in the Back Bay and rentable kayaks, pedal boats, windsurfing, sail boats, electric boats, stand up paddleboards and Surrey bikes courtesy of Moe B's Watersports.
Pirate Coast Paddle also offers on-site rentals including kayaks, stand up paddleboards and multi-person paddleboards for groups of 4-10. For those looking to relax, enjoy a beachside cabana between dips in the calm waters of the gorgeous Upper Newport Bay.
Gates open at 8 a.m. Entertainment schedule:
3–3:45 p.m. Welcome and DJ music
4:30–5:15 p.m. Southern Rocket Southern and Classic Rock Cover Band
6–7 p.m. The PettyBreakers–Tom Petty and the Heartbreakers Tribute Band
7:45–9 p.m. Hollywood U2–The World's Greatest U2 Tribute Show
9 p.m. Fireworks Extravaganza
Newport Dunes entrance fee is $50 per car, plus $40 per person for beer and wine garden pass which includes hosted bar from 3 to 8 p.m. and premier firework viewing.
Entry is free for those walking in to Newport Dunes.
Back Bay Bistro July 4 buffet seatings are at 4:30 p.m. and 7 p.m. Cost is $45 for adults and $22.50 for children 10 years or younger.
For more information on Newport Dunes Waterfront Resort, visit NewportDunes.com.