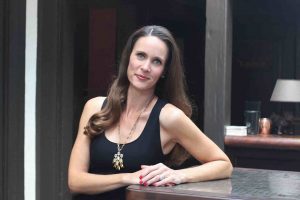 Lawry's Restaurants Inc., which owns Five Crowns and SideDoor, has hired Kenyon Paar as General Manager of the restaurants, which are adjacent to each other in Corona del Mar.
Kenyon Paar joins Five Crowns and SideDoor with over 25 years of experience in the food service industry. She has led teams at some of Southern California's most revered eateries and opened multiple fine dining establishments in Newport Beach, including The Ritz Prime Seafood in 2015 and Fig & Olive in 2013.
Prior during her tenure at Fleming's Steakhouse in El Segundo, she received the honor of "Operating Partner of the Year" in 2004 and also worked as the Wine Manager and Private Dining Director at the Newport Beach location.
Kenyon joined Five Crowns and SideDoor in fall 2016 with a philosophy on hospitality that aligns perfectly with family owned legacy restaurants.
"I truly believe that attention to detail is paramount, and honoring tradition while embracing innovation is the key to longevity," commented Paar. "Guest experience is a priority for the Orange County local, who considers a meal an opportunity to create a lasting memory."
Attune to the various needs of discerning palates, Paar is focused on providing an elite level of service while meeting the expressed and unexpressed needs of guests. As a fine dining and steakhouse aficionado, Paar has found a fitting home at Five Crowns and SideDoor. 
Five Crowns was established in 1965 and is a member of the Lawry's family of fine-dining restaurants. SideDoor gastropub is also housed within the historic Five Crowns building; its primary entrance is on Poppy Street.
Five Crowns and SideDoor are located at 3801 East Coast Highway. For more information visit lawrysonline.com/five-crowns.