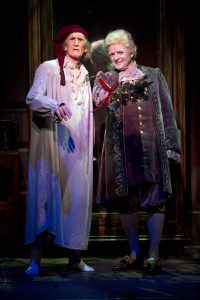 By Christopher Trela & Catherine Del Casale | NB Indy
 Christmas is a time for traditions. One of ours is attending the annual production of "A Christmas Carol" at South Coast Repertory.
This year is the 37th annual production of the perennial holiday favorite, starring SCR Founding Artist Hal Landon Jr. as Ebenezer Scrooge, the stingy old miser who transforms into a kindlier man after visits from the ghosts of Christmas past, present and Yet to Come. Landon has played Scrooge every year, an impressive streak of shows that has by now topped 1,000 performances.
Christopher has made "A Christmas Carol" an annual event for the past 20 years, while Catherine is a recent convert who has watched the show a handful of times.  
Watching "A Christmas Carol" is like finally wearing that winter coat that's been hanging in the closet waiting for the right time to make an appearance. You slip it on, and smile because it's both comfortable and warm.
"'A Christmas Carol' is now one of my favorite holiday traditions," confirmed Catherine after we saw the show last weekend. "I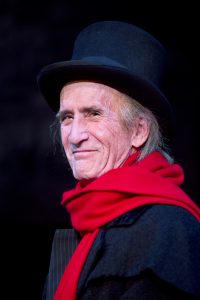 enjoy seeing both new cast members and old favorites performing this feel good show that emphasizes family and kindness, and embodies the holiday spirit."
"I love seeing so many familiar faces, including Landon, Richard Doyle, Timothy Landfield, John-David Keller (who also directed the show), and Art Koustik," said Christopher. "The adaptation by Jerry Patch keeps true to the story but adds some delightful theatrical elements. It's a fun, uplifting production that easily leaves you full of Christmas spirit."
"I can't believe Hal Landon is still doing the somersault into the top hat," marveled Catherine.
"He told me he's only missed once in 37 years," replied Christopher. "Here's hoping he keeps doing it for a long time to come."
For tickets, visit SCR.org.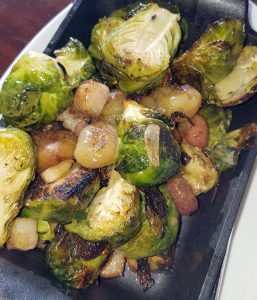 We attended the noon performance on a Sunday, and afterwards decided to stroll over to the new Water Grill restaurant and sample some of the menu.
Water Grill was built from the ground up on the site formerly occupied by Scott's Seafood, which had been an institution in OC for several decades.
We took a seat on the patio, which is really a huge semi-enclosed room with heaters.
"Even if you aren't hungry I suggest stopping by for a drink before or after a show," said Catherine. "The boat inspired design is done beautifully with tasteful blues, wood planking and anchored ropes tethering the bar. I loved the outdoor feel while still being shaded from the elements and warmed by the inconspicuous heaters."
We tried two cocktails: the Bristol Street ($14) with vodka, fresh strawberry and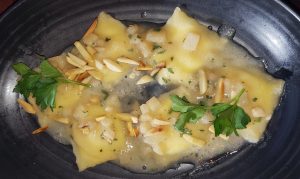 lemon juice served over large cubed ice with tarragon essence, and a seasonal special: Cider Lowball with bourbon whiskey, apple juice, lemon, vanilla syrup, Benedictine, and a dusting of grated nutmeg.
The menu is, as the restaurant's name implies, heavy on seafood. Crab, lobster and scallops, as well as various fish dishes, are highlights, but the focus is on oysters and shellfish (the restaurant even has a separate oyster bar near the entrance).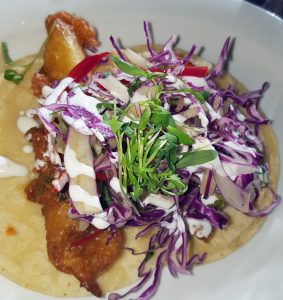 Since it was mid-afternoon we decided to forgo entrees and instead share several small plates: Atlantic cod fish tacos ($13), homemade ravioli ($15) with goat cheese and slivered almonds, mac & cheese ($8), and roasted Brussels sprouts ($10) with bacon and chestnuts.
"The homemade ravioli stuffed with goat cheese on top of an Asian pear purée was unique," noted Catherine. "I'm a big fan of goat cheese so whenever it's included in a dish I've got to try it, and this didn't disappoint. The combination of the stronger cheese with the sweetness from the pear was perfect. And the beer battered fish tacos were to die for, they disappeared off the plate in a blink of an eye. The fish was airy and light, and the crisp batter on the outside was perfectly done. The tortillas were also soft, warm and fresh."
"For a side dish, the mac & cheese was good—nice and cheesy, and not runny,"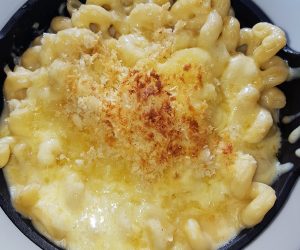 said Christopher. "I really liked the Brussels sprouts, they had a nice char and the bacon and chestnuts added both flavor and texture. And the prices are all reasonable for the quality of the food, and the setting."
We vowed to return soon to try more of the menu.
Visit WaterGrill.com.