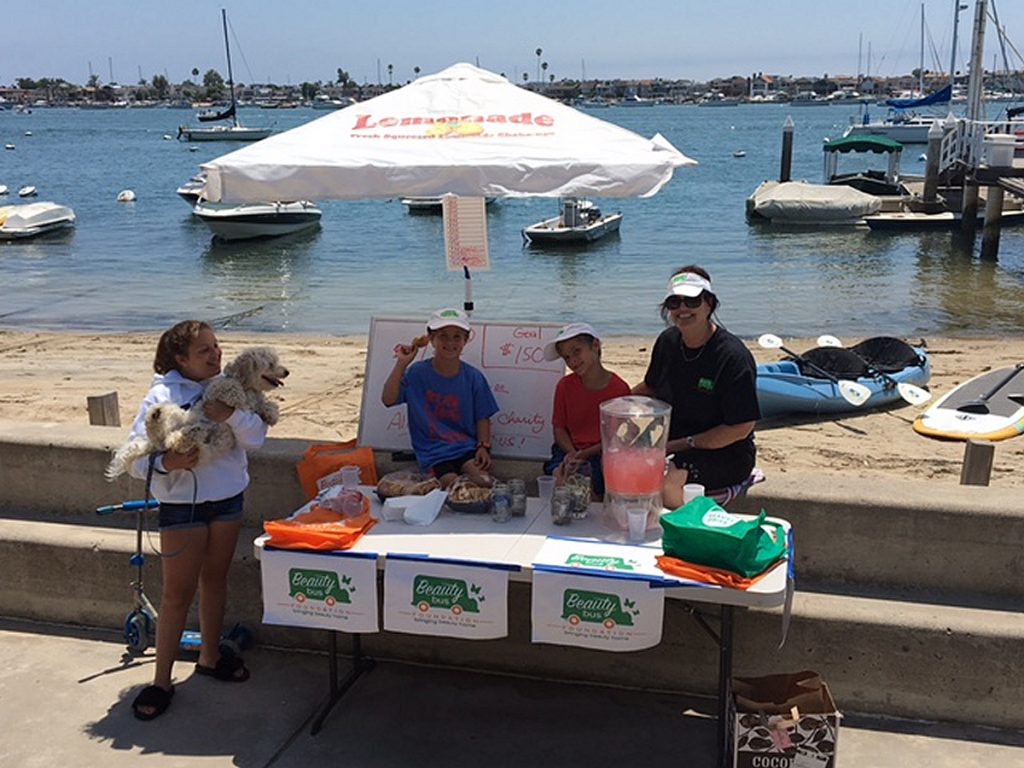 A group of charitable children recently turned their vacation visiting Balboa Island into an opportunity to make a difference.
Siblings Mischa Ross, 13, and twin brothers Connor and Zachary Ross, 7, had some fun in the sun in front of 802 South Bayfront on the big island over the past two weekends while raising money for charity.
Selling lemonade, cookies and fresh fruit, the kids raised more than $221 for the nonprofit, Beauty Bus Foundation. The second day they raised $125 for Make-A-Wish and $125 for a dog shelter (they haven't decided which organization yet).
Assisting the kids were their grandparents, Doug and Judy Ross of Encino. Also helping was Quinsey, the Ross' family dog, who attracted people to the kids' booth.
Grandma and grandpa Ross helped the kids set up their booth and the younger generation ran with it. They picked up sea shells, rocks, and anything they could get their hands on to sell to raise money for charity, Judy Ross explained in an email.
"I'm so proud that at this early age they understand and look forward to being philanthropic," Judy Ross said. "They truly are good inside and out."
As grandma, she could go "on and on" about how wonderful they are and how proud she is of them.
The kids' parents, Brian and Polina, made giving back a priority since they were very little.
Make-A-Wish grants the wishes of children with life-threatening medical conditions to enrich the human experience with hope, strength and joy.
The Beauty Bus provides in-home beauty and grooming services, free of charge, to men, women and children whose illness or condition prevents them from accessing a salon or spa.
Another group of Ross family children sculpted sand castles in 2011 during a Balboa Island summer vacation and raised $170 for the Beauty Bus organization.
This year, the younger kids wanted to help while they enjoyed the sand, sun and surf.
Beauty Bus has a special place in the heart of the Ross family. It was founded in memory of Doug and Judy Ross' niece, Melissa Marantz Nealy, who died of a degenerative neuromuscular disease at age 28, Judy Ross explained in an email.
Marantz Nealy was a "girly-girl who loved a good day at the spa," according to the Beauty Bus website.
"In her terminal state she enjoyed being pampered by having her nails or hair done," Judy Ross wrote.
"Being confined to her home, everyone came to her house," Judy Ross explained.
Her niece was fortunate to have a family that could afford it, but what about those who couldn't?
This was the question Marantz Nealy's family asked and then answered in the form of the Beauty Bus charity.
"Witnessing the hope, happiness and respite these services brought to Melissa," inspired co-founders Alicia Marantz Liotta and Wendy Marantz Levine (Melissa Marantz Nealy's cousin and sister, respectively) to launch Beauty Bus Foundation to "bring the same lift and gift of beauty to others."
After she passed, her family decided to create a foundation for people with neuromuscular diseases. The goal is to bring beauty care professionals into their homes for the patients and their caregivers.
"It gives them some dignity and distracts them from the day in and day out pain," Judy Ross wrote.
For more information, visit beautybus.org and ocie.wish.org.