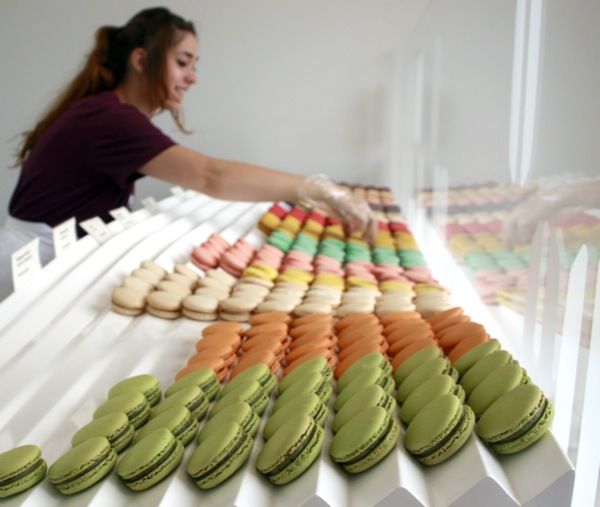 A new Fashion Island store is looking to satisfy customer's sweet tooths with a treat that has a certain je ne sais quoi.
The Newport Beach boutique, 'lette macarons, opened in May and offers a different kind of cookie, the French macaron.
"This is a very unique cookie and they are worth trying out," said Roni Kan, the general manager of the shop.
The macaron sandwiches a creamy center with two slightly crunchy, yet chewy, cookies.
The French pastries have been described as "richly delicious with a little crunch," offering "different sensations at the same time."
The "light (cookie) with the fruit in the middle makes it very tasty," another taster said of the passion fruit flavored macaron.
Kan's husband and granddaughter like the cookie part, but many people like the whole, the mixture of the two.
"You don't want to pop the whole cookie into your mouth," and quickly munch it down, Kan said. "You kind of want to romance the cookie."
Take one bite at a time, she said, enjoy each mouthful of the cookie and ganache mixed together.
"The mixture of the two really compliment each other," she said. Her favorite is earl grey tea.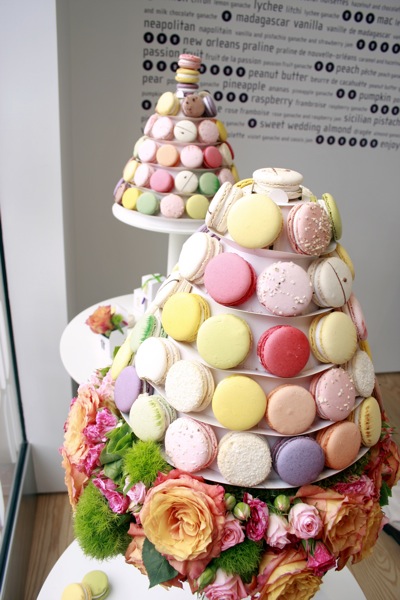 There are 13 classic flavors at 'lette macarons: Caribbean chocolate, raspberry, coconut, salted caramel, rose, sweet wedding almond, Columbian coffee, violet cassis, lemon, Sicilian pistachio, passion fruit, Madagascar vanilla, and earl grey tea. They also have seasonal flavors, currently lychee is offered.
They can be bought individually, for $1.70 each, or in box sets, ranging from $4 to $59.
Kan reminds people that these are macarons, not macaroons. They are entirely different cookies. There is one small similarity: Both use egg whites and sugar as a base. And there are plenty of big differences.
Macarons are French cookies that have two flavored, slightly crunchy and chewy, almond meal shells sandwiching a ganache (butter cream or jam mixes can be used) middle filling featuring the same flavor. They are meringue-based and have a light and almost fluffy consistency. They come in a rainbow of colors and myriad of flavors.
Macaroons are the lightly toasted, chewy, coconut drop treats that sometimes come dipped in chocolate, that many Americans have come to know and love. They are chewier and heavier. They are often enjoyed during Passover.
Another difference is the way each treat's name is pronounced. Macaroon is pronounced "mah-kah-roon" and macaron is pronounced "mah-kah-hrohn," somewhat dropping the "n" at the end. The French flair, when saying macaron, is optional.
The Fashion Island shop is the only place in Orange County to get 'lette macarons. They have three other locations: Beverly Hills, home of the first 'lette macarons; Pasadena, where Kan is also the general manager; and Larchmont Village, in Los Angeles.
One of the co-founders of 'lette is well known French pastry chef, Christophe Michalak. He won the 2005 Coupe du Monde de la Pâtisserie (the World Pastry Cup), the "greatest worldwide competition for pastry professionals," as the competition's website claims.
Michalak used to be the chef for Ladurée, a famous French luxury bakery known worldwide for their macarons.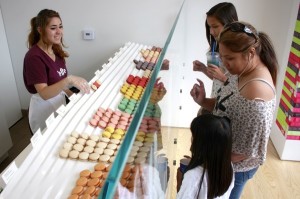 So when people say that the 'lette macarons are as good as the Ladurée macarons, that's quite a compliment, Kan said.
"(Michalak) is very proud of his recipe and his macarons," Kan said. "So he makes really high quality macarons."
The business started after Koumetz immigrated to America from France in 2005 and she couldn't find a really good macaron. She longed for Ladurée bakery and their famous macarons. So she decided to make her own.
Koumetz traveled back to France and convinced Michalak to join up with her in the business venture. They came back to the states and created a macaron recipe for their first store, Paulette Macarons, in Beverly Hills.
They changed from "Paulette Macarons," Kan explained, to just 'lette macarons after there was a legal issue with the "pau." Seems there is a well-known bakery in France called the Paul Company who took issue over the name. In France, Paulette is "Paule," Kan explained, and as Paulette Macarons gained popularity the trouble arose. They didn't want to get into a legal battle with this other company over the name, she said, so they just dropped the "pau" and added an accent mark.
"This way people still recognize that these are the Paulette Macarons," Kan said.
A lot of people used to drive from the Newport Beach area and other parts of Orange County to Beverly Hills for 'lette macarons, Kan said, and a lot of people were asking when they were going to open an OC location.
They were looking for a new spot to open up shop for quite some time before settling on Fashion Island, Kan said. The shop is near Nordstrom's and The Cheesecake Factory.
"I think Fashion Island is the right place for our macarons," Kan said. "This is a very unique (location)."
They are handmade fresh every morning in the Beverly Hills kitchen and delivered to the Fashion Island right away. And making macarons is no easy task either.
"A macaron is a very difficult cookie to make," Kan explained. "According to our chef, it actually takes 36 steps to (create) the cookie… It's pretty complicated."
Macarons are considered a high-end cookie dessert, she said. Many of the ingredients are imported from France, she added.
"We use really fine, raw material," Kan said.
There is no artificial flavoring in the ganache either, she said, for example, they use real chunks of chocolate, ground up pistachios, and earl grey tea leaves.
"Each ganache is unique to the cookie," she said.
The most popular flavors are salted caramel, Caribbean chocolate, sweet wedding almond, Madagascar vanilla, and Sicilian pistachio.
"Everybody has different taste buds," she noted.
Passion fruit and violet, are both fruity and refreshing. Earl grey tea is relaxing. Lemon is zesty and very "lemon-ey," like a lemon bar, she said.
They are great with champagne, Kan recommended, as well as tea, coffee, or wine.
"The macaron with champagne… It's simply delicious," she said.
All the macarons, except the Columbian coffee flavor, are gluten-free. The coffee cookie isn't because it has barley in it, Kan explained.
They are all also certified kosher dairy and are about 70 to 120 calories per cookie.
"They taste much richer," noted one customer.
It's a nice, light sweet treat after lunch or dinner, Kan said.
"You can eat a lot of macarons and not feel that guilty," Kan said. "And just a few really satisfy your sweet tooth."
The 'lette macarons are as visually appealing as they are delicious, as well.
Award winning architect Andrea Lenardin Madden received design the concept of the 'lette shops, "where a luminous contemporary atmosphere sets the stage" for "customers to take delight in a kaleidoscope of vivid colors and delectable tastes," the website states.
The storefront looks clean and crisp white, making the colorful macarons pop out. The boutique has a sleek look to it that entices the customer and creates a modern vibe for a classic French cookie.
The colorful cookies stand out event more in the store since all four 'lette shops are dedicated to only macarons.
"This one product is our whole shop," Kan said. "You must have very good confidence in your product, otherwise it's pretty risky."
Putting that much confidence in something that's not that popular yet or well-known in a foreign country means a lot, she said.
"(Paulette) is really confident that this cookie, this macaron, will do good here and she believes this is a good thing," she said.
Macarons are gaining popularity in the United States though, she added, and bakeries have started to include French macarons on their menus.
"I can see it as a trend for bakeries," she said. "It's like a little taste of France here in America."
For more information, visit lettemacarons.com.