A local charity is in a nation-wide, online race for votes to be awarded up to $250,000 in grant funds.
Knots of Love, a non-profit that donates handmade knitted and crocheted caps to chemotherapy patients and others facing life-threatening illnesses across North America,  has been nominated for the Chase Community Giving program.
Nearly 30,000 charities across the country are competing for grants ranging from $10,000 to $250,000 from the program.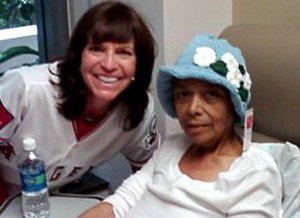 "Knots of Love is proud to have been selected as part of the Chase Community Giving Program," said Knots of Love founder Christine Fabiani. "The proceeds we receive will go far to help thousands of people; giving comfort to adults and children, facing the most difficult time in their lives."
Supporters can help by voting for Knots of Love through the Chase Community Giving program on Facebook starting Sept. 6. Chase Bank customers can also vote on the bank's website. Voting will continue until Sept. 19.
The fall 2012 round of the Chase Community Giving program is designed to benefit smaller and local charities by being limited to 501(c)3 charities with operating budgets under $10 million. The top eligible charity receives $250,000 and the remaining 195 top charities earn $10,000 through $100,000 awards, for a total of $5 million dollars in grants.
Chase Community Giving is a grant program inspiring a new way of corporate philanthropy by letting participants vote to help determine which small and local non profits will receive donations from Chase. The program has given away over $20 million in grants to charities nationwide, with focuses including animals & environment; education; health; military and veterans; poverty; and the arts.
"The Chase Community Giving program offers Knots of Love the ability to continue its mission and multiply it exponentially," said Kristina Sirca, Knots of Love Board of Directors member, breast cancer survivor, and a knitter and crocheter. "What a thrill it is to be chosen as a finalist to receive a portion of their grants. Thank you, Chase, from the bottom of our very busy fingers!"
An unbelievable amount of dignity and self-worth is lost during cancer treatment and some of it can be assuaged by a cap lovingly created by volunteers like Sirca.
"Thank you Knots of Love, for making my months of chemo a little cozier," said cancer patient and cap recipient, Karen. "A big thank you to all the wonderful volunteers and supporters. You have touched so many lives in such a warm and positive way."
Knots of Love aims to warm the hearts and heads men and women undergoing chemotherapy, burn victims, brain surgery patients, head trauma patients, and individuals with Alopecia. They are a non-profit 501(c)3 public charity, that was founded in 2007 in Newport Beach and is currently based in Costa Mesa.
Knots of Love currently donates over 3,000 caps per month to more than 405 cancer treatment centers, infusion centers, hospitals and oncology offices across the nation. Knots has donated more than 128,000 caps since its inception. All caps are given away free of charge.
"As a board member, I find it an awesome responsibility to be in a position to help direct this charity in a way that will be of the greatest benefit to all involved – from cap-makers to cap-wearers," Sirca said. "As a cancer survivor, I find this noble charity to be inspirational and essential. Who might have guessed that I could be an integral part of so worthy a group?"
For more information about Knots of Love visit www.knotsoflove.org, call 949-229- KNOT or email [email protected]. To learn more about the program, visit Facebook.com/ChaseCommunityGiving.