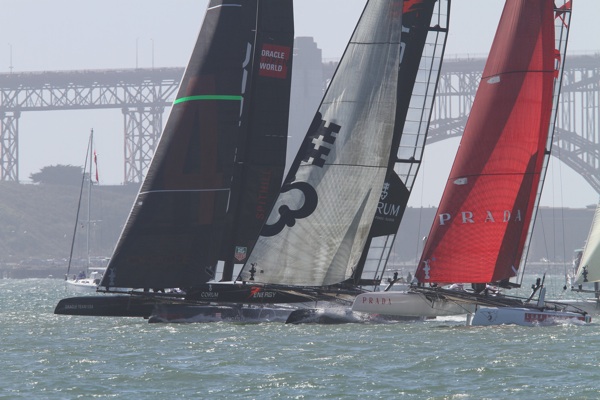 For the first time in years (even decades?), a sailing event was broadcast on network TV last Sunday.
In case you missed it, Sunday afternoon NBC broadcast nationally both an America's Cup match race and a fleet race live from San Francisco.  We don't know yet if this sailing broadcast is a one-time anomaly due to a light summer sports schedule, or maybe a precursor to broader coverage for next summer's America's Cup finals.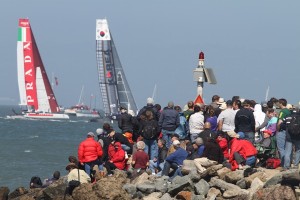 While there's not much to compare to, as far as sailing coverage on TV goes last weekend's America's Cup event provided everything event organizers could have hoped for.  The two races were close and competitive; the catamarans were technologically intriguing; and the race coverage was generally well explained and accessible to even a casual observer.
Both the match race and the 11-boat fleet race had numerous lead changes and boats overlapped throughout the race and at the finish.  Furthermore, to the credit of the coverage, there was a good use of subtle graphic cues that showed the edges of the race course, the tracks of the boats, and the relative speeds and distances separating competitors.  Between the graphics and expert commentary (from Gary Jobson), even non-sailors should have been able follow the progress in the race without too much trouble.
Could this type of sailing become like Formula One car racing with fans waking up and getting together for viewing parties during the Cup?
The last time I recall seeing sailing on TV was way back in 1987 when ESPN covered America's Cup races in Perth, Australia.  I remember waking up with my sailing friends to watch racing at 2 a.m.  Since that time there have been only a small handful of sailing events covered by some of the more obscure cable networks (OLN?), but the 2013 San Francisco America's Cup is lining up to be the next sailing event to see broad-scale national network TV coverage.
There is a lot of promise for broadcasting the America's Cup in 2013.  First, later this year we will start seeing America's Cup teams rolling-out monstrous 72-foot catamarans that have four times more sail area than the AC 45s raced last weekend.  Even last week it was clear that the 45-foot boats were a bear to get around the race course in just 15-18 knots of breeze.  Already crash helmets are mandatory equipment for all the crew, and capsizes are relatively common.
Now imagine America's Cup teams trying to muscle their new super-sized 72-foot catamarans around the weather mark when San Francisco Bay is blowing nuclear (25-30-plus knots) – we're talking huge potential for spectacular sailing boat carnage on an unprecedented scale.  The new boats will be capable of 20-plus knots upwind, and up to 40-plus knots downwind.
Bring it on!.
As much as we recognize the milestones associated with bringing sailing onto network TV, be aware that my kids and their many technically savvy friends may not even notice or appreciate any of this.  As we continue to see the lines between the Internet, cable and network TV continue to blur, it may be irrelevant to our younger generation of sailors how they watch sailing as it will be easily accessible to them regardless the media format.  To them, does TV coverage even continue to matter?
So, will sailing ultimately make it onto network TV again in the coming year?  Is the America's Cup finally going to generate the kind of sports-media exposure as golf, NASCAR or maybe even competitive poker?  We're really not sure at this point.  But will local sailors be looking for ways to follow the next America's Cup?  Definitely.
Who knows; if Larry Ellison's dream of a sailing media spectacle actually comes together, maybe he'll even be looking for brilliant, insightful veteran sailing journalists to help report on the upcoming America's Cup events …