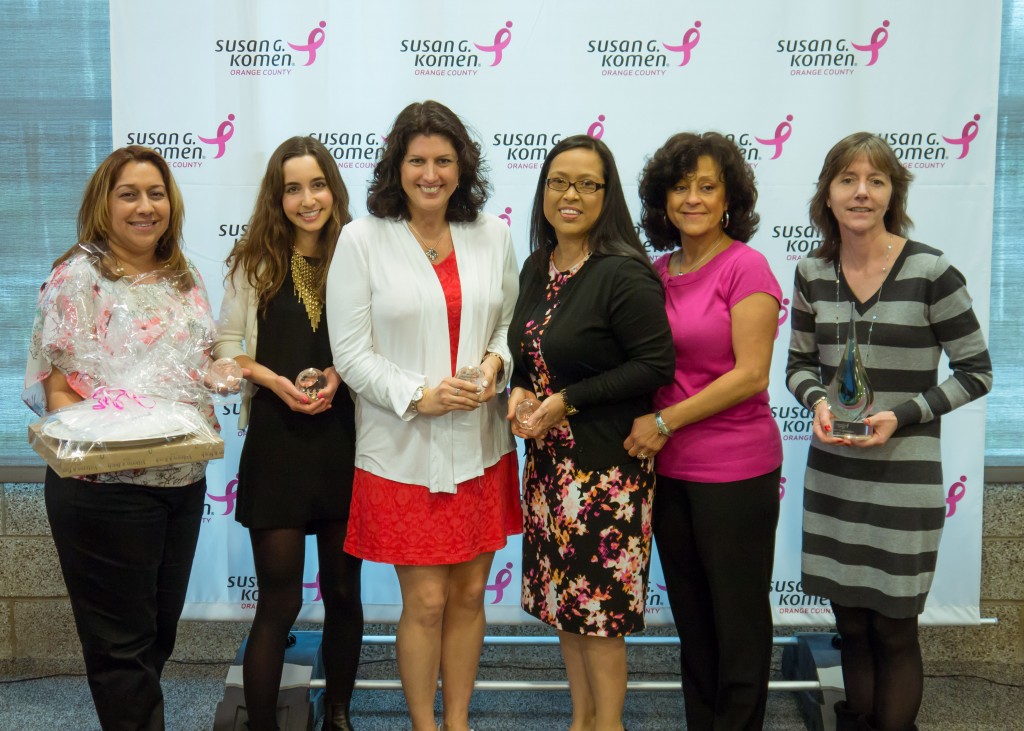 Susan G. Komen Orange County, which holds its annual Race for the Cure at Fashion Island in the fall, honored eight exceptional volunteers at its 2015 Volunteer Recognition Event on Feb. 21.
Outstanding individuals and business partners throughout Orange County joined the award-winning nonprofit to celebrate the spirit of volunteerism that makes Komen Orange County so effective. Volunteers were recognized in unique categories for their involvement.
With the help of volunteers last year, the Orange County Affiliate had the ability to support newly diagnosed women, host no-cost mobile mammography events for uninsured women, provide breast health information in multiple languages and hold annual fundraisers including the Race for the Cure and Pink Tie Ball. Dedicated volunteers also assisted with administrative support, research, advocacy and the Speakers Bureau.
"This organization would not be able to reach so many women with breast health information and services without the support of motivated volunteers," said Lisa Wolter, executive director of Komen Orange County. "I am so grateful for the generous individuals who donate their time to help others who are struggling with breast cancer without expecting anything in return – other than the opportunity to help make a difference."
Among the honorees was Gigi Woodall, 16, of Newport Harbor High School. Woodall began volunteering with Komen Orange County in 2014. She assisted with general Race for the Cure duties and projects.
In addition to volunteering her time at the office, she established a "Pink Ribbon" club at her school to raise awareness of breast cancer and support students with family members going through treatment.
About Susan G. Komen: Nancy G. Brinker promised her dying sister, Suzy, she would do everything in her power to end breast cancer. Today, Susan G. Komen works to end breast cancer in the U.S. and throughout the world by investing more than $750 million in breast cancer research and $1.5 billion in community outreach programs over the past 30 years; providing funding to help low-income and uninsured women get screened and get treatment; advocating for cancer research and outreach programs; and working globally in more than 30 countries.
For more information on Susan G. Komen Orange County, visit komenoc.org or call 714-957-9157.