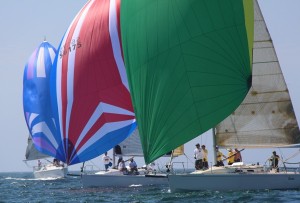 J-Fest, Balboa Yacht Club (J-Boats)
Over the Sept. 22-23 weekend, Balboa Yacht Club held "J-Fest," an annual race open to boats in the popular "J-Boat" classes.  Twenty-five big-boat crews traveled from as far as San Diego and Santa Barbara to race in this fun event.  Like the Harbor 20 fleets on the bay, J-Fest competitors enjoyed balmy summer-like temperatures, but otherwise fought through light, fluky conditions all weekend.
J120 Class:  1st J Almighty – SDYC/CRA Mike Hatch; 2nd CC Rider – SDYC Chuck Nichols; 3rd Jim LBYC – John Snook.  J109 Class:  1st Sugar – LBYC Steven Crooke; 2nd Persistence – CYC Bryce Benjamin; 3rd Electra – SLBYC Thomas Brott.  J105 Class:  1st Perserverance – SDYC Bennet Greenwald; 2nd Triple  Play – SDYC Dave  Vieregg; 3rd Zuni Bear – SDYC Rich  Bergmann.  J80 Class:  Avet CYC Curt Johnson; 2nd Monkey Shoulder BYC Dan Gribble; 3rd Nuhunu 1321 DPYC Steve Wyman.  PHRF:  1st Marisol (J124) CRA Seth Hall; 2nd Cirrus (J124) ALYC Tim Harmon; 3rd TKO (J122) SYC John Raymont.
Harbor 20 Racing:  Tune-Up Regatta, BCYC (Saturday); Fall Schock Regatta (Sunday)
With the Harbor 20 Championships just two weeks away, over 40 Harbor 20s came out last weekend for two days of "tune-up" races.  On Saturday, Bahia Corinthian Yacht Club held its "Tune-Up" Regatta.  Then on Sunday NHYC hosted their annual "Fall Schock Regatta," a regatta named for W.D. "Bill" Schock, the founder of Schock boats.  Like racers in the J-Fest, the H20 sailors enjoyed warm temperatures, but otherwise had to contend with light, shifty westerly conditions all weekend.
Saturday, Sept 22 – Harbor 20 Tune-Up, (BCYC) –
Harbor 20 A:  1st Blue Skies Gary Thorne BYC; 2nd Dragon Lady, Ed Kimball ABYC; 3rd H20, Tom Schock NHYC.  Harbor 20B:  1st  Fun-D, John Whitney NHYC; 2nd Summer Dream, Tucker Cheadle UCISA; 3rd  Aeronca Chief, Rolly Pulaski, NHYC.
Sunday, Sept 23 – Fall Schock Regatta (NHYC) –
Harbor 20 A:  1st Earth, Gale and Jon Pinckney; 2nd D'Art, Bill and Diane Menninger; 3rd H20, Tom Schock.  Harbor 20 B:  1st Aeronca Chief, Rolly Pulask; 2nd Summer Dream, Tucker Cheadle; 3rd, Tres Unos, Jeff Gordon.
Upcoming Sailing Events:
Sep.t 29-30 – Cressy Eliminations, US Sailing Center Long Beach (High School Singlehanded Championships Qualifier) Laser, Laser Radial)
Sept. 29 – Ullman 'B' Regatta, BYC (Lido 14)
Oct. 6 – Fourteen Mile Bank Race – NOSA (PHRF)
Oct. 6-7 – Harbor 20 Championships – NHYC (Harbor 20)
Oct. 13-14 – Lehman 12 Championships – NHYC (Lehman 12)
Oct. 20 – Sail for the Visually Impaired – ALYC