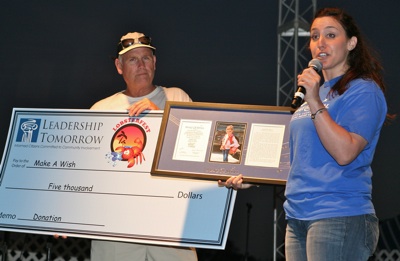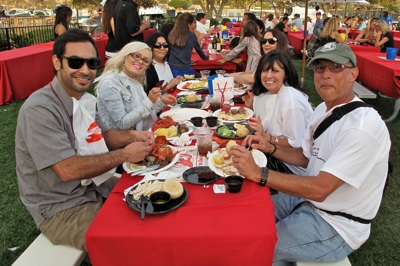 As reggae music by We the People filled the air, guests enjoyed cocktails and an impressive buffet featuring large Maine lobster and juicy tri-tip prepared to perfection by Back Bay Bistro catering.Warm, tropical weather made for a delightful evening on the shores of Newport Dunes Waterfront Resort and Marina for the 4th Annual Lobsterfest at Newport Beach last Saturday evening.
Because the 900 pounds of lobster that was ordered had to be flown in, walk-up guests were eventually turned away from the completely sold out event and advance ticket holders were in for a treat.
Festive table settings including buckets of lobster crackers, bibs, instructional placemats and of course lots of hand wipes filled the Dunes' comfortable grass lawn.
Chefs were on hand to cut the lobster for people like me who, when handed the gorgeous crustacean on an oversized plate, looked at it like it was an alien from Mars. Happily, with a few skilled chops of a clever, my plate was filled with the tail and two lovely claws sans the main body, a delicacy I have not yet learned to appreciate.
Hosted by Leadership Tomorrow, the event raised more than $12,000 net to go towards their scholarship program to help develop effective community leaders who work to strengthen Orange County communities.
Leadership Tomorrow Board Member Tim Brown also presented a check for $5,000 to Make-A-Wish Orange County, which grants the wishes of children with life-threatening medical conditions.
Moving forward into 2013, the Lobsterfest Foundation board will host the event, which will continue to provide scholarships for participants in Leadership Tomorrow and benefit one additional charity to be selected on an annual basis.
For information about next year's event, visit lobsterfestatnewportbeach.com.
Special to the Indy from OCSocialScene.com.