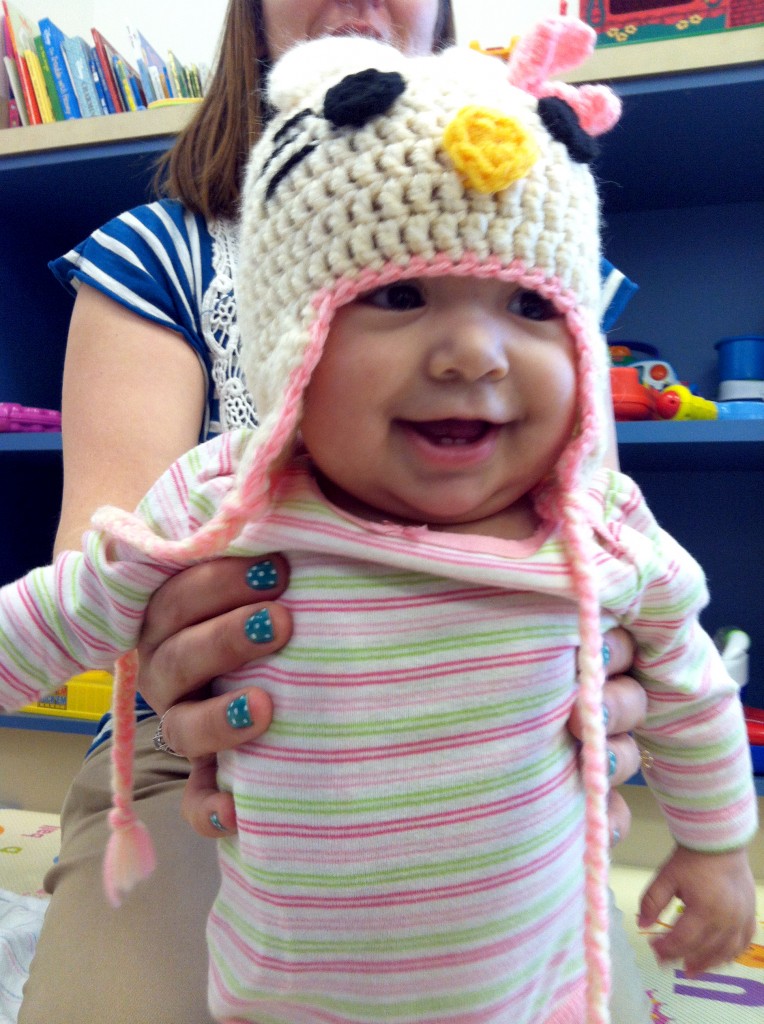 Kids in the cancer ward at a Long Beach children's hospital had their heads – and hearts – warmed on Wednesday when a local charity delivered a package of handmade knitted and crocheted caps and other goodies.
Knots of Love, a local non-profit that donates hand knitted and crocheted caps to cancer centers across America, delivered caps to the young patients in the  Hem/Onc Unit at Miller Children's Hospital Long Beach on Wednesday.
"It was a wonderful visit," said Knots of Love founder, Christine Fabiani. Hand delivering caps is a very touching way to see just how much they can help, she added.
The kids got to choose from a variety of colors, patterns, and sizes; hand picked for them by Fabiani and KOL volunteers out of thousands of caps donated by knitters and knotters across the U.S.
"The Child Life Department at Miller Children's is so grateful to receive these caps, handmade with love and care," said Rita Goshert, manager of the Child Life Department at the hospital. "Our patients, families and staff are so touched by the generosity and we thank Knots of Love and all of its members for all that they do for those battling cancer and other life threatening illnesses."
Sevenly, an Orange County-based Social-Good lifestyle brand, was also on hand to present Fabiani with a check for $22,834. The check is the amount raised during the week of Dec. 3-10 when Sevenly sold custom designed, KOL-inspired t-shirts and sweatshirts, with $7 of each purchase going toward the charity.
All of the funds from KOL's Sevenly campaign will go toward warming the heads of children at cancer centers across the country with hand knitted and crocheted caps.
Sevenly chooses a different charity each week and designs shirts and sweatshirts inspired by the organization and their cause. The company then donates $7 to the charity for every purchase during those seven days. The total amount raised for the Knots of Love campaign is $36,834, which includes a $14,000 contribution from "I CAN HELP THE WORLD," an online game that encourages kids to give back, who agreed to match half the amount raised (up to $28,000) by Sevenly for KOL.
"We at Knots of Love are both humbled and honored to have received this wonderful opportunity," Fabiani said. "Our gift is simple, human warmth and kindness to children in need. People of all ages are in need of love, kindness and support as they wage the fight of their lives."
The charity was also recently featured as one of the Today Show's "26 Acts of Kindness You Can Do Right Now," a project created to honor the 26 people who lost their lives in the Sandy Hook Elementary School shooting in Newton, Conn., in December.
A KOL cap was also recently featured on the hit NBC series, "Parenthood."
Knots of Love donates over 3,000 caps per month to more than 405 cancer treatment centers, infusion centers, hospitals and oncology offices across the nation. More than 141,000 caps have been donated since its inception in 2007.
For more information visit knotsoflove.org, sevenly.org, and millerchildrens.org.