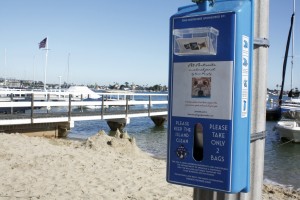 Even after 35 years of marriage to his high school sweetheart, Chris Crosson admits to still trying to perfect his "pick up" lines.
His wife, Laura, doesn't mind one bit. After all, the family business is the manufacture, sales and distribution of more than 20 million plastic bags annually for the removal of doggie poop.
A few years after Crosson unleashed the full potential of his company in 1990, the Corona del Mar High School grad rightfully claimed that his company, Doggie Walk Bags, is "Number One in Number Two," or the international leader in this fecal field, according to PetCo.
Not only are Doggie Walk Bags available in such countries as England, Korea, Japan and Dubai, but also on multiple light posts adjacent to the beaches of Balboa Island. In fact, they're found just about everywhere in the civilized world, where pedestrians demand obstacle-free passage.
Thousands of dog walkers automatically pull the sky-blue bags from specially designed dispensers that are strategically and conveniently placed around Balboa Island.
The Balboa Island Improvement Association sells display ads on the dispensers, which covers the cost of purchasing the estimated annual requirement of Doggie Walk Bags.
If shoes or sandals could write, they'd pair off to send e-mails of gratitude to Crosson.
All bags are manufactured in Crosson-owned plants in Southern California. He used to order from China, but decided that his product should be 100 percent USA-made using the highest quality materials—a good thing considering intended use.
When asked once by a customer if the bags could contain anything larger than the throughput of a Chihuahua, Crosson unfolded a blue bag and slipped it easily over his head with room to spare, demonstrating that even "Great Danes pose no challenge" to the integrity and capacity of his product.
"Even horse stables order from us," he admitted, as do more than 6,000 clients from around the world, many operating multi-store chains.
If pictures say a thousand words, the artwork on Crosson's business cards screams "Don't tread on me."
The odiferous graphic needs no explanation, but the now well-known cards have been the butt of pet industry humor around the world.
"There's no doubt when people see our card, they think of us," Crosson said.
Doggy Walk Bags is a family business, and includes the Crosson's two daughters and son.
Additionally, Crosson says with pride that they employ 40 people in the warehouse, all mentally challenged students or adults. One woman has been with them 17 years.
Clamped to the light pole at South Bay Front and Sapphire on Balboa Island, near the Crosson family home of 62 years, dog walkers and others will find a handy Doggie Walk Bag dispenser.
On almost every Saturday of the year, in front of that dispenser, a man widely known for two decades of award-winning sand sculptures will be creating everything from castles to mermaids out of the sand that gets left high and wet at low tide.
Few realize that this artist makes a wonderful living selling 20 million doggie bags annually.
Crosson has been sand sculpting at that slightly elevated sand mass since he was a kid. Now his daughters also compete – and win – in Corona del Mar's annual Sandcastle Contest. Last year, Crosson won the People's Choice Award, his daughters took the Best Sculpture Prize, and dad came back to snag the Best Castle blue ribbon.
Proper sand sculpting requires an array of tools, just like any studio-based sculptor might use. To that end, Crosson has assembled the Chris Crosson Sand Castle Kit, featuring 21 must-have instruments for building anything the imagination can dredge up in sand. No other kit now marketed includes such an array. Crosson believes that with about three months' practice, anyone can produce a sculpture worthy of a first place finish. His kit is $149 (sunscreen not included).
So what do Doggie Walk Bags and Crosson's sand sculpture kits have in common?
Both address important outdoor activities; and at some point, both require a stooping maneuver to complete the process.
For more information, contact Crosson at [email protected].
Contact the writer at [email protected].