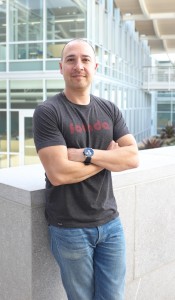 By Haylee Barber | NB Indy
It doesn't take any special day of the year for Bobby Barzi to celebrate Fatherhood. In fact, the Newport Beach resident has practically made it his life mission as the Chief Dada (or company founder and director) of fodada, a clothing company that is part outfitter, part ideological trailblazer.
Founded in 2012 after Barzi, 42, left his position of over 15 years in technology and information management, fodada is a for-profit clothing company and uses part of the retail funds for no-cost programs that promote his mission. It's a brand new business model, and Barzi is inventing the rules as he goes.
A father of two young boys, Barzi developed the idea for fodada after his first son, Pierce, now 5, was born.
When Pierce was a toddler, he would bring Barzi trinkets from around the house, then smile and simply say, "fo dada." When Barzi was looking for a name for the new company, he asked Pierce's advice, and Pierce of course, said, "fodada."
"I think a lot of people go through the process of knowing they want to be a parent," said Barzi. "But for me, it was off the charts; it was something that I just completely dove into and just loved every minute of it."
And thus, Barzi's love of parenting led him to some higher thinking about the role of fatherhood in society.
"I think as a parent, we feel like we are always just giving," said Barzi. "I have to do this, I have to do that for my kid, but in reality I think the person who benefits even more is you. It connects you to what is real and what we are all here to do."
After leaving his tech job, Barzi began the process of creating fodada, with a mission to celebrate the role of the Father in the family and community, and encourage dads to connect, or reconnect, with their kids.
Barzi did not have prior experience in clothing or apparel, but wanted to distribute a product that people interact with on a daily basis. Comfortable clothing was the most tangible option.
The company was launched in 2012, and Barzi received immediately positive feedback about his mission from community members and even celebrities such as Orlando Bloom and Hugh Jackman, both fathers.
Fodada now consists of just five staff members, but the apparel is sold and its mission extends nationally and even internationally.
Barzi has capitalized on a unique business and marketing strategy in which he utilizes the collaboration of nonprofits and individual brand ambassadors in order to leverage sales. And unlike many businesses that begin with the sale of a product and then incorporate a cause, fodada was oriented around giving back from its inception.
So fodada walks and talks like a nonprofit, and yet it is a for-profit business with a mission to give back.
"We do not ask for money," said Barzi. "If you want to buy the clothing, buy it and love it for what it is. But at the same time customers can know that behind the scenes they are helping to indirectly and directly help us fund things. Some goes to operations and some goes into a bucket that funds these programs that we put on."
With Father's Day this weekend, one such program is spotlighted: the "Dad & Me" campaign. The goal of this campaign is to encourage Father's to spend time with their children, and to commit to just three hours of time per month.
To participate in the campaign, kids can download a commitment letter with their Dad from the fodada website and pledge to commit to the three hours of Dad-Kid time for a month. By signing up, Dads will get a free fodada T-shirt.
Barzi hopes this is a baby step that will encourage family habits and Fatherhood confidence.
For Barzi, though, the mission is much bigger than just a Father-child connection.
"The concept of celebrating a dad is not just for dad's," said Barzi. "It's something that affects all of us. Whether we had a great dad, we didn't, or we want to someday be one, it affects everyone in a household. If we try to bring dad to be seen at the same level in society as mom is today, what an amazing feat that would be."
For more information, visit fodadawear.com.