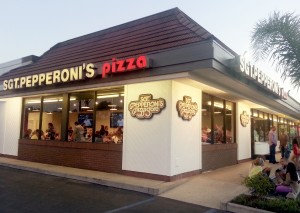 Sgt. Pepperoni's Pizza is back!
The iconic pizza palace on S.E. Bristol Street at Birch Street in Newport Beach reopened two weeks ago under the direction of four new owners, including Newport Beach residents Stan Frazier (former drummer with Sugar Ray and a partner in A Restaurant, plus winner of TVs "Chef Race"), Andy Hong (partner in the management company that manages Sublime, among others), Jeff Roberts (former SVP of worldwide retail for Volcom) and Rob Dodman, former CFO of Winchells who actually lives on the east side of Costa Mesa but a pizza-toss from Newport.
The restaurant has a remodeled interior and all-new menu, and a new chef: They imported Chef Trevor Kotchek from New York to head the kitchen.
Sgt. Pepperoni's opened in 1976 and was an iconic Newport hangout for many years. The new vision is for Sgt. Pepperoni's to regain its status as the go-to family pizza joint in Newport-Mesa.
Earlier this week, Frazier and Hong sat down for an interview over – what else – a gourmet pizza with classic rock music playing in the background.
"This is more than a pizza place. This place came together by four partners from different backgrounds with a common thread: music, food and love," said Frazier, who graduated from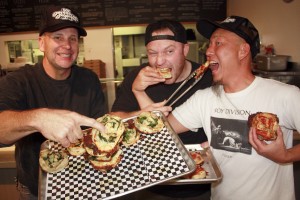 Corona del Mar High in 1986. "I could not be with better partners."
"It's like 'Cheers' for kids and families," sated Hong. "People walk in, we recognize their cars, they are part of our community. When Jeff asked me to get involved, I said yes and as I started telling people about it, they would light up like out of a movie script, they would say I used to go there, I had my soccer party there, or my birthday party."
"I had my first make-out session by the pinball machine when I was 10," laughed Frazier. "As soon as Andy mentioned it, I freaked out because it was our spot when we were kids, but he said sorry buddy the door is closed on this one, maybe the next one, and I was sad. A few days later I created a menu and thought if I could open Sgt. Pepperoni's, this is what I'd do. I sent it off, and two days later Andy called and said we like what you did, we want you to be a part of this. I was so psyched because they reopened the door and included me. Every person has been integral in this equation. We're all responsible for everything. This team is a cohesive unit. If we lose a spoke, the wheel will fall off the car."
"Once the deal to purchase the restaurant was worked out, we had a two month waiting period to prepare for when we got the keys," added Frazier. "We got the keys on a Friday, by the following Friday we were open for business. We had 25 to 30 people working around the clock pulling out the carpeting and the ceiling, we installed new heating and air, exterior and interior paint, did a kitchen renovation and menu renovation. I did not think we could do it, but we set a time limit."
Their deadline was mandated by their opening night fundraiser for Mariner's Elementary, due to start at 5 p.m.
"If we do not open by 5 p.m. on October 18, there will be 500 people including kids that will be really pissed off, so we drove ourselves to be resourceful, we had no time to fight with one another," said Hong. "At the end of the day, what really matters is the group of the people who have come together to create wonderful memories for children and parents."
"We pulled it off with three minutes to go before opening our doors. There was a line out the door, not a single parking space, people were walking blocks to come here," said Frazier. "It was amazing and proves that people love what we're doing here."
"People are saying this is a legendary place, thanks for bringing it back to its former glory," smiled Hong. "They are talking about it as though it is a religious institution."
"Hey, it's Sgt. Pep's—it means a lot to people," said Frazier.
For more information, visit Facebook.com/originalsgtpepperonis.