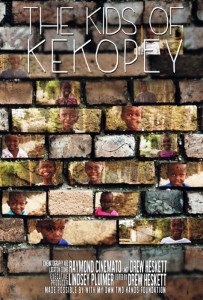 By Haylee Barber | NB Indy
It is often easy to become overwhelmed with the ever-increasing number of nonprofits and charities asking for help. For those on the other side, heading these organizations is no easy feat.
But for Lindsey Pluimer, the 27-year-old Orange County resident who started the nonprofit organization With My Own Two Hands, it is passion that drives her every move.
With My Own Two Hands is a volunteer-based nonprofit that incorporates principles of yoga and sports to help African children in need.
Pluimer, a former UCLA basketball player, began the organization after a volunteer trip to South Africa where she was touched by the massive impact she could have with just a small gesture.
While visiting an orphanage, Pluimer encountered a young girl with HIV. She had lesions on her arms, and Pluimer's group provided her with a new outfit, including a long sleeve shirt to cover her lesions.
"It totally shifted her whole energy," said Pluimer. "After seeing that impact, I realized, that this was amazing, rewarding work and I wanted to dedicate my life to it. "
After college, Pluimer played professional basketball in Spain and Australia. Though she had the opportunity to continuing playing professionally, Pluimer wanted to take her passion for work abroad and translate it into something tangible.
In 2010, she founded With My Own Two Hands. Since then, the organization has raised thousands of dollars to help African children in need, and restored an orphanage to keep the tenants, and children, from being evicted.
Pluimer's efforts to keep this orphanage alive tell an incredible story of refuge and renovation. Along the way, Pluimer, along with filmmakers and editors, turned the journey into a documentary called "The Kids of Kekopey" that has its world premiere on July 13 at the Port Theater in Corona del Mar.
Special guests scheduled to attend include Philadelphia Eagles quarterback Mark Sanchez and other NFL players, as well as NBA players.
Proceeds from the documentary screening will benefit the nonprofit's next major project: the reconstruction and sustention of the Wholistic Caring and Counseling Centre in Kenya.
The Centre, which acts as a school and orphanage, is barely surviving.
"The Centre is in very bad condition," said Pluimer. "It's unsafe for the children. There's barely any light. It's a pretty needy project."
Pluimer and her team of volunteers have already made strides on this project. This past spring, they fundraised over $17,000 to drill a water borehole at the Centre in hopes that of helping the center become self-sustainable.
"They can now sell their water and plants, and make their own food," said Pluimer. "Our goal is to build them a new school. We believe it will help them become self-sustainable."
Though Pluimer's efforts are sizeable, she credits much of her successes to collaboration with the nonprofit's African Program Director, a local resident of Kenya named Joel Misango.
She met Misango while on a trip to South Africa; he was the driver for her group. When the group arrived at one of their volunteer locations, Misango hopped out of the car, ready to help.
"I call him my angel," said Pluimer. "I think there's some people in life you are destined to cross paths with. He gets things done, he's invested emotionally. He's just a very special person."
At the upcoming documentary screening, Misango will be flying in from South Africa to attend and tell his story of growing up in the slums of Kenya. This will not only be his first time visiting America, but also his first time on an airplane.
Pluimer has worked tirelessly to promote the upcoming screening, and hopes the community will support her vision of change.
Tickets are $100 to $500 and include the screening, appetizers by Javiers, and more.
The nonprofit hopes to raise $50,000 from ticket sales as well as other donations and proceeds from a silent auction.
For tickets to the event, visit thekidsofkekopey.eventbrite.com.