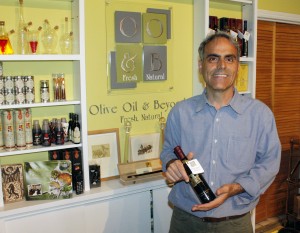 Before curiosity drove me into Olive Oil and Beyond on Balboa Island, all I knew about olive oil is that she was Popeye's girlfriend.
Olive Oyl first hit the funnies in 1926, Olive Oil and Beyond proprietor and founder Matthew Pour told me that olive oil stretches back more than 6,000 years. And in those millennia, olive oil has evolved into both a cuisine art and business of surprising sophistication.
Pour (which means son in Persian) is the perfect name for this 49-year-old olive oil entrepreneur, for he is happy to pour sample cups of his incredibly pure, ultra-premium, artisanal quality selections that he keeps in air-tight, stainless steel containers that line his store's shelves.
According to Pour, Olive Oil and Beyond carries "the largest selection of the rarest and freshest ultra-premium extra virgin oil in the world."
For the uninitiated, ultra-premium translates to "oil with zero defect."
It's a seduction of the taste buds. Each sample that caresses the customers' lips then serenades their throats gives Pour the opportunity to share his encyclopedic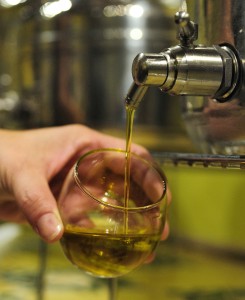 knowledge about his esoteric, tasty and healthy olive oil varieties.
He has been passionately doing so since opening Olive Oil and Beyond eight years ago. The "beyond" includes an accompanying line of fruit, naturally aged balsamic and wine vinegars, food products, giftware, and much more.
In addition to what Pour claims to be the world's purest, estate-grown olive oils, his 12.7-ounce designer bottles contain an abundance of what he called "culture, geography and history."
As a certified master taster, he conducts frequent educational seminars with executive chefs across the country on how best to enhance their menus with olive oil.
Pour explains "estate grown" as those farms with olive pressing mills on property, which allow for crushing and pressing exclusively handpicked fruit within six hours after harvest. This is the golden rule to achieve the highest quality virgin oils. Producers will generally pick olives by hand so as not to bruise the skin or pulp. The olives are then crushed and pressed with six to 24 hours. Any longer, and the olives – as with any fruit – will begin to ripen or ferment, which will lower the quality of the oil.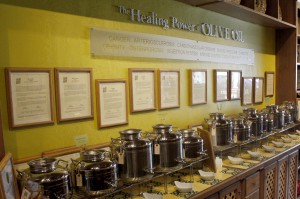 Island visitor Bill Bavelas of Danville, CA, a "serious home chef", said, "I have to come to this store each year because I can taste the difference between [generic] olive oil and truly fine olive oil.
"You can see the difference, can see how the food cooks, even how the oil coats the pan," he said. "The better the oil, the less you have to use of it," he shared—a consideration for some, when a bottle sells for between $16 and $22.
Local real estate broker Olga Megdal said buys Pour's olive oils not only for their purity, but because "It reminds me exactly what I used to buy in St. Petersburg (Russia). "Russian foods are rich in flavor; I use olive oil in my salads and when I steam vegetables. This is the only store where I can get this (quality) olive oil."
To most, an olive is an olive, seeded or seedless, Italian or Greek. Some people even think that a pimento is part of the fruit. But Pour will tell you that more than 800 species of olives are grown in all hemispheres, in such locales as Australia, Israel, New Zealand, Spain, California, Italy, Portugal, Sicily, Tuscany, Slovania and France.
Generically, the olive tree is called "the king of trees," as they managed to survive in the wild for centuries, and still produce fruit all year long. Pour believes (probably not without challenge) that there's much more to
consider in producing olives than grapes.
Over the eons, olive oil has been used for everything from anti-aging to panaceas for bladder infections, constipation, fibromyalgia, gingivitis, Type 2 diabetes, heart disease, inflammation, obesity, osteoporosis, diaper rash, hair loss, dandruff, hot flashes and deflated libido.
For many, olive oil does more to keep Medicare at bay than the proverbial "an apple a day."
A visit and a taste may very well lead to a diet-and-life changing experience.
For more information, visit oliveoilandbeyond.com.
Contact the writer: [email protected].