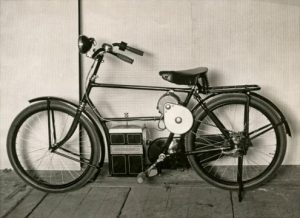 Archaeologists believe that the wheel as a useful tool was rolled out about 3,500 BC, in what was then Mesopotamia, a region within the Tigris and Euphrates River System in the Middle East.    
Aside from materials, the wheel has changed little in purpose these past 5,517 years.   
Likewise, the "modern" bicycle since its introduction to French society in 1790, by Comte Mede de Sivrac, has evolved only materially rather than functionally.
Early Sivrac cyclists sat-walked their bikes with their feet until reaching a hilltop, wearing down their shoe soles to brake their oft-times uncontrollable descents.  
In 1895, American inventor Ogden Bolton, who perhaps didn't like to perspire by pedaling, introduced the electric bike, earning US Patent number 552271. 
According to one esoteric E-bike historian, the modern electric bike era started in 1995.  It has been on a positive spin ever since.
The most recent entrant into the E-bike market is retired restaurateur Sean Lupton-Smith, 48, originally of Johannesburg, South Africa, and now a full time retired resident of Newport Beach, by way of Atlanta.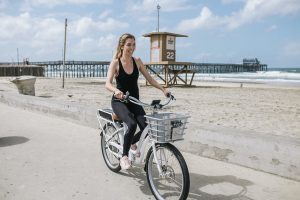 Having sold his franchise chain of restaurants eight years ago, he looked for the ideal place to settle to do "whatever retired people do."   
On a return family visit to Johannesburg, Lupton-Smith happened upon a Zimbabwean, who voiced concern about the lack of reliable transportation for most Southern Africans, most of who were poor. In a light-bulb moment, Lupton-Smith suggested the introduction of basic and affordable electric bikes for all. 
Thus began a personal quest to bring low-cost, modern mobility to the rutted roads of the African countryside by encouraging locals to establish E-bike businesses for their localities, then hopefully "franchising" their knowledge to others.   
To that end, what Lupton-Smith decided to do upon returning to Newport, was to not reinvent the wheel, so to speak, but to measurably improve the power sources that made the old electric bike a more desirable mode of travel.   
First, he established a company moniker, "Electric Bike Co.," surprised that nobody in the burgeoning E-bike universe had copyrighted that simple and descriptive name.   Then over a four-year span, he spent nearly $1.5 million to redesign the battery and its case, in the process becoming a 50 percent owner in what Lupton-Smith described as the most innovative battery company in China exclusively devoted to transportation (bikes, boats and golf carts).     
 The result is a patent-pending power pack married to a bike frame whose design can best be described as pure simplicity. 
"It's so simple," cited Lupton-Smith, "that you can't improve upon it."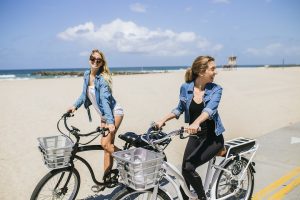 But he did markedly improve the battery pack by incorporating a retractable charger cord, charger and controller inside the slim-line battery cassette, obviating the need to carry a clunky, independent charger with a tangled power cord that easily can get lost while commuting.  
Also, there'll never be a need to borrow another's charger, which probably would not fit the wire terminals, and at the worst lead to a severe malfunction.   
Additionally, the battery pack can easily be removed from the rear bike rack for secure, independent storage.
The challenge facing Electric Bike Company is penetrating the mindset of a marketplace used to the perpetual toothpaste advertising claims of "new and improved."  
"We're not here to evolve the bike, but to maintain its pure simplicity," Lupton-Smith emphasized.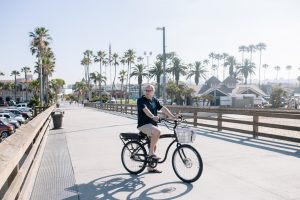 That doesn't mean a compromise in quality, for his bikes feature the highest standard parts, some of which he did spend considerable sums to refine. For instance, he had designed 50 different bike seats over the years, the final one being lauded as universally comfortable by countless test riders of varying dimensions– a true asset. 
In all, Lupton-Smith constructed more than 50 E-bike prototypes before debuting the final models through his on-line showroom, which he did earlier in the year.
The basic model sells for $1,200, while the tricked-out, fully loaded edition about $1,200 more, but that includes extended-range battery, heavy-duty basket, fenders, suspension seat post, tow hitch, waterproof Blue-tooth speaker, cell phone holder, emergency repair kit and saddle bags.   
Battery range utilizing throttle only at a speed of 15 mph on level ground is 40 miles, but "with limited peddling, battery range increases to 100 miles," Lupton-Smith claimed.  
He encourages potential E-bike riders to compare what's available by the competition.   That comparison, he says with pride, is his best sales force.
Lupton-Smith sees his bike and advanced power source as the future for the global masses who can't afford cars, and most definitely for Newport residents who probably can, but who want to skirt the traffic that so impedes summer flow to their favorite beaches.
For detailed information, or to arrange a test ride, go online to ElectricBikeCompany.com.