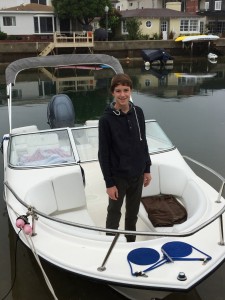 Landon Martin didn't expect to attend the annual Christmas Boat Parade awards dinner on Jan. 16 at The Island Hotel. However, the 14-year-old Balboa Island resident was invited to the celebration by event Chairman David Beek.
For the past two years, Landon has entered his boat in the annual Christmas Boat Parade. Although the parade judges heaped a significant number of points on his boat in his division, it wasn't quite high enough to win an award (and there isn't one for Youngest Entrant).
Despite that, on the last night of the Christmas Boat Parade , Beek radioed "Boat number 4" to come to the field station.
When he showed up the next day, "Mr. Beek told me that since he had convinced me to enter this year, he wanted to give me tickets to the award dinner," Landon recalled with pride.
The young skipper smiled while recounting the 2014 parade's Skippers' Meeting. Beek asked for a raise of hands of all first time captains in the parade.
"Everyone looked at me, and I just sat there with my hands on my lap," alongside the other veteran entrants. He squelched a small smile.
"I can't wait 'til next year," Landon beamed. "I want to do the Christmas Boat Parade
every year."   He's already thinking about how to build the custom armature to hold all the lights.
For his most recent entry, Landon (and his parents) made multiple runs to Home Depot for parts; then he and a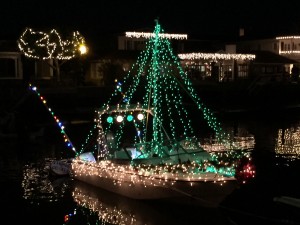 buddy spent more than a week constructing the vision, which consisted of an umbrella stand sandbagged to the bottom of his boat that held a tall PVC mast, to which he strung 16 strands of green LED lights. He wrapped ten other strands of lights about the boat. All together, the waters around his boat glowed like the bioluminescence that every so often visits our coastal seas.
During construction, "Stuff was always going wrong; lights would go out. The power was the most interesting part," Landon said. "The inverter just kills a battery, so we rented a generator."
Every night of the parade, Landon took along a different friend as crew, but the deck was so crowded, they could barely move around. Still, he found space to squeeze in a portable hot cocoa machine, so he could dispense sweet grog in order to stay warm.
With a boat that performed perfectly, Landon's main nightly challenge became navigating safely around all the spectator boats that "get in your way, while all kinds of unauthorized little boats try to slip into the parade."
All in all, Landon captained his boat for more than 20 hours during the course of the parade.
It doesn't seem to matter what this young but dedicated sailor faces when he takes out his 18-foot Edgewater powerboat, or when he competes in 13-foot CFJ sloops on the Corona del Mar High School sailing team , as long as he's on the water, which is almost every day.
Landon's parents, Joelle and Jim, don't know where his natural way with the sea and his love for boats came from.
"From two weeks of age, he just always loved the water," Joelle said.
Jim admits that it couldn't be from him, having grown up among Kansas's wheat fields, where the only "waves" were …amber waves of grain.
Aside from school, where he excels at science and math, almost all of Landon's activities are marine-oriented. During summers, he works for the local parasail company, where he serves as a deck hand.
During the school year, after having finished his homework, Landon researches boats online, and has reviewed more than 200 vessel tests on website Boattest.com – all in an effort to find out which boat he wants to eventually own.
Currently, he dreams about the Tiara 44. Beyond that, he also said he'd love to be the captain of a 200-foot yacht.
When asked if he has thought about college, Landon said he really hadn't, except for one thing: it has to be near water.
It's obvious that this teen mariner already has plotted his course.
Contact the writer at [email protected].