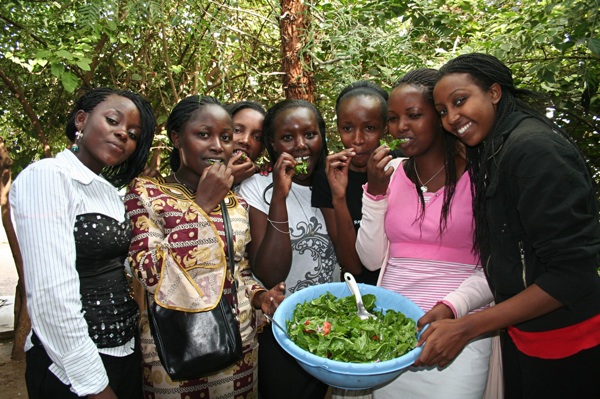 Two locally based nonprofits have combined their efforts to support Kenyan orphans and vulnerable children from toddler age to young adults.
Cradle to Career: Kenya (C2C) is a combination of two Newport Beach-based non-profit organizations, African Child Foundation and Agano with Kenya. Both organizations have served the needs of children rescued by Father Henry Simaro in the Athi River area in Kenya since 2005.
There are a lot of exciting updates that are happening along with this joint organization, said C2C executive director, Jene Meece, who also founded Agano.
"What I think is interesting is that the Agano girls were the original ACF girls, so they started back when they were 9, 10, and 11," Meece said. "Then they became Agano girls (to attend college), when we started that program (in 2010). So they kind of went through the Cradle to Career program without knowing it."
The Agano girls are now about age 20 or 21 and doing well at various universities.
The newly formed non-profit organization's mission is to support Simaro in his efforts to transform the lives of Kenyan children, by providing for their immediate needs, and offering access to the best education possible.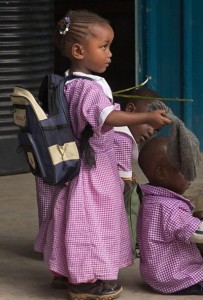 They are working at expanding the middle school, Mt. Olive Academy. There are currently only 110 rooms available at the school and they are working on raising the money for a new dorm which would allow the school to house an additional 360 kids.
"It's so exciting," Meece said.
Another new development is the focus on nutrition. Simaro has noticed that, out of the students at Mt. Olive, the kids from Fanaka are often physically smaller than the paying students, who come from families with enough money to buy plenty of healthy food. The Fanaka kids, Meece explained, haven't had the proper nutrition.
"So we're pushing to get that nutrition and nourishment and that health kicked into Fanaka so the slum kids get every advantage early on to move into Mt. Olive," Meece said.
Meece is also concerned about the health of the Agano college girls.
"They have grown up so poor, and so poor nutritionally… And now they're no different than any other college student around that live off (junk food)," Meece said.
During her last visit they visited a nearby market and bought some healthier items, including spinach and other ingredients for a California salad. The grocery store had only one salad dressing, Meece said, and the girls were not familiar with how to make a salad, even questioning that the food wouldn't need to be cooked.
At the meal they all had big bowls of the California salad and each one ate every last bite.
"It was a totally new experience for them," Meece said.
A typical breakfast or dinner for them would be Ugali, which is like a porridge or corn meal, and is very filling, and a stewed kale, Meece said.
"We need a nutritional program," Meece said, which she is working on and would include daily fruits and vegetables.
Also during Meece's most recent visit she took them out to get their nails done.
"They've never been to a salon in their lives," she said.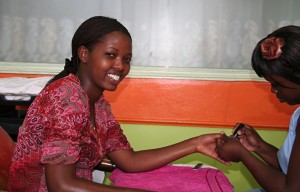 Another new experience for the girls, and a bit of a shocker to Meece, was when they all went out to a nice restaurant.
"There was total silence at the table," Meece said, then she realized they couldn't understand the menu. "They had no idea what the items were."
Items similar to Cordon Bleu or Ossobuco, Meese said, they had no idea what they were.
"In the middle of the silence and somebody said, 'All I know is I don't want porridge," referring to Ugali, Meece said.
"They were embarrassed at not being able to perform at this restaurant," Meece said, but put a positive spin on it, saying next time they can take Meece out to dinner and know what to order and soon enough they'll even be able to pay for her meal.
"These are things I didn't know would have such an impact," she said.
The life experiences can also be learning experiences, Meece said.
They have also recently launched "Snapshots of Africa," community events with a twist. For example, a gathering to discuss "Yes, Chef" by Marcus Samuelsson will include a cooking demonstration on African fused food from his cookbook. Another idea would be a gathering to discuss "Kaffir Boy" by Mark Mathobane and would include a wooden racket tennis round robin.
Another new addition to the organization is a group that aims to climb Mount Kilimanjaro in January. The climb will help raise funds for the organization.
The group will leave for Nairobi, Kenya, on Jan. 1, to visit the C2C schools, do some sightseeing and acclimate to 5,000 feet. The hike will last from Jan. 5 to 11.
Anyone interested is encouraged to come to a planning meeting. There will also be several other activities to do before January in order to prepare for the trip.
The new combined organization also has a new donor program called the C2C Mchango Club. There are three tiers of support in the club. For $47 a month, donors will be Cradle Members, and will fund one of thirty children in a class at Fanaka. For monthly donation of $87, they will be Career Members, and the funds will go toward a college student. The highest level are Brilliant Scholar Members and for a gift of $5,000 will cover the cost of one student in university for one year.
Each club level has certain benefits, like enrollement into the Snapshots of Africa program, complimentary stay at Mt. Olive in Kenya, and communication with the student or class the donation is sponsoring, and more.
Cradle to Career has two event come up next week.
Lunch Like a Kenyan, discussing Unbowed by Wangari Maathai, guest UCLA speaker and will include a farm to table demonstration with organic vegetables. This is a free event.
On Sept. 19, they will have a video conference with the baby class at Fanaka Elementary School in Kenya. This will be for the Cradle Member donors that signed up for the Mchango Club.
Cradle to Career also recently announced a major fundraising gala event, scheduled for Nov. 2 at 6 p.m. at Big Canyon Country Club in Newport Beach.
For more information, contact Jene Meece, [email protected], 949-533-9569 or visit C2CKenya.org.