Last weekend I was down on the docks watching as dozens of young novice sailors were just heading out for NHYC's Fall Gold Cup. Racing hadn't quite gotten underway when a Harbor Patrol boat came roaring down the bay in full "Code 3" mode (lights flashing, sirens, 20-plus knots). Given that most of the kids were still near the docks, the Harbor Patrol did manage to stay well clear of our young sailors in this instance.
In a similar incident last March, I was out sailing in Harbor 20s during the W.D. Schock Regatta, and the large red Harbor Patrol boat came roaring through our fleet at high speed. In this case the Harbor Patrol cut so close to one H20 that their wake pushed gallons of water into the racer's cockpit, drenching the crew.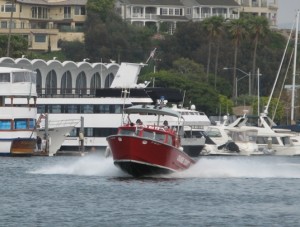 Both of these cases got me thinking about how frequently we see our local Harbor Patrol boats cutting through the bay at high speeds.
Maybe these were important medical emergencies that demanded a fast response, or possibly a boat fire. But unfortunately these are not rare cases; we routinely see our Harbor Patrol boats tearing through a busy bay or regatta at what could be considered reckless speeds. I'm pretty sure I'm not the only parent who gets concerned every time I see the OC sheriff deputies turning on their sirens and putting the hammer down on their patrol boats.
Just three years ago, there was a well documented incident where the Coast Guard, operating in San Diego, ran over a small pleasure boat. According to the NTSB report on this incident (Accident Report NTSB/MAR-11/03, PB2011-916403), the Coast Guard patrol was moving too fast and without adequate visibility in front of their boat (the report was particularly critical of the Coast Guard's lack of effective oversight of its small-boat operations nationally and in San Diego).
In the San Diego case, contributing factors to the collision included the fact that the CG patrol boat's bow was very high up in the air, they were operating at high speed at night in limited visibility, and the CG crew never saw a small pleasure boat that was directly in front of them. Newport's patrol boats are very similar to the boats operated in San Diego; could a similar incident happen here?
Don't take this the wrong way – I certainly have nothing against the OC Sheriff's Department or any of our current Harbor Patrol staff. By many accounts the sheriff's deputies doing Harbor Patrol work are hard working, competent professionals.
But keep in mind that a sheriff's deputy is primarily trained to handle law enforcement work. Our Harbor Patrol's deputies do receive specialized training in boat operation and firefighting through the CA Dept of Boating and Waterways. But the issue here is that the vast majority of issues seen on our bay are not law enforcement issues in the first place; the majority of issues on the bay are largely either medical or safety issues. Are there really that many crimes being committed against persons or property on our harbor?
Several years ago there was an agreement for the OC Sheriff to take over our bay's harbor patrol duties. While there are certainly periodic incidents on our bay that require a sheriff's deputy, issues that involve crimes to persons and/or property on Newport Harbor remain relatively rare. Do we really need OC sheriff deputies on patrol 24/7 in our bay? Are there really that many boats zipping around in excess of the 5 knot speed limit?
Maybe the more important question is whether the city could do this job more effectively with our own personnel? Are OC sheriff's deputies really the best option for managing the typical issues that do come up in our harbor?
Our local lifeguards could potentially be a better option. Lifeguards are already highly proficient and specially trained to operate lifeguard boats in close proximity to swimmers and surfers. Many of our guards also grew up swimming and boating in our harbor and are intimately familiar with issues seen routinely on our bay. Lifeguards are also specially trained to be "first responders" for a wide variety of medical and safety issues.
Unlike a sheriff's deputy, lifeguards are a part of Newport's fire/life/safety organization, and they already have a direct working relationship with our city's police and fire departments. And as ambassadors of our city's most precious resource (our harbor), lifeguards would generally be better suited to handling the many day-to-day issues that come up on our bay better than sheriff's deputies.
Put it this way: if you were to fall overboard or capsize while out sailing or racing, or if you were to hit your head on the boom during a race, who would you rather see pulling up to help you, a lifeguard, or a sheriff's deputy?
Just thinking …