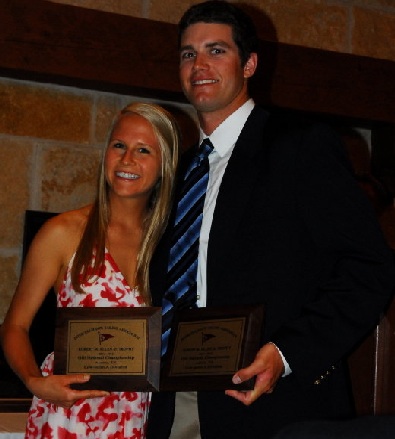 Local Newport sailors competed at the highest levels of college sailing in 2012, and two local collegiate sailors were named the top collegiate men's and women's sailors in the US this year.
NHHS alumni Chris Barnard and Sydney Bolger, both sailing for Georgetown University, were named Men's and Women's Collegiate "Sailors of the Year" for 2012.
Barnard led his Georgetown Hoyas sailing team to the collegiate Gill Coed Dinghy Championships, winning a hyper-competitive A Division at this year's dinghy champs.
Fellow Georgetown sailor Bolger was low point in the women's A Division at the Sperry Top Sider Women's Finals.
Both Bolger and Barnard sailed at Newport Harbor High School.
Other Newporters were also active at the college level last week. During the 2012 Collegiate Championships in Austin, Texas, Georgetown won the Coed Dinghy Championships with a 32 point win over Roger Williams.  The Boston College team won the Women's Championships (with Chris Barnard's sister Beth crewing in B division) with a tight four-point win over Yale.  In the Team Racing Championships, College of Charleston's 11-6 record gave them a one-victory edge over Hobart and Boston College (local sailing alumns Mac Mace and Perry Emsick both skippered boats for the Charleston team).  More information about the college sailing championships can be found at  2012nationals.collegesailing.org .
There's an old saying about college sailors that "You'll never be a better sailor than the day you graduate from college."
There are roughly a dozen local sailors competing at the highest levels of collegiate sailing, probably more than at any time in recent memory – look for a complete listing of these top local collegiate All American sailors in an upcoming edition of the Newport Beach Indy.
Upcoming Events:
June 17 – Father's Day (Go Dad!)
June 22-24 –Long Beach Race Week (PHRF, One Design)
June 24 – Junior Commodore's Regatta, LIYC (Junior, One-Design)
June 30 – Balboa Challenge – BYC (Invitational, Governor's Cup 21's)
July 7-8 – Summer Gold Cup – NHYC (Junior Sabor)