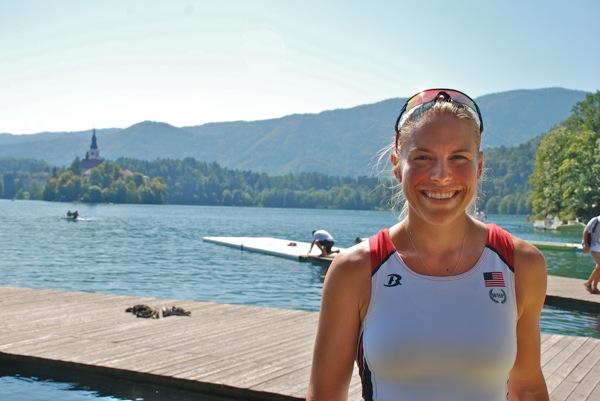 Esther Lofgren says one of her earliest childhood memories of growing up in Newport Beach is of being in a rowing shell with her parents.
Both her parents were elite American rowers back in the mid-1980s, with aspirations of rowing in the 1984 Los Angeles Olympic Games. Neither Karl nor Christine Lofgren ever realized that dream.
But their daughter will.
Last week, Esther Lofgren was named to the crew of the US Women's-Eight boat.  She will be headed to London to compete in the Olympics next month.
You might think Lofgren was destined to follow in her parents' footsteps, or in this case, their wake, but Ester says that simply wasn't the case: Her parents' passion for the sport of rowing wasn't always her own.
"I played soccer, basketball … and volleyball (at Ensign and Newport Harbor High for three years). My parents really supported me in whatever sports I had a passion for – even the spring I was on the JV badminton team at Harbor!"
She adds, "I thought rowing was a sport for people older than me – I mean, my parents did it!"
Lofgren, who graduated from Newport Harbor in 2003, says her first real interest in rowing came not from her parents, but from her best friend in high school who rowed at the Newport Aquatic Center (NAC), a local hub for all things rowing. The NAC is close to her parent's home in Dover Shores.
"My best friend, Drew Curiel, had rowed for the fall at the NAC, and encouraged me to come down and see what the team and sport were like. After our fall season at NHHS ended, I came down to watch a practice and go out on the water. It is a beautiful sport to watch, and the girls and guys on the team were nice and fun and welcoming. I decided to row through the winter as well as play club volleyball, and see if I could maybe get a little better at rowing."
Lofgren improved by leaps and bounds in rowing since those days as high school kid growing up in Newport. She attended and graduated from Harvard University, where athletic scholarships are not offered.
But despite many academic and athletic accomplishments, Lofgren had one goal that still proved elusive, as it had for her parents: Olympian.
In 2008, she was the last person cut from the US rowing team before they headed off to the Beijing Olympics.
Coming so close and missing out might have ended Lofgren's Olympic dream forever. But she says the idea of quitting never crossed her mind.
"It was absolutely fuel for the fire, and it's been in the back of my mind for the last four years," she said. "Rowers use iPods a lot – we are on rowing machines and running and lifting a lot of the time, and music sure helps. My iPod is named '1441' – that's the number of days between Beijing and London.
"I have, and continue to be, determined to make each and every one of them count. If I could get just a little bit better and a little bit fitter every day, I knew that I would be in a different place heading into selection."
Lofgren says that although her rowing times and training results had her believing she would make the U.S. team for 2012 London Olympics, nothing was for sure, as she learned so painfully in 2008.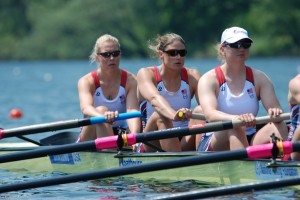 Lofgren spoke with the Independent this week from her training home in Princeton, New Jersey, about landing a spot on the American Olympic team.
"The last few months have been very stressful, in terms of knowing that results in practice and in racing mean everything. Like many of my teammates, that meant, for me, terrible sleep, no appetite, stressing about whether I was rowing the best I possibly could.
"So to know that I was going to be able to breathe again, and that I had (probably) accomplished what I'd set out to do four years ago … I was so excited, but there was also just a huge weight lifted.
"I called my mom, sobbing, and she was so worried: 'Did I read the results wrong? Oh no!' And I said something like: 'No! I won! … I'm really happy!
"My parents were over the moon and my boyfriend was shouting into the phone – they have been so incredibly supportive of me and it has been so wonderful to be able to share all my successes, as well as the tough times, with them."
Lofgren is one of only two new women named to the U.S. Women's-Eight boat. Six of the women on team won the gold in the event at Beijing in 2008. The team is also the six-time defending world champions in the event. Last month in Lucerne, Switzerland, at the world championships, Esther and her teammates won the gold with a new world-best time.
With the London games less than a month away Lofgren and her teammates are now focused on their training and winning gold. That training is not for the faint of heart, she says.
"We train two to four times per day, every day. Training can be anything from a 45-minute run to two hours of grueling pieces. We also lift and do core several times per week. The normal day is a combination of multiple practices and some time at PT, yoga, massage, or acupuncture. I'm usually up by 5 a.m. and go to sleep as early as I can.
"Rowing is the only sport where we actually train so hard that we break our ribs. I'm lucky to have some amazing teammates – competing against and supporting each other during training and selection, we push each other beyond what any of us thought possible, which is just so cool."
As for finally realizing her Olympic goal and getting the opportunity to compete with and against the best rowers in the world, Lofgren says, "It is a huge, huge honor to be representing not only the USA, but also the awesome programs that helped shape me as a rower, especially Radcliffe Crew at Harvard and the NAC Junior Crew here in Newport. The messages of support from back home and from my previous teammates–they just mean so much."
Growing up in Newport Beach, she says, she didn't watch much TV. Her parent, she says, "didn't have a TV at home, but my mom would bring home the small TV she used to cue up lecture videos (she teaches psychology at UCI) for two things: the State of the Union address, and the Olympics. I joke now that I either had to grow up to be the president or an Olympian!
"Seriously, I really looked up to the athletes we saw running and jumping and swimming and rowing and soaring across that tiny screen. I don't know how many amazing feats I saw people find in themselves, but I knew that to compete at the Olympics was probably the coolest thing anyone could do. So that has always been something I have aspired to, even before I found sports that I was both passionate about and good at."
Lofgren, is also an aspiring journalist who writes her own blog for USA Rowing dubbed Harder, Better, Faster, Stronger. (http://estherlofgren.blogspot.com/).
She is also involved in an nationwide initiative trying to bring the sport of rowing to places it is not usually associated.
"I work for USRowing, the national governing body for rowing. In 2010, we started the America Rows initiative, which is pushing to open up rowing to more people from all different backgrounds, income levels, ethnicities, and access to rowing programs."
Esther says when she makes her way back to Newport Beach to visit family and friends, if you don't find her down at the Newport Aquatic Center training, you'll probably find her at some of her favorite local hangouts.
"I usually wake up with a medium latte from Kean! My family and I are regulars at the California Fish Kitchen. I've also been going to Massimo's since I was on my first AYSO soccer team – they even have a picture of me up in there from the very first boat I made way back in 2006! We also go to Ruby's.
"When I finish up a morning workout down at the NAC, Haute Cakes is the best breakfast around! I love getting to run at home – running along the Back Bay (my teammate and I ran around the whole thing one winter!) is awesome."
After the London Games, when Lofgren returns to Newport, she  hopes to be sporting a new golden necklace to show her parents, friends and family – and a new generation of rowers at the Newport Aquatic Center.