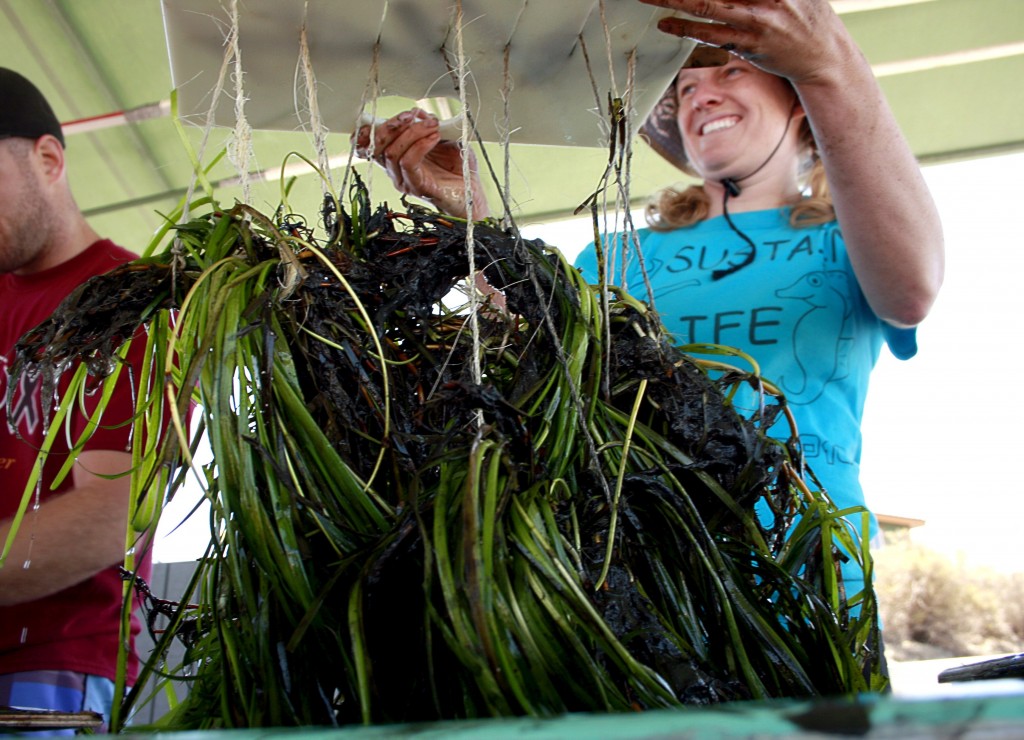 Eelgrass.
It's not such a bad thing. There are actually quite a few benefits to having it in the bay.
That's the idea Orange County Coastkeeper is trying to get out to the community during their four-year marine restoration project in Upper Newport Bay that kicked off this week.
"We're trying to restore the ecosystem and also work with the community to make it a beneficial species rather than the weed it's known as," said Amanda Bird, the Newport Back Bay Eelgrass Project coordinator.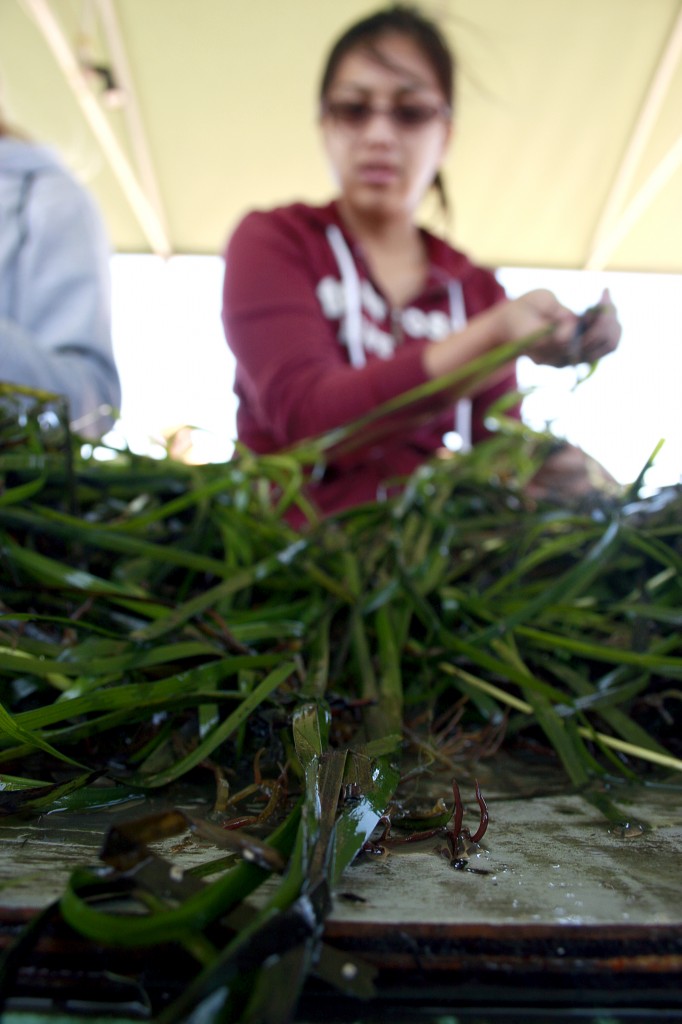 The Coastkeeper team is transplanting the eelgrass from around Harbor Island to a 50 square meter area near the Back Bay Science Center. The project, which also includes public outreach and student programs, will examine many aspects of the Newport Beach native seagrass.
"A lot of people don't like it because it grows around their docks and when they need to dredge, it's a problem. So that's part of our project," Bird said, "trying to figure out how we can make that a little bit easier on dock owners, home owners."
Bird said she hopes the project and community outreach will help create more of a positive outlook on eelgrass. Several of her Coastkeeper coworkers agree.
"People see the negative side of it," said Brianna Madden, education director for OC Coastkeeper, "but when you realize how much it's providing the ecosystem… The life that it supports in the bay… It's huge."
It is a habitat for fish and bird foraging grounds, Bird said.
"It's like an underwater rainforest," said Taylor Debevec, the education coordinator for OC Coastkeeper. The eelgrass supports a diverse ecosystem, she said.
It's also like a nursery for juvenile fish species, supporting both the commercial and recreational fisheries.
"We're trying to increase the amount of nursery ground for these fish species to increase those populations," Bird said.
It also slows coastal erosion, which can be a problem in the bay, Bird added, by slowing down the water, allowing sediment to settle.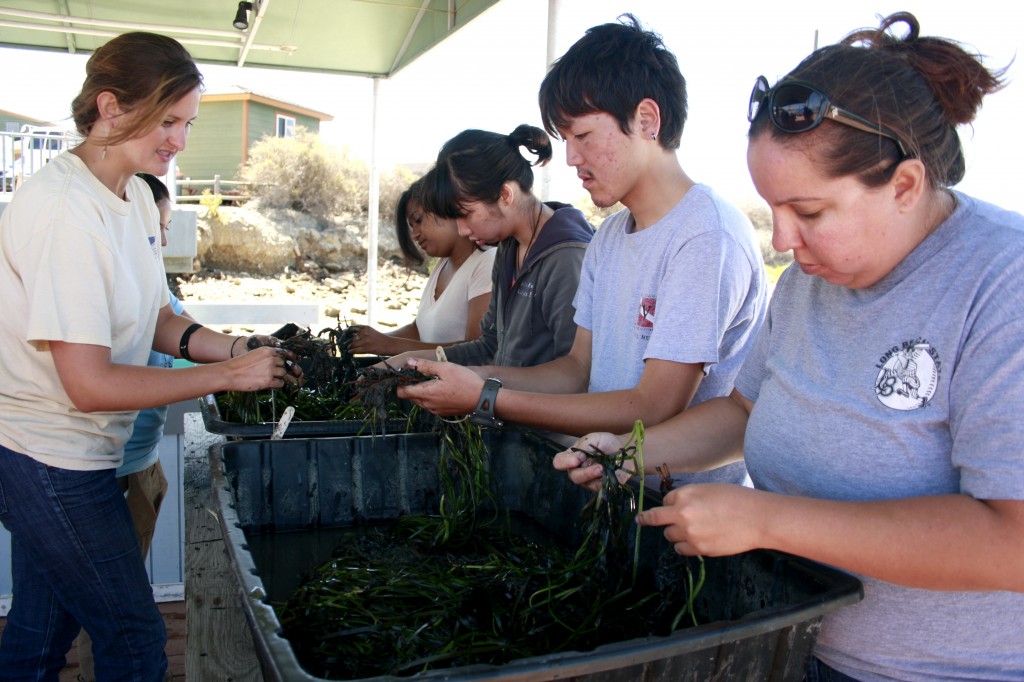 Bird also noted a recent article she read stating that one of the main functions of seagrass is carbon storage, up to twice as much as the world's tropical and temperate forests, according to a recent study by Florida scientists published in the journal Nature Geoscience.
"So, this [eelgrass] is soaking up all of our excess carbon that we're producing from human activities, and in response it's producing oxygen for the soil underwater, the water, (since) the fish need oxygen to breathe… and also for the air," Bird said.
It's also an "indicator" species, she said. It's a good sign about the overall health of the bay.
"If anything is really, seriously going wrong in the entire bay ecosystem this would be one of the first things to start declining," she explained.
The group kicked off the project this week, transplanting the first batch of eel grass on Monday.
Volunteer divers pulled from naturally grown beds around Harbor Island. Other volunteers then made 100 bundles, consisting of about 10 plants each, and then organized them into one meter grid systems. The divers then got back into the water and planted them every half meter over the 50 square meter area.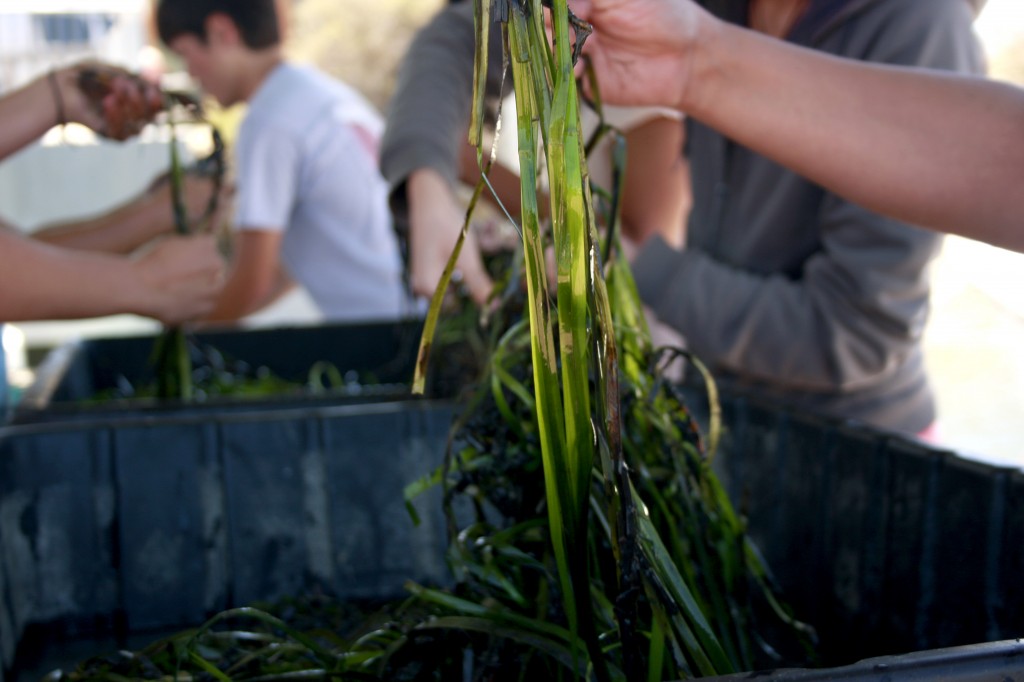 "The goal is to plant them relatively dense so they grow quickly," Bird said.
Typically, they plant them every meter, but for this project they will be  planting closer, she added.
"[It creates] a denser bed, a more healthy bed," Bird said, and "hopefully it starts growing fast so that anything that might happen, in terms of natural climate conditions, they'll be more able to withstand it."
They will be using three different methods to plant the eelgrass: Bundling, which they used on Monday, TERF frames and seeded bags.
Bundling and planting the eelgrass has been successful in the past, Bird said, but the other two methods have not been used on California coastline, so they will be carefully monitoring the process.
Both of the new methods have been successful on the East Coast, she said.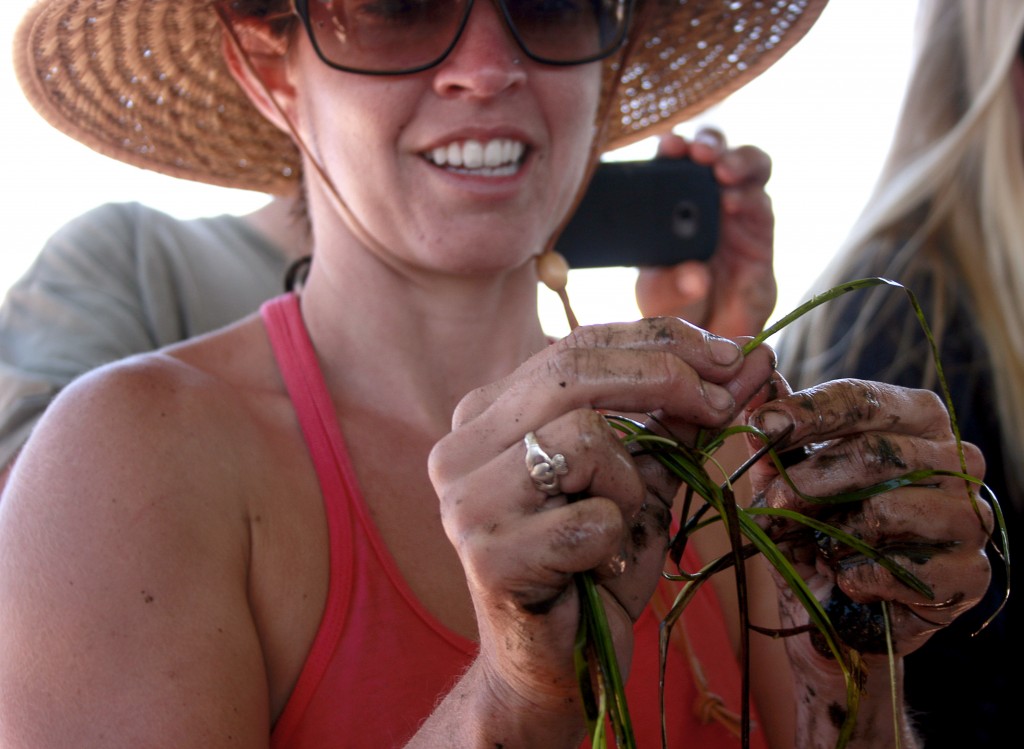 "It's kind of an experiment," Bird said. "Our goal is to find out which one of the three is the most successful and the most cost effective… Mitigation in the bay for eelgrass… tends to be pretty costly for a lot of homeowners… So we're trying to figure out a way to make it less so for them."
They will also use the TERF (Transporting Eelgrass Remotely with Frames) method, where volunteers will tie the eelgrass onto wire frames using biodegradable paper.
The frames will be weighted down underwater with bricks, Bird explained. This method helps prevent erosion around the transplants, she added, and will hopefully secure them better in the sediment.
The third method they will be using are bags full of flowers with seeds in them anchored to buoys. They will hang just below the surface so the seeds can drop right into the sediment.
For about six weeks there will be buoys out on the water containing seeds, Bird said. They will be very visible and easily avoidable, but she advised kayakers and paddlers to watch out for them and maneuver around them.
Coastkeeper will monitor the progress of the eelgrass with quarterly surveys, but won't really know how they are really doing for about six months to a year, Bird said. They will also compare their experimental eelgrass beds to a naturally growing one nearby.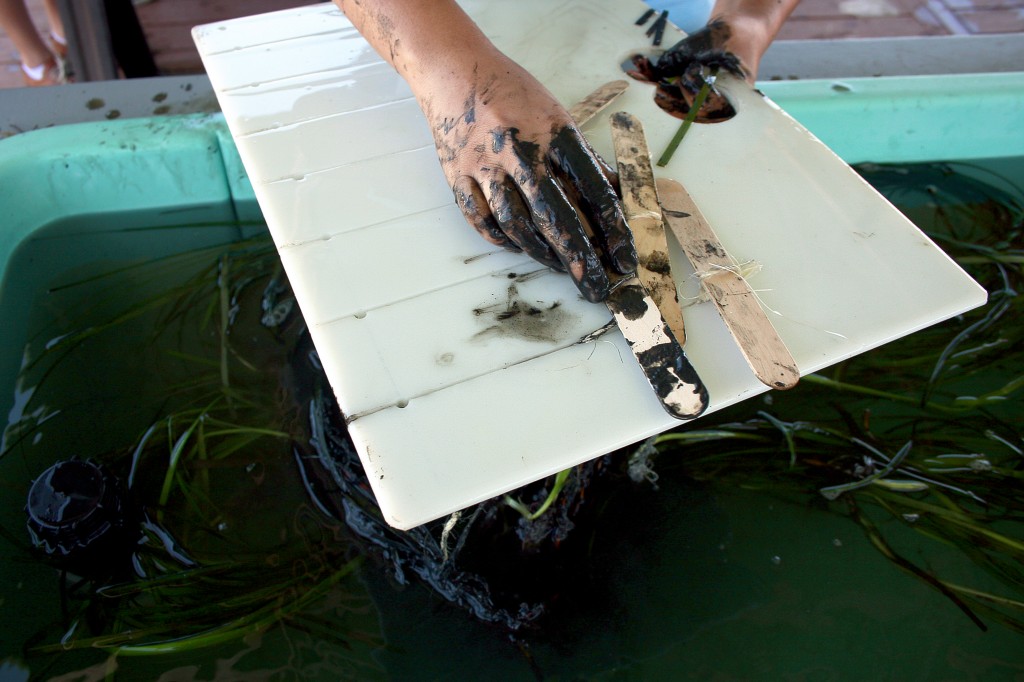 In about a year they will double the size of the project, but only using those methods that were most successful.
Another reason why the two new methods of planting were chosen was because they get the community involved, Bird said.
Land-based volunteers are still needed for the two other planting methods, Bird said, which will likely be done later this week.
Volunteers were found through the Coastkeeper's facebook page and oneoc.org, a volunteer center for Orange County.
Anyone can do it, Bird said, no prior knowledge required. Volunteers range from professional scientific divers to interns and students. They can also record hours and provide documentation for community service for students, she added.
"A big thanks to everyone involved (over the years of preparation leading up to this point)… A lot of people who have worked on it (and) never actually got to this part," Bird said. "Everyone is key."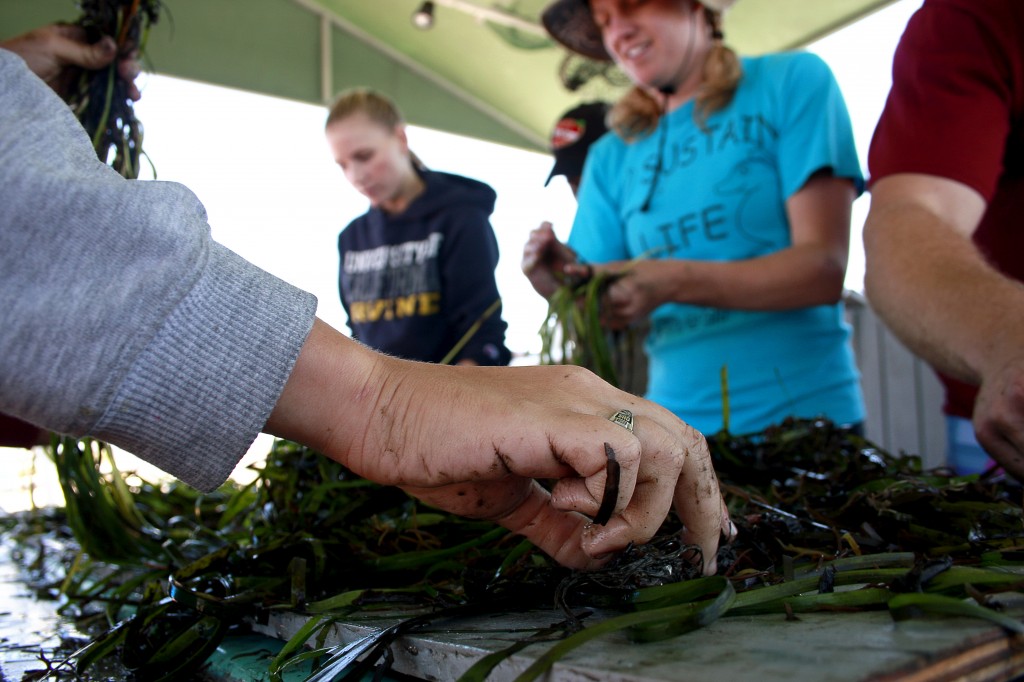 Coastkeeper received funding between 2008 and 2011 from the city of Newport Beach, the California Coastal Commission, and the U.S. Environmental Protection Agency Environmental Education grant program to implement an eelgrass education and research program at the Back Bay Science Center in partnership with the Department of Fish and Game.
The project is coordinated by Orange County Coastkeeper in partnership with Rick Ware, president and senior marine biologist of Coastal Resources Management, Inc., and the Department of Fish and Game staff at the Back Bay Science Center. It is funded by the National Oceanic and Atmospheric Administration restoration program and the State Coastal Conservancy.
"The ecological benefits of restoring eelgrass to Upper Newport Bay are an increase in diversity and the abundance of species native to the Newport Bay estuary and to restore critical ecosystem services," according to a OC Coastkeeper statement. "A healthier ecosystem will also restore the value of Upper Newport Bay as a recreational and commercial fishery habitat."
"I grew up in Orange County, I just thought of the harbor as a bunch of boats…I didn't imagine there was so much life (underwater)…You don't think about that," Madden said. "When the kids get to come, or even adults get to come down here, and actually see how much diversity and life there is then I think that's what would motivate people to protect it more."
 Volunteer updates will be provided on the group's website, at www.coastkeeper.org. To volunteer for the Newport Back Bay Eelgrass Project, contact Pamela Crouch or Amanda Bird at 714-850-1965 or email [email protected].