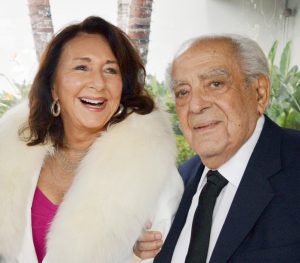 Longtime Newport Beach resident Jim Emmi, a Staff Commodore at the Bahia Corinthian Yacht Club and a supporter of numerous artistic and educational institutions and organizations, died on Saturday, May 14, a few weeks shy of his 100th birthday.
He died peacefully from natural causes at his home in Corona del Mar, with his wife, Catherine, son-in-law, Cameron, and close friends by his side.
According to a press release from BCYC, Emmi had been a member since 1970, and became a commodore in 1977. He purchased Pele, his 43 foot Swan sailboat, in Finland in 1978, and with a revolving crew from BCYC sailed in the Mediterranean, the Caribbean, through the Panama Canal and eventually back to Newport Beach.
Between Pele and his previous Islander 37, Emmi participated in over 100 ocean races including the 1982 Transpac to Hawaii.
His latest race was BCYS's 125-mile Around the Island Race. He was 94 at the time. In 2007, he was awarded the Commodore of the Year. BCYC's race committee boat is named EMMI due to his generous contribution to the Bahia Sail Racing Association. Together with his wife, Catherine, the Emmi's extensive philanthropic involvement has included education, health care, the arts and science.
A partial list of organizations include Pacific Symphony, Chapman University, UC Berkeley College of Engineering, Caltech,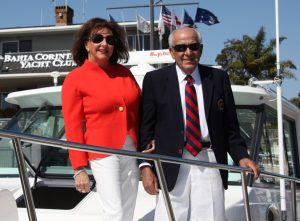 Oregon Tech, New Jersey Institute of Technology, Purdue University, MIND Research Institute, Mission San Juan Capistrano, Hoag Hospital, Opera Pacific, American Symphony Orchestra League, Segerstrom Center for the Arts, Girls Inc., Newport Beach Public Library, and the Orange County Museum of Art.
"Jim Emmi loved his friends that he made at the Bahia Corinthian Yacht Club over the years and went on many cruises around the world with them," recalled fellow BCYC member Bill Long. "Back in the late 70s and 80s, Jim bailed out the club financially during tough times. The club would not be here today, if it were not for the support of Jim Emmi."
Jim and Catherine were supporters and concertgoers of Pacific Symphony, and more than once I had the pleasure of sharing their box at a concert. They were both delightful hosts and avid fans.
"Jim was a highly committed philanthropist who always focused on how he could help advance the artistic excellence of the orchestra. He was very much a forward thinking supporter," said Pacific Symphony President John Forsyte. "He really wanted to see the orchestra take its place among the very finest American ensembles, and invested in our endowment to help do so. He's the first patron, along with his wonderful wife, Catherine, to support two individual chairs in the orchestra. Jim loved classical music and was always seen in his box enthusiastically applauding the orchestra and Carl St.Clair, who he loved tremendously. Jim was one of the first board members to stand up and ensure the start of our endowment campaign, challenging the rest of the board members to eliminate a deficit in the late 80s and start the first endowment of the Pacific Symphony. We were very blessed to have had Jim with the Symphony family. We'll be celebrating his life during our upcoming concert."
Chapman University President Jim Dodi sent an email to colleagues to inform them that Jim Emmi had passed away, and shared his memories of Jim.
"I will always have fond recollections of the first time Jim Emmi and I sat down to break bread together,"Doti. "It didn't take us long to realize that we shared a very similar Italo-American family heritage, including the fact that both of our fathers were shoe salesmen. From that moment on, we were kindred spirits."
Doti noted that before Emmi became a successful real estate investor, his background in engineering led him to executive positions for a number of aerospace firms.
"In fact, Jim played an instrumental role in the development of the P-51 Mustang at North American Aviation," stated Doti.
When Emmi learned of Chapman's plans to advance its academic programs in the sciences, he urged Doti to move Chapman forward in offering more classes and degree programs in technology and engineering.
"He never let me forget that," recalled Doti. "In fact, in accepting the Citizen of the Year Award at our 2012 American Celebration, he said at the podium (with great gusto, I should note), 'I keep telling Jim Doti that Chapman has to do more in engineering!' Jim's passion for science education and for Chapman University is now reflected in our Emmi Scholarship program for outstanding students studying science, technology, engineering and math (STEM). It was Jim's hope that the Emmi Scholars will become extraordinary leaders and contributors in their chosen fields and, ultimately, make our world a better place. It meant so much to him to be able to leave at Chapman lasting legacy that will benefit so many."
Perhaps my favorite memory of Jim Emmi came a few years ago when I was chatting with him and Catherine Emmi at Balboa Bay Resort while waiting to retrieve our cars from the valet. I was curious to see what kind of luxury car Jim might be driving. Just then, a Ferrari (red, as I recall), pulled up. Catherine climbed into the passenger seat, while Jim got behind the wheel. He revved the engine, turned right onto Coast Highway, and with a roar the car disappeared from sight.
"Wow—I want to be like Jim Emmi when I grow up," I said, smiling. And based on his many accomplishments and accolades, we should all be so lucky to be someone like Jim Emmi.