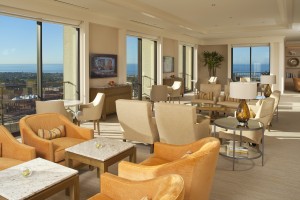 I arrived at The Island Hotel on a recent sunny So Cal morning with a lot on my mind: one of my public affairs clients had just hired me to write thirty speeches on a tight deadline, and I was heading out of town the next day.
I mentally shuffled my schedule as I perused the calendar on my phone. This was going to be tight.
Since I do some of my best work remotely and in environments that allow me to focus comfortably and quietly, it seemed like the perfect time to accept a generous offer from The Island Hotel to experience their new Island Club. Boy, was that a good move!
The Island Club is a luxurious, modern-day version of what many upscale hotels offer their guests staying on a Concierge Level. A large, private room provides complimentary beverages and snacks morning, noon and night, with comfy crooks and crannies in which to read, watch TV, work, or simply contemplate your navel over a nice cup of hot tea and warm scone or glass of cabernet and a plate of fresh fruits and cheeses.
The great news here is you don't have to be a concierge level guest to enjoy the Island Club perks. Any hotel guest now has the opportunity to purchase this lovely lounge experience during their stay.
After a quick workout in the hotel gym, I made my way to the 20th floor where the Island Club is located. I was greeted warmly by Josh, one of the Club Ambassadors, who had a smile as wide as the breathtaking ocean view overlooking Fashion Island and beyond. It was immediately evident that the Island Club is an exceptional place, where service is the top priority.
Josh gave me a tour of the Club's luxury offerings and high-tech amenities that include 40 USB ports and charging stations, secure WiFi access, one 80- and four 50-inch LED Smart TV's with wireless headphones.
Cloud printing, copies, faxes and scanning at your fingertips even allows files to be sent to any printer in the world. Club guests can even check out DVD's from the library or pick up a copy of the Wall Street Journal.
As Josh made me a perfect caffe macchiato, I settled in to the bright, welcoming lounge for a serious speechwriting session. Picking a table near the balcony, it was just what I needed to get the creative juices flowing. Being there not only made the day special, I didn't have to worry about a thing, and it made all the difference!
What's amazing about the Island Club is the value and lux-enhancement it provides hotel guests. For only an additional $20 per room ($25 for 20th floor rooms), guests have unlimited access to the Island Club lounge and can work with the Club Ambassador to make arrangements for a plethora of services including curbside check-ins, shoe shines, garment pressing or dry cleaning, travel, restaurant reservations, and more.
In keeping with the necessity for staying connected and secure in today's business world, the hand-picked Club Ambassadors are even tech savvy and on hand in the event a techno-emergency arises.
For guests who are there to simply relax and enjoy, the Island Club offers a pillow menu, car service, personal shoppers, turndown service, and access to all of the "wet" areas of the hotel including the pool and spa.
Complimentary food selections include a light continental-style breakfast service in the morning, and evening snacks with beer and wine. An assortment of candy, snacks, sodas, juices, and water is available all day.
I finished my day with a visit from a colleague who brought her computer. Together we enjoyed a glass of wine and sent the day's final emails. As we shut down our laptops, I finally leaned back to take in the gorgeous Newport sunset, feeling satisfied that I was well on the way to meeting my looming deadline, thanks in-part to the fine experience that day at the Island Club.
What a way to stay!
Columnist and new Island Club enthusiast Lynn Selich resides in Newport Beach.  Reach her at [email protected].