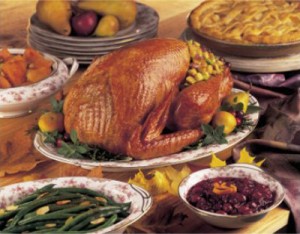 By Christopher Trela & Catherine Del Casale
Let someone else do the cooking—and the dishes—this Thanksgiving. Here's a list of 10 Newport Beach restaurants that are serving Thanksgiving brunches and dinners to suit almost any budget. You can even order your holiday feast to go. Prepare your palate and read on…
21 Oceanfront
This ocean-view restaurant has a three-course Thanksgiving menu for $55 per person that includes a choice of starters such as calamari fritti or spiced pumpkin soup, and entrées that include herb roasted turkey, prime rib, and Skuna Bay salmon. For dessert, you've got a choice of pumpkin pie, pecan pie, chocolate cake or warm apple tart. There's also a children's menu available for $20. Visit 21Oceanfront.com or call (949) 673-2100.
Back Bay Bistro
Back Bay Bistro has a fabulous view of Newport's back bay, and a fabulous Thanksgiving Day buffet-style feast from 11 a.m. to 4 p.m. that includes sliced roasted turkey, ham, prime rib, salads and soups, grilled salmon with dill cream sauce, mini crab cakes, rosemary stuffing, lobster mac and cheese, assorted artisan breads, pumpkin, apple and pecan pie, and much more. The price is $38 for adults and $19 for children under 12. For reservations, call (949) 729-1144 or visit BackBayBistroNewportBeach.com.
Balboa Bay Resort
With fabulous views of Newport Harbor from the casually elegant dining room, First Cabin restaurant will be serving a four-course traditional Thanksgiving feast from 1 to 8 p.m. that includes starters such as squash soup and pan seared scallops, and entrees that feature free range turkey, swordfish and New York steak. Complete your meal with a choice of brown sugar brulee or profiteroles. Live piano music will help set the mood. Cost is $78 for adults and $40 for children ages 4 to 12. Visit BalboaBayResort.com or call (949) 630-4145.
Bayside Restaurant
Bayside offers a relaxing three-course Thanksgiving dinner accompanied by live music from 1 to 8 p.m. The prix-fixe menu includes oven-roasted organic turkey with mushroom and herb stuffing and other trimmings, plus choice of puree of garnet yam and ginger soup, roasted red beet salad with California goat cheese, and other appetizers. Choose between pumpkin pie or warm chocolate soufflé cake served with hazelnut ice cream for dessert. Cost is $44.75 per adult and $19 for children 12 & under. For reservations call (949) 721-1222 or visit baysiderestaurant.com.
Brasserie Pascal
Chef Pascal Olhats serves Thanksgiving dinner at his Brasserie with his usual French flair. This year, he has a three-course prix fixe menu for $35 per person served from 11:30 a.m. to 8 p.m. Choose from several appetizers such as butternut squash bisque and French onion soup, then move on to entrees including traditional roasted turkey with loads of sides. We hear he's brought back his pumpkin crème brulée and chocolate soufflé for dessert. Call (949) 640-2700, or visit BrasseriePascal.net.
The Bungalow
With a newly remodeled patio and refreshed interior, The Bungalow is more popular than ever. Their three-course Thanksgiving Day menu ($50 per person), served 3 to 9 p.m., should also prove popular. Choose from starters such as corn chowder, butternut squash soup, Bungalow salad or Caesar salad, then move on to a choice of six entrees, including pan roasted turkey breast with all the trimmings, prime rib, filet mignon, blackened wild king salmon, or grilled swordfish. End your meal with one of four desserts, including pumpkin pie. Call (949) 673-6585 or visit TheBungalowRestaurant.com.
Canaletto Ristorante Veneto
Celebrate Thanksgiving with an Italian twist during a four-course dinner that includes soup, salad, a traditional turkey dinner with all the accouterments, and pumpkin pie for dessert. $39 for adults and $18 for kids 12 and under. An a la carte menu is also available. Call (949) 640-0900 or visit elfornaio.com.
Pelican Hill Resort
The Resort at Pelican Hill has special Thanksgiving menus in all of their restaurants, and an exquisite Thanksgiving Ballroom Brunch courtesy of Executive Chef Jean-Pierre Dubray, accompanied by live entertainment and children's activities. Available from 11 a.m. to 4 p.m., cost is $110 per adult and $50 per child. In Andrea Ristorante, Chef Luigi creates a special rustic Tuscan holiday menu available from noon to 10 p.m., accompanied by a classical guitar player. Price: $120 per adult and $60 per child. Over at Coliseum Pool & Grill, Chef Marc designs a classic California breakfast buffet available from 7 a.m.to 12 p.m. From 12 to 10 p.m., a Thanksgiving limited a la carte dinner menu, including turkey specials, will be available. Breakfast buffet price: $45 per adult and $25 per child. And finally, Pelican Grill's Chef Derek presents a four-course California grill menu available from 11:30 am to 10 p.m., along with live entertainment. Price: $110 per adult and $50 per child. For Pelican Hill dining reservations, email reservations@pelicanhill.com, visit pelicanhill.com, or call (855) 315-8214.
SHOR American Seafood Grill at Hyatt Regency Newport Beach
Hyatt Regency's new SHOR restaurant has a Thanksgiving menu that starts with your choice of salad or butternut bisque with Chantilly creme, followed by Maple roasted turkey breast with croissant sage bread pudding, yam medallion, heir covert, peppercorn gravy and cranberry chutney. For dessert, pumpkin cheesecake with whipped cream and spiced pecan caramel. Price is $45 per person. Call (949) 729-6162 or visit NewportBeach.Hyatt.com.
The Ritz
The Ritz Restaurant offers a prix fixe menu from 1 to 8:30 pm on Thanksgiving. Start with an appetizer choice of Maine lobster bisque laced with armagnac, wild mushroom "cappuccino" with morel foam, butternut squash soup, The Ritz salad or spring mix Salad. Then, select from roasted turkey and gravy with savory brioche pecan dressing, mashed russet potatoes, candied yams, and toasted almond string beans; filet of Atlantic king salmon poached in chardonnay, broiled sirloin of lamb with rosemary au jus; and more. Finish the meal with a special Ritz Thanksgiving sampler dessert. Cost is $55 for adults and $27.50 for children. For reservations, call (949) 720-1800 or visit RitzRestauant.com.
Pascal To Go
Let Chef Pascal Olhats do the cooking this year with his special take-out menu available from Pascal's Epicerie. Individual dinners are $19.95 each and include free range turkey, mashed potatoes, home style stuffing, gravy, cranberry sauce, braised cabbage, and a mini pumpkin tart. Another option is a Family Dinner for $199 that serves 8 to 12 people. You can also order al la carte and select everything from whole turkeys to delicious sides to decadent desserts. And if you need the perfect wine to accompany the meal, you can't do better than the new Beaujolais Nouveau from George Duboeuf, which is also on Pascal's a la carte menu. Orders must be placed before 5 p.m. on Tuesday November 26, and will be ready for pick-up at Pascal's Epicerie from 8:30 a.m. to 1:00 p.m. on November 28. Call (949) 263-9400, or visit PascalNPB.com.