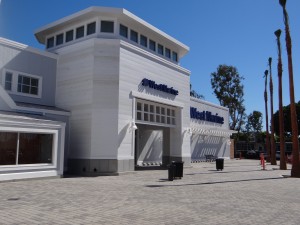 As a former commercial vessel and long-time recreational boat owner, I can say with impunity that I have spent many an hour perusing the aisles of West Marine stores up and down the California coast.
From Long Beach to San Diego, their knowledgeable and friendly staff has saved me on more than one occasion when it came to addressing my baffling questions or providing solutions to difficult and sometimes messy boat maintenance issues.
As a result, I've been watching with interest and anticipation the build-out of West Marine's new flagship store located in the Lido Shopping Center (formerly Pavilions supermarket).
With more than 27,500 square feet devoted to all things water-related, it is the biggest West Marine in California. To give you an idea of how big, the new store is three times the size of the current store on PCH. Fittingly, a ginormous grand opening weekend is scheduled at the new store, located at 3433 Via Lido, Thursday, Oct. 3 through Sunday, Oct. 6. 
Once open, I have fantasies of finding just the right outfits there for our Catalina excursions, that cool stand up paddle board for my hubby's birthday, and doing lots of Christmas shopping for all my friends who are boaters or just love the boating lifestyle we enjoy here in Newport. 
And not quite as glamorous but equally essential, we'll be stopping in regularly to pick up our customary supply of Sabiki rigs, marine toilet tissue and holding tank treatment.
My first mate and I particularly like their "Pure Oceans" line of cleaning products which we find effective in getting the job done, yet are kinder to the environment.       
"We've got a huge, non-stop schedule of events going on the entire weekend," General Manager Chris Beckwith told me earlier this week when I stopped by to check out the new digs. "Each day there will be door-buster deals, giveaways and raffles, sneak peeks at 2014 products, fashion show, expert safety, angling and boating advice and seminars, demos on sailboat hardware and rigging, outdoor cooking tips and tastes, hula dancers, and appearances by Captain Aleks of Bravo's hit show "Below Deck."
It goes without saying that I plan to get to know Chris on a first-name basis.
"Newport has been great in welcoming us to the community," he added. "The grand opening is creating quite a buzz around town and we're excited to be a part of the revitalization of the West Newport area."
As part of the grand opening festivities, on Thursday, Oct. 3 from 6 to 9 p.m., the store will be hosting "Cruising for a Cause," a charity event to benefit eight local marine-related organizations including Newport Aquatic Center, Leukemia and Lymphoma Society's Leukemia Cup Regatta, Orange Coast College's Professional Mariner Program, Surfrider-Newport Beach Chapter, UC Irvine Sailing Association, Balboa Yacht Club Jr. Sailing Program, Aloha Kai Research Foundation, Friends of Rollo and Newport Harbor Sailing Foundation. Tickets are $10 with 100 percent of the proceeds going to the participating organizations.
"Cruising for a Cause" guests will be treated to live music by local favorites The Reef Brothers, beverages and gourmet appetizers by Suzanne's Catering, ribbon-cutting ceremony with Mayor Keith Curry, chances to win raffle prizes, and a live auction hosted by Captain Aleks featuring unique items such as a one-day Lamborghini or McLaren lease donated by Lamborghini Newport Beach.
For more information about the West Marine Newport Beach flagship store grand opening weekend, visit westmarine.com/newportbeach.
Purchase your "Cruising for a Cause" tickets from participating charities, at the current West Marine store or at the door. 
Columnist and West Marine shopaholic Lynn Selich resides in Newport Beach. Reach her at [email protected].