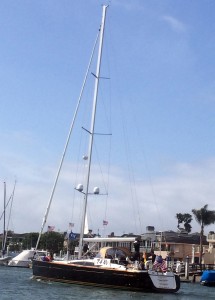 As the saying goes "it takes a village to raise a child" and if you talk to Skipper Rhonda Hill-Tolar, owner of Wild Thing III, she'll tell you it takes a crew to bring home not one, but three trophies from the recent Newport to Ensenada International Yacht Race.
"We had a great team and all their hard work and contributions are what culminated to bring home the three First in Class trophies we won," says Tolar.
The perpetual trophies will now bear Tolar's name and will remain on display for a year at Bahia Corinthian Yacht Club where she has been a long-time active member.
Wild Thing III is a 2013 Jeanneau 57. The black hulled beauty is one of the most beautiful and majestic vessels in the harbor.
Her winning trophies include NOSA's First in Class for Cruising Spinnaker A and Best Corrected Cruising All Boats, as well as Best Corrected All Cruising Boats presented by the Coral Hotel and Spa.
On the evening the trophies were put in the display cases at BCYC, it was fun to watch the proud captain showing her fellow sailors and club members the trophies, one of which is over 50 years old.
Tolar is passionate about sailing and her enthusiasm for the sport is infectious. Having been a large vessel owner myself, in addition to the thrill of it all, it can be a daunting journey filled with plenty of unknowns, especially as a woman boat owner in what is traditionally a male-dominated sport.
Tolar seems to fearlessly embrace the many aspects of boat ownership with a verve that has obviously become part of her core.
"I've learned a lot being a boat owner," she says. "There is always something new to learn no matter how experienced you become."
Though she grew up power boating, she says she always knew she wanted to sail. "It is something I knew was my destiny."
Wild Thing IIIis her third and largest race-winning vessel. The others include Wild Thing I, a Far 30, and Wild Thing II, a Far 40. She is contemplating selling one of those in the near future.
When I asked where she came up with the name(s), she gave me a look and a smile.
Tolar's crew of nine were made up of highly experienced sailors and a few friends new to the sport. When I interviewed her at BCYC and again on KOCI radio last Sunday, she kept emphasizing how much everyone contributed, from the minute she decided to convert Wild Thing III from a cruising to a racing vessel to the minute they crossed the finish in Ensenada.
Wild Thing III's crew included Paul Loubet, Phil Toth, Greg Kafka, Tim Whelan, Mary Kaye Gentile, Frasier and Debby Fisher, Tammy Boivin and Linton Weiss. Weiss, who is a BCYC Distinguished Racing Member, was instrumental in helping Tolar convert her vessel and manage acquiring the required PHRF rating, sail numbers and TIP certificate for cruising in to Mexican waters.
Because offshore boating has many different requirements than harbor cruising, the recreational boating items on board Wild Thing III all had to come off, and the offshore safety equipment and enough provisions for 10 crew members loaded on board. It took more than a month for them to get it all done in time to set sail.
Goodbye margarita mix and chip bowls, hello protein bars and heavy duty safety gear.
The 125 mile overnight race, which started off the Balboa Pier, requires every crew member to take sleeping shifts. Wild Thing IIIleft Newport at 11 a.m. Friday and arrived in Ensenada at 4 a.m. Saturday morning. Then it was another 17 hours back on Sunday.
Tolar estimates she slept a total of four to five hours the whole journey – not in a desire to win, but thinking about the safety of her crew.
"For me as a boat owner, it's all about safety and preparing for anything that could happen. I'm responsible to my crew first," Tolar tells me as we wrap up our interview. "But it's all so worth the effort. This is my fifth race and we always have a great experience from the minute we cast off to the minute we sail in to Ensenada. I can't wait to do it again next year!"
All I can say is, you go girl!
Columnist Lynn Selich resides in Newport Beach. Listen to her on KOCI 101.5 FM every Sunday from 11AM to 1PM on the Sunday Brunch with Tom and Lynn Show.