An Aliso Viejo man was arrested Friday for narcotics has been linked to multiple burglaries in Newport Beach, police reported.
Cannon Timothy Torres, 22, was arrested for parole violation warrant and possession of narcotics on Friday and police have linked him to 11 other incidents in a Corona del Mar neighborhood, Newport Beach Police Department spokeswoman Jennifer Manzella explained in a statement released Tuesday.
NBPD officers responded to the 2600 block of Bungalow Place at 7:30 a.m. Friday after receiving multiple calls about a suspicious person in the area.
The man reportedly approached a home which was under construction and repeatedly accessed a dumpster on the property. Other callers reported that the same man was seen entering several neighbors' yards and peering into windows.
Officers located a man matching the subject's description (later identified as Torres) nearby in the 2500 block of Sea Lane. He was in possession of wire cutters and believed to be under the influence of methamphetamine. Police also learned of an outstanding no-bail parole violation warrant for his arrest and transported him to the NB jail for processing, Manzella reported.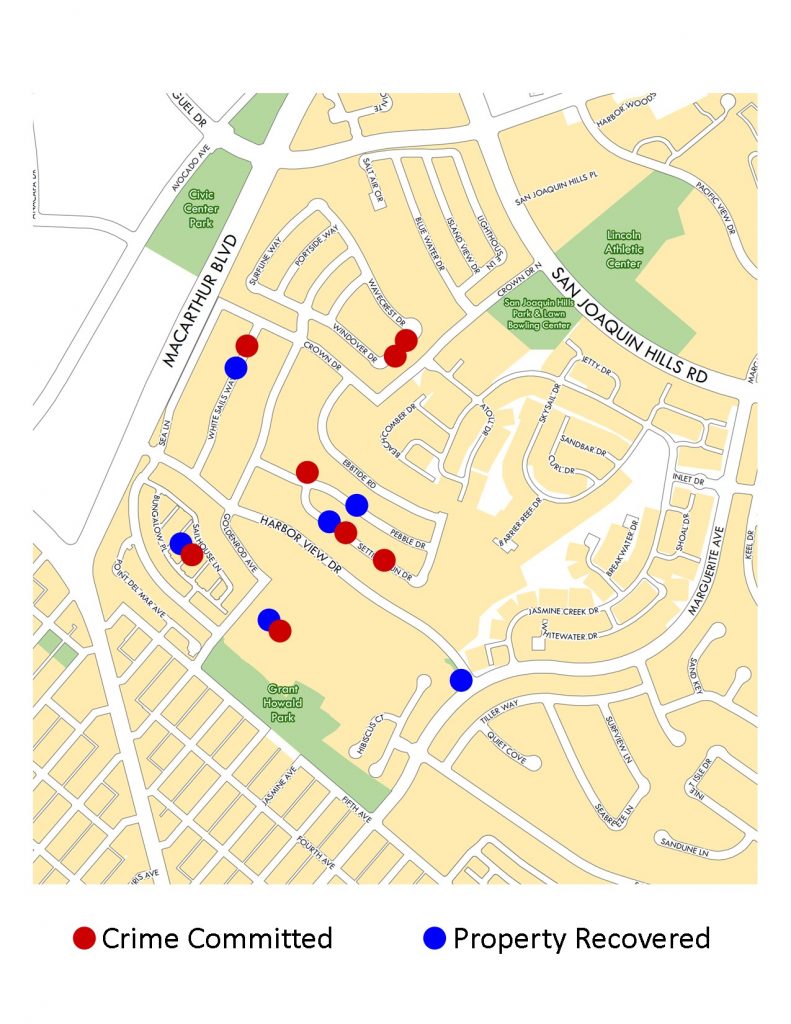 Police continued to receive calls about suspicious and criminal activity in the area.
A garage burglary was reported in the 1100 block of White Sails Way; the loss included a power tool, which was subsequently recovered from the dumpster that Torres accessed shortly before his arrest. Several items were stolen from three unlocked vehicles in the 2800 and 2900 blocks of Setting Sun Drive and the 1200 block of Sandpoint Way; a number of these stolen items were recovered from Torres at the time of his arrest.    
Several other incidents occurred during the same timeframe and in close proximity. A 2012 green Honda CR-V stolen from the 1200 block of Sandpoint Way and located at a nearby school. The same school reported a burglary from their music room. Miscellaneous property was found abandoned in the 2800 block of Pebble Drive and the 1100 block of White Sails Way, including two car keys. A bicycle was stolen from a garage in the 2500 block of Bungalow Place and recovered in the 2600 block of the same street. On Saturday morning, two handguns were found along with miscellaneous narcotics paraphernalia at the intersection of Harbor View Drive and Marguerite Avenue.  An officer was able to track these firearms to an unreported burglary in the 2700 block of Pebble Drive.
NBPD is grateful to the citizens who reported the suspicious activity, Manzella said.
"Thanks to that timely information, officers were able to locate and arrest Torres without incident," she explained in the press release. "After thorough investigations by field personnel, we believe that Torres is responsible for most, if not all, of the listed crimes."
Detectives will continue to investigate these cases and intend to seek additional charges, including: Possession of burglary tools, possession of stolen property, petty theft from a motor vehicle, residential garage burglary, and felon in possession of a firearm.
Given the number of incidents that occurred between Oct. 13-14, it is possible that there are other undiscovered or unreported crimes that took place before Torres was arrested, authorities concluded.
Police are asking anyone in the area who believes that they were the victim of a crime, or who has found unexplained property in their neighborhood, to contact Detective Brian Schlottach at (949) 644-3799 or [email protected]