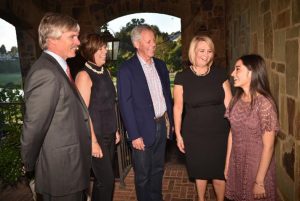 At the 10th Anniversary of The Wooden Floor's "Keep the Promise" Wine Tasting Benefit at Big Canyon Country Club, more than 300 supporters enjoyed tastes of a dozen of the best wines in the world while raising a record $340,000 for The Wooden Floor's arts-based youth development programs that help transform young people in low-income communities through the power of dance and access to higher education.
Over the past 10 years, the benefit has netted more than $2 million total for The Wooden Floor.  
More than 200 bottles of wine were uncorked throughout the evening, including the 100 point 2010 Casanova di Neri Brunello di Montalcino Tenuta Nuova from Tuscany, Italy. The wines were hand-selected over the period of several years and generously donated by Laguna Beach residents Janice and John Markley, long-time and fervent supporters of The Wooden Floor who founded the benefit in 2007 as a way to use their love of wine to raise funds for the actively-growing organization.
Under candlelight in Big Canyon's richly-appointed clubhouse, guests sampled small plates of Sottish Quail Egg, Duck Confit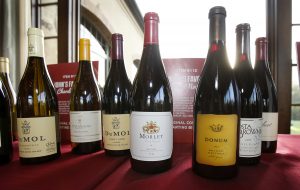 Tartlets, assorted fine cheeses, Mushroom and Black Truffle Risotto, carved Prime Rib, a raw bar, and other global fare created by Executive Chef Nick Wynn and Master Sommelier Steven Poe to compliment the wine selections.
The blind tasting competition, a favorite of attendees, was won by Meghan Hubbard, who guessed 10 out of the 12 covered wines correctly, taking home a selection of the night's featured wines.
The Wooden Floor's successful outcomes and poised students were the main focal point of the celebration. The highlight of the evening came as the organization announced that it would have its largest graduating class ever (36 students), who stood before the crowd of supporters to great applause.
Premier Sponsors of the event were Joan & Don Beall; Sharon & Terry Hartshorn; Ginnie & Rich Hunsaker; and Janice & John Markley. Platinum Sponsors were Yvonne & Damien Jordan, and PIMCO Foundation.
For more information, visit TheWoodenFloor.org.