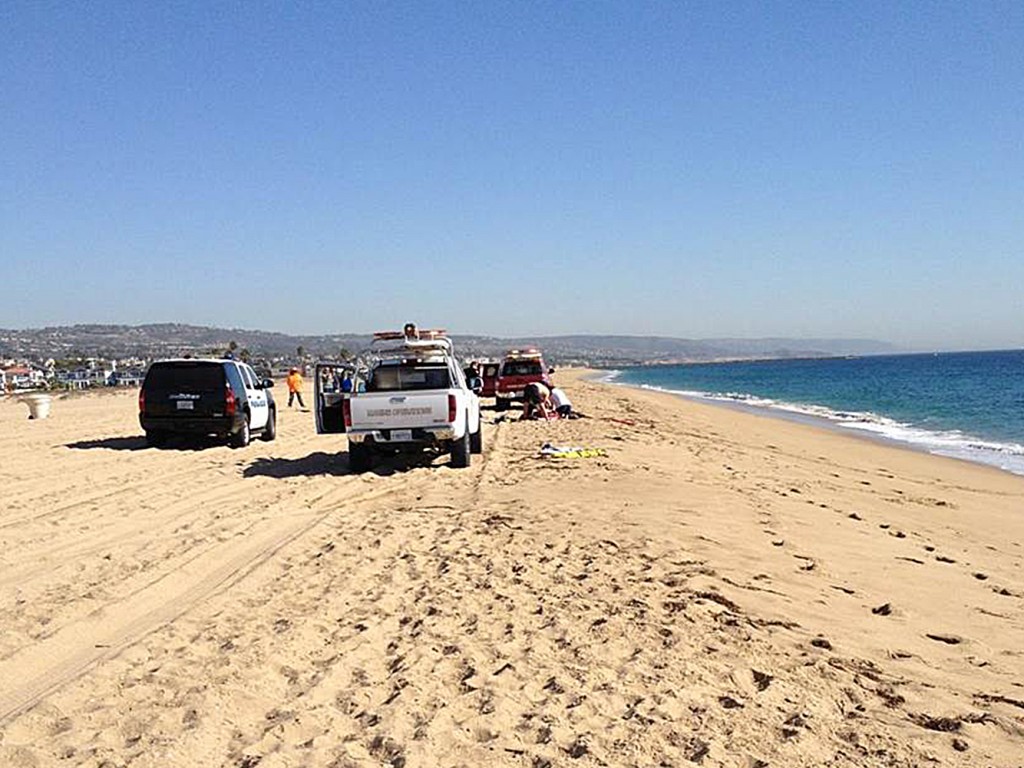 The man who died after he jumped from a helicopter and into the water near the Balboa Pier this week has been identified, authorities said.
Gregory McFadden, 61, of West Covina, died at 1:38 p.m. Tuesday at Hoag Memorial Hospital Presbyterian, according to the Orange County Coroner's Office.
Reports of an adult male falling from a private helicopter came in Tuesday afternoon around 1 p.m., said Newport Beach Police Department spokeswoman Jennifer Manzella.
He was the only passenger on board the Robinson R44 helicopter, according to Federal Aviation  Administration Pacific Region Public Affairs Manager, Ian Gregor.
The aircraft was flying northwest-bound approximately 500 feet above the shoreline when the man "opened the door and jumped out," Gregor explained in an email.
HB1, the Huntington Beach police helicopter that also supports Newport Beach, began the search and located the man near the pier.
Michelle Rousset was visiting her parents at their home on the boardwalk when she heard the helicopter circling overhead.
"I didn't think much of it," she said. "But that rarely happens in the middle of the day in Newport."
HB1 relayed the location of the victim to Newport Beach lifeguards and Orange County Sheriff's Department Harbor Patrol, who rescued the man from the water and began life saving efforts, Manzella explained.
Lifeguards and other personnel started congregating in an area about 500 yards from the pier, Rousset recounted. She and about a dozen other witnesses gathered around as they started CPR. Another witness told Rousset that she had seen the helicopter fly by and a large object fall out, splashing into the water close to the pier.
They took some of his clothes off as they administered life saving efforts and he did not seem to be very responsive, Rousset said.
By the time an ambulance transported the victim off the beach it had been, at most, 25 to 30 minutes since she had first heard the helicopter circling, Rousset estimated.
McFadden was transferred in critical condition to a local hospital, where he later died as a result of the injuries he sustained from the fall, according to a press release from the NBPD.
Several reports, including information from The Associated Press and the Daily Pilot, state that he had booked a coastal tour for two but showed up alone and kept asking the pilot, Corbin Street, to go higher as they flew near the pier.
Street apparently tried to stop McFadden as he opened the door, causing a struggle and ripping McFadden's shirt before he jumped out, according to reports.
McFadden's brother said he had a chronic health condition and was unable to get surgery, The AP reported.
According to FAA registry records, the helicopter is owned by Emerald City Aircraft Leasing Inc., based out of Port Orchard, Wash.
At this time, NBPD is taking the lead on the investigation. It is being investigated as a possible suicide.