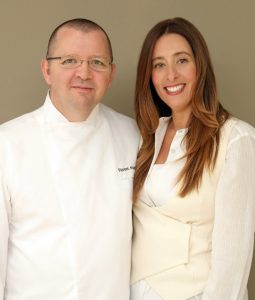 In 2007, Florent Marneau left his longtime position as chef at Pinot Provence in Costa Mesa to open his own restaurant, Marché Moderne, in South Coast Plaza. He brought along his wife, Amelia, a renowned pastry chef, and together they turned Marché Moderne into one of Orange County's most celebrated restaurants.
Earlier this year, Marché Moderne closed its doors, but that's a good thing—the Marneaus have brought France to Newport Coast with the new Marché Moderne that opened last weekend in the former Tamarind of London space in the Crystal Cove Shopping Center.
"We're excited," Florent told us when we caught up with him during a special media preview at Marché Moderne last week. "We closed the other restaurant, looked at what we had done in the past and started to reflect on that. We reimagined the menu, added a bunch of new stuff and a little bit of what people are used to—we're not going to stop doing what we do, we're just going to elevate the whole experience."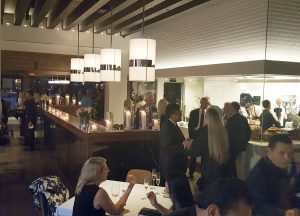 That experience starts with the ambiance and décor. The 4,200-square-foot restaurant has a mixed palette of neutral tones, Provencal-inspired stone walls and a warm walnut wood beamed ceiling. The exhibition style kitchen has white tiling and marble throughout, while the main dining room feature Patrick Jouin-designed leather chairs.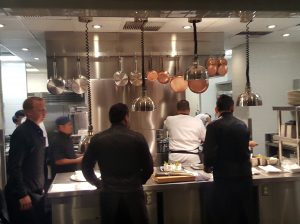 The 11-seat bar features a gray quartzite countertop with Marche's elegant Cruvinet wine dispenser featuring a selection of boutique French and California wines.
As Florent mentioned, the market-inspired menu will offer a mix of old and new, from signature favorites such as Roasted Wild Spanish Octopus with chorizo emulsion to Lamb Couscous Royale with lamb ribeye, lamb merguez, mint emulsion, cumin-braised carrot and parsnip, apricot, dates and lamb-harissa jus.
New dishes include Braised Veal and Crayfish Blanquette with yellow wine, fresh morels and tarragon.
Desserts will also re-visit classics, including a caramelized peach financier cake with salted caramel crème fraiche. New desserts include a ParisBrest—a wheel-shaped choux pastry filled with caramelized almonds and hazelnut mousse, along with a Harry's Berries strawberry tart with lemon verbena gelato.
We have a section on the menu called "Homage," explained Florent. "I worked for Pascal Olhats so I have a dish from him, a dish from Aubergine, and one from Pinot Provence."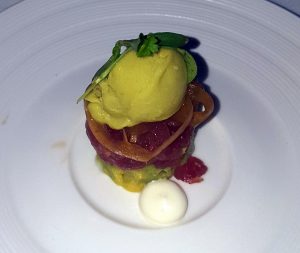 Florent is bringing back a handful of dishes he knows longtime diners will demand—and the demand is indeed there.
"It's been crazy—we kept the phone lines going for the past six months since we closed, and every day we get 100 emails and phone calls wanting to know when we're going to open," said Florent with a laugh. "It's been out of control. It's a good problem to have. People say they miss the food and the flavor, it's so nice to hear that."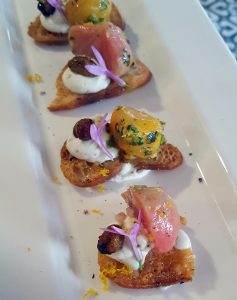 The media tasting offered a terrific reminder of why Marché Moderne is so popular. Although the servings were small tastes, they highlighted Florent's attention to detail in both presentation and flavors, as well as textures.
"I'm extremely excited for this hot spot to finally open its doors," gushed Catherine. "The food we sampled is amazing with bold flavors and interesting combinations. The space is beautifully designed, with windows along the entire front that fold open to let the ocean breeze in. The white stone feature wall and mosaic tiled floor gives it a modern Parisian feel."
"I also love that there are seats at the bar where you can enjoy food or a drink if you are looking for a more casual experience," added Catherine.
"I agree, everything dazzled my palate," said Christopher. "The cheese and charcuterie selections were fabulous, and I particularly loved the tuna tartare with avocado sorbet, which Florent told me he's adding to the menu."
Marché Moderne is open nightly for dinner, and will be adding weekend brunch later this fall. A "dinner spontanee" menu offers a 3-course dinner for $38 on Monday and Tuesday evenings.
For more information, visit MarcheModerne.net.