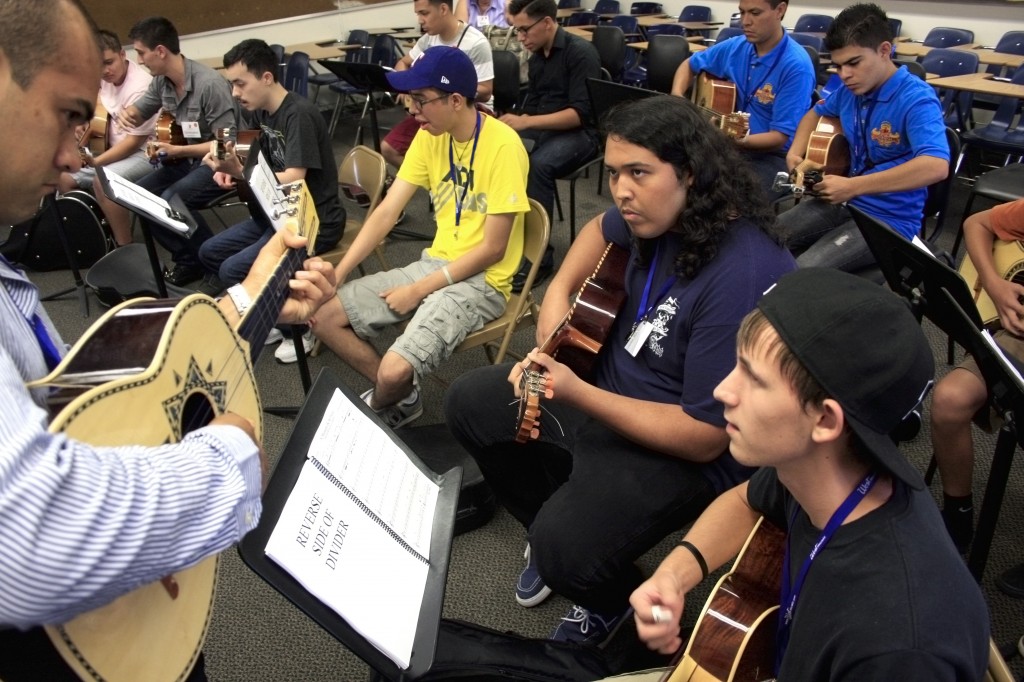 Students from all the southwest states gathered this week to share, learn and bond over their passion for mariachi music.
About 200 kids participated in the second annual Mariachi Nationals and Summer Institute, which kicked off on Wednesday at Orange Coast College in Costa Mesa. The event was sponsored by the Mariachi Heritage Society, founded in 1991 by Jose Hernandez and his wife, Teresa, of Newport Beach.
"I'm very excited," for this year's event, Jose Hernandez said. "We have a lot of new music. Also, for the competition. It's going to be very, very close. And just for the opportunity to be able to share the music of my father and my grandfather. It's an awesome feeling."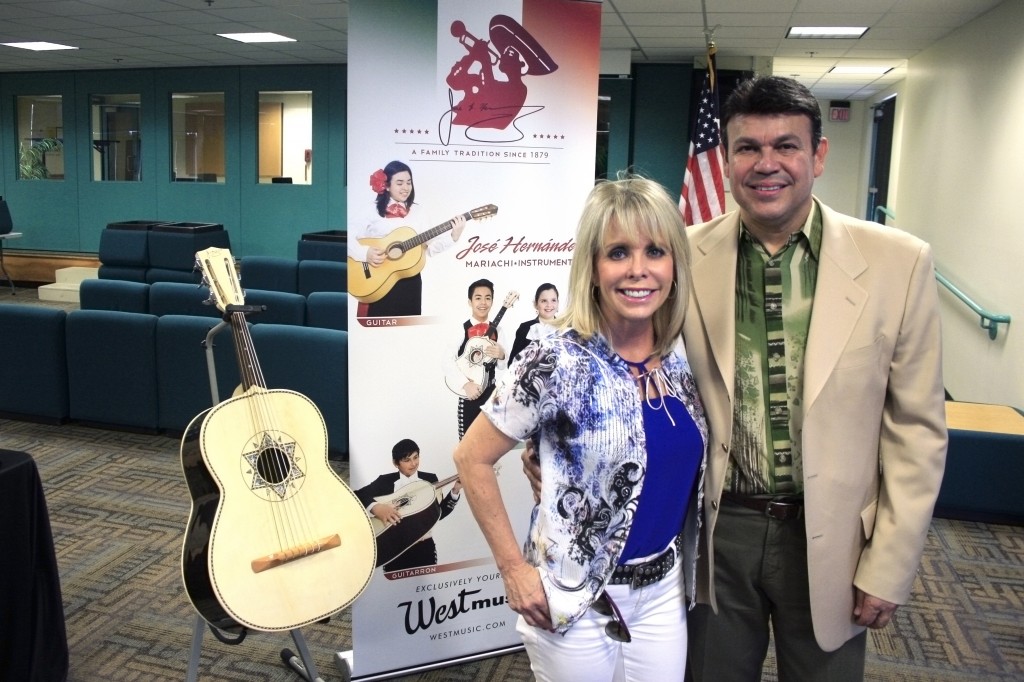 The summer camp includes workshops at OCC, jam sessions and performances, including a concert at the gazebo by the Balboa Pier at 6:30 p.m. on Thursday.
There will be a final show with Hernandez's professional mariachi band, Sol de Mexico, and the top placing student band and vocalist at the Orange County Fair in the Hangar Theater on Sunday. The second and third place groups will also perform at the fair, but on different stages on Saturday.
They received more sponsors this year, allowing them to give out cash prizes to the first place winners. The top placing high school and community groups each get $2,000, and the best vocalist gets $1,000. The winners will also receive a trophy and every child will get a participation plaque.
Some of the sponsors include: Wahoo's, Allan Mansoor, Mimi Walters and Mattel.
The sponsors are important, Teresa Hernandez said, without them the event would not be possible.
It costs about $60,000 to put the entire event on, she said. Cost per kid is about $350, she explained, and they charge $125 for tuition.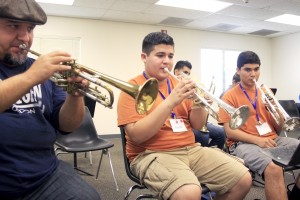 "There are kids that are low-income and can't afford the $125," she continued.
About 30 kids only paid $50, 10 kids that only paid $15, and a few kids that paid nothing.
They try to ask the student to pay something, anything, she explained, because then they seem to appreciate it more and give more value to the experience.
Kids came from near and far to participate.
A few local groups from Anaheim and San Juan Capistrano and one a high school ensemble from Guadalajara, in the state of Jalisco, Mexico, are all participating.
The state of Jalisco is considered the birthplace of mariachi, so this is a meaningful visit, Jose Hernandez said.
"They got special visas, sponsorships for their flight,' he explained. "It was a big effort on behalf of their local community, over there in the state of Jalisco, and also from the Association of Jaliscienses, the people that are from Jalisco that live in Santa Ana… (The kids) are so excited."
"For us, it's such an honor for them to say, 'We could actually go and learn in California, authentic mariachi music.' So it's a big thing for us (as well)," he added.
For all of the kids, this is a unique experience.
For first-timer Alejandro Yanez, 18, a recent graduate from Grand Prairie High School in Texas, it's a great way to meet new friends, learn more about mariachi and have a fun experience.
"They love the whole environment of learning in a fun way like this," Teresa Hernandez agreed.
Yanez has been Hernandez's summer camp at the University of North Texas, and thought this conference would be a lot of fun.
The talented teenager plays the vihuela, guitarra de golpe, piano, electric guitar, and bass.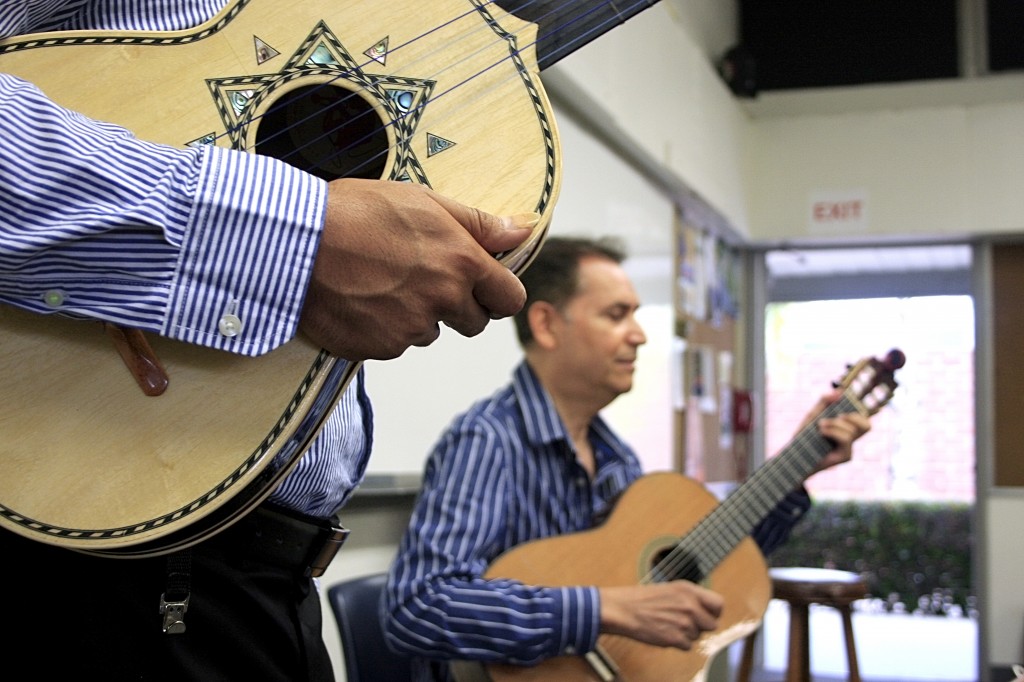 Another vihuela player, Alex Fierro, 16, a junior at Grand Prairie, attended last year and has also participated in the UNT camp.
The former California kid said his mother encouraged him to try out mariachi when he was in sixth grade after they moved to Texas, he explained. He loves performing, he said, and mariachi is a fun way to meet new people and hang out with friends.
"I'm hoping for some tougher arrangements, to challenge me more," and gain more musical knowledge, he said.
Last year he learned how to put in dynamics and make the music sound smoother, as well as how to play better as an ensemble.
He is also hoping the public will attend their performances.
"I encourage people to come out and enjoy the mariachi culture," he said. "Share in the moment with us."
For more information, visit mariachinationals.com.