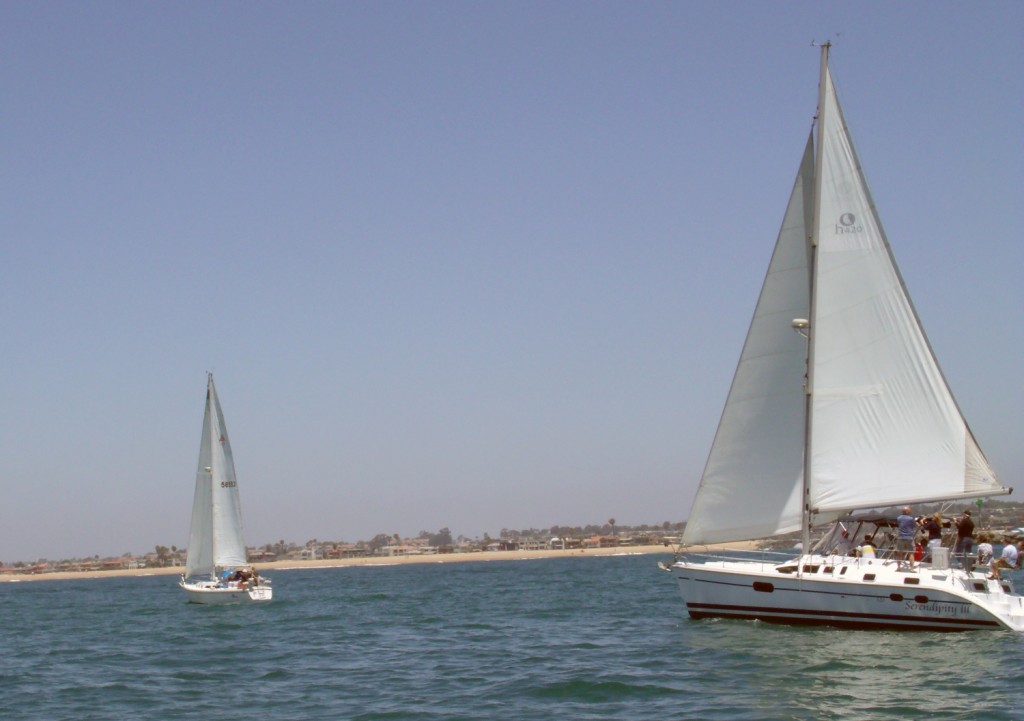 I always find it interesting to talk to visitors who have never boated in our harbor.
A little more than a week ago, I stood in for my friend Captain Rick and piloted a 36-foot Bennetau sloop in a fun off-shore sailboat race from the jetty bell buoy to a bell buoy two miles off the Newport Pier.
Upon arriving at a bay front sailing club, I immediately ran into fellow captain, Marshall Steele. Marshall is one of the few people in Newport Harbor with as much waterfront experience as myself.
Marshall managed two local shipyards for many years and has been, and still is, an active steward of the former Newport Harbor Nautical Museum. Recently there has been a name change and my "senior moment" causes me to not remember the new moniker. [Editor's note: the new name is ExplorOcean.]
When my Mom and Dad, Dick and Betty Steele, Bill and Marcia Bents (in memory of their daughter Bettina), the Grundys, and many others, formed the museum, Marshall was quite helpful.
Back to the race. It included six sloops of various makes and sizes with six to eight guests (business folks from Texas) on each boat.
A slight wind started and improved early in the morning, and the sun was out at dawn and through the day. Our harbor was a shining example of the best of the best!
As is usually the case, the visitors were in awe of the wealth and beauty of our world class harbor. I've included a photo of the beginning of the race with a couple of the sloops ahead of us. The remainder of the time my attention was teaching our guests how to pilot, operate the sail winches, and how to fill the sails to achieve our best speed.
As I had expected, there was only one person aboard who had ever sailed before and that was me! As you can imagine, that was a lot of work, physically as well as mentally.
The wind Gods seemed to favor us and our sense of direction. Most of the other boats seemed to prefer the pier area instead of two miles west.
We weren't the fastest boat as several passed us at the start, but I am happy to report we were the first around the buoy. Yahoo! It can make an old guy feel young again.
A couple of years ago the Schock 30/30 I crewed on was sold in disgust. The prevalent winner in our class removed the engine from his sloop to ensure a winning career. My skipper just couldn't keep his spirits intact under those conditions.
Having raced off and on for more than 50 years, I've really missed the sailing part of boating in Newport.
Sea Ya,
Skipper Steve