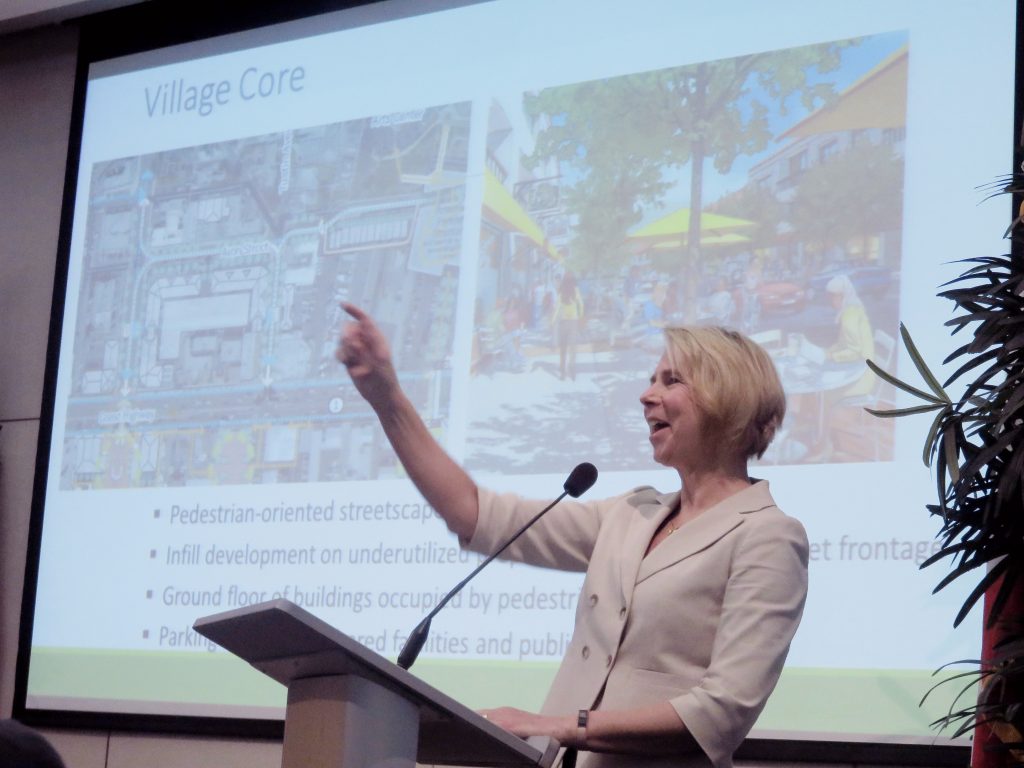 Newport Beach business owners and residents were updated on a few key projects happening in the city this week at an early morning meeting.
About 60 people attended the NB Chamber of Commerce's monthly Wake Up! Newport meeting on Thursday with guest speaker Kim Brandt, the city's community development director.
"I'm very proud of what has gone on in our community development department," Brandt said.
There are currently more than 2,350 active building permits in the city, she said. The majority of which are residential.
All of that, which is currently being "invested into the community" through the building permits is valuated at $765 million, Brandt noted.
She highlighted a few projects/issues that have been prominent recently in the city, including Mariners' Mile Master Plan.  
Staff started on the planning process for the area last year. It is the last of six revitalization projects that the previous city council initiated in 2011.
The stretch of Pacific Coast Highway, just over one mile long, has commercial – namely marine related businesses, public and mixed use areas.
"The general plan, when it was adopted in 2006, had some great ideas for the area," Brandt said. "They recognized, at that time even, that it needed to be enhanced and reach its full potential for both residents and visitors."
The plan aims to be both visitor and resident-serving, functional for use of the harbor and the nearby marine businesses.  
"This master plan is looking at design solutions for some of the areas within Mariners' Mile," Brandt said. "We thought there were some real opportunities to create a change."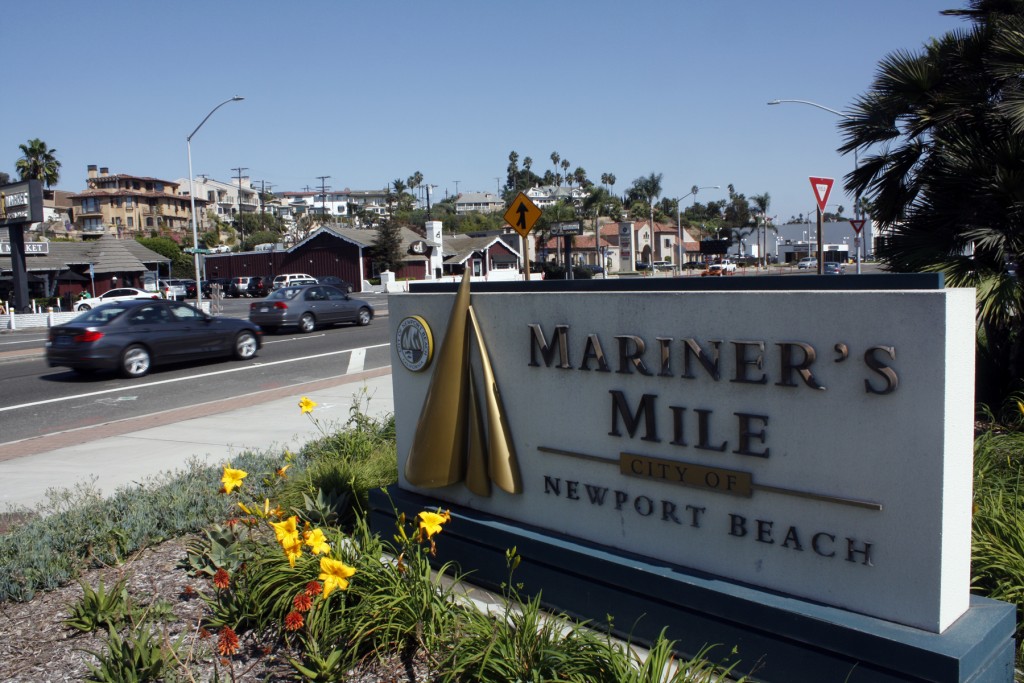 A main part of the plan is creating a "village" setting on the inland side of PCH, focused on Avon Street. The goal is to include pedestrian links to the waterfront, outdoor open space, and connections to the nearby neighborhoods, including Newport Heights. Part of the idea is to build pedestrian overpasses so people can walk from their homes, through the village and right down to the harbor.
"So they never have to cross the highway at the street level," Brandt said.
Pedestrian connections are also an important part of the plan, Brandt noted, and staff wants to emphasize the need for public docks and dining. View corridors are key, she noted, they don't want "solid masses" along PCH.
Continuing the boardwalk is also a big part, Brandt said. A few ideas for the boardwalk, including cantilevered or a second level.
A member of the audience asked whether or not the waterfront boardwalk would have room for bikes as well as pedestrians.
The walkway will likely be between six and eight feet wide, Brandt replied.
"I don't really see it as an active bicycle area," she said.
The walkway is not conducive for biking, Deputy Community Development Director Brenda Wisneski confirmed, but the plan for Coast Highway is to include more for designated bicyclists.
Another resident noted that allowing bicycles to cross over with pedestrians would be a "positive addition" regarding all the kids that would use the walkway to cross.  
Through the planning effort staff has been discussing the "ultimate design configuration" of West Coast Highway, Brandt said, which includes considering widening it to six lanes.
Staff is also looking at parking management strategies.
"Mariners' Mile is no different than anywhere else in the city, it's all about parking, parking, parking," Brandt said.
It may all come together in incremental stages as individual property owners build or improve on their lots, she noted.
Staff released a draft of the master plan on April 11, which is now available on the city's website, and will gather feedback from the public until June or July.
"We are encouraging people to look at the plan and provide us with written comments," Brandt said.
There will be a Planning Commission public hearing in summer as well, and then it goes on to City Council review in August or September.
Brandt also spoke about a new city transportation service coming to the Balboa Peninsula in summer.
"Something fun is coming," Brandt said, and the crowd responded with a "yay" cheer as she pulled out some trolley signage.
It's been a long, long effort to revitalize the Balboa Village and the trolley is part of that, Brandt said.
Council voted 5-2 on April 11 to approve a one-year trial run for the Balboa Peninsula Trolley, a free shuttle that will run for 12 weekends this summer, as well as the fourth of July holiday, starting June 17 and ending Sept. 3.

Shuttle stops will occur every 15 minutes at 10 locations along the Peninsula, ending at Balboa Village. A phone app will be available for riders to locate the shuttle along the route so they can plan their pick-up. Service will be from 7:30 a.m. to 9:30 p.m.
Supporters hope it will help alleviate traffic, free up parking and bring more people to the businesses in the area.
Opponents previously raised concerns that it will add to the parking problems and congest traffic even more, it will compete with the other free shuttle service on the peninsula (Downtowner), the added costs the city takes on are not worth it, and it's a bad investment.  
Brandt was upbeat about the trolley on Thursday, repeating that it will be fun and saying she hopes it will serve residents and visitors around the peninsula. She also noted the new website, peninsulatrolley.com.
This year it will be more of a van with a wrap, but it the trial program is successful staff hopes to get something more open and trolley-like in the future.
"This is a  pilot program," Brandt said. "There will be lessons to be learned."
Brandt also spoke about short-term vacation rentals in the city, which have been around for some time but got a big boost with the rise of internet-based services, like airbnb and VRBO, they were "popping up all over the place."
Last year, staff reviewed the regulations and held several public workshops on the topic.
There has been a problem with illegal rental properties not obtaining the required permits from the city or renting out properties in areas not zoned for that type of use, but the city recently hired Host Compliance to increase the proactive code enforcement, help with staff with the issue and deliver weekly reports on any "questionable" listings.
"It's a constant evolving process," Councilwoman Diane Dixon said Thursday.