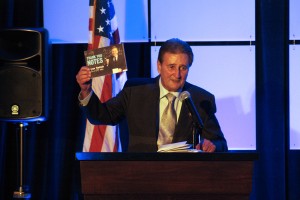 "The state of the city is the best it's ever been in the city's history," Mayor Ed Selich told the audience at last week's Mayor's Dinner, presented by Speak Up Newport at the Newport Beach Marriott Hotel in Fashion Island.
Mayor Selich began his speech by writing thank you notes (a la TV talk show host Jimmy Fallon) that poked fun at the city's Arts Commission for approving the civic center park sculptures, Measure Y, Dave Ellis ("for managing the campaigns of candidates I did not support"), the civic center bunnies, and other topics.
"We do serious work, but not so serious we cannot see the humor in it," said Selich as he launched into a summary of accomplishments he and the city council has achieved over the past eight years.
"I am honored to serve as mayor for the third time. After the 2006 election, we called the city council the Dream Team for their personal dedication and talents. I am proud to have served with those individuals."
Mayor Selich noted that the city has had eight years of budget surpluses, and has a AAA rating, one of only five cities in California with that rating. The city has reduced government employment by 13 percent, increased employee payments to their pensions, and has paid off unfunded pension liabilities sooner than required.
"We have record setting crime reduction, and according to the numbers just released, crime is at the lowest level in the city's history," Selich said to loud applause.
Other accomplished that Mayor Selich listed: construction of OASIS Senior Center, new parks, new library buildings, completion of a $50 million restoration of upper Newport bay, the dredging of lower Newport Harbor for the first time in 80 years, construction of Marina Park (the first coastal marina in California in 23 years), the refurbishment of public docks, beautification projects in Balboa Village and Lido Maria Village, traffic light synchronization, wayfinding program, and much more.
"I am so proud of our new Civic Center," said Selich. "Voters voted to put it there, hundreds of residents created a vision of what it would look like. It has architectural significance, it's a gathering place for our city, the cultural and governance heart of our city. I have seen people waking in the park, jogging, eating lunch, visiting the sculptures, and yes, even playing on the bunnies. Great cities have great places, and great spaces. The campaign is over, it's time to stop the divisive cartoonish characterization of the civic center and the bunnies, and embrace the civic center and park as our cultural and government center."
"We're transitioning to Team Newport, we four new council members who have joined the remnants of the Dream Team, and I say stay the course. We have a draft master plan for arts and culture. Great cities have vibrant arts and culture, and I am looking forward to forging public and private partnerships. We should not close our eyes to new ideas. It was a spirited and lively campaign, but now it's time to get down to the business of running our city. There may be different points of view, but we all have the best interests of our residents at heart. We will come together and make our city an even better place. The old will merge with the new, and 2015 will be an exciting year."
Mayor Selich closed his speech with a quote from Mahatma Gandhi: "Friendship that insists upon agreement on all matters is not worth the name. Friendship to be real must ever sustain the weight of honest differences, however sharp they be."