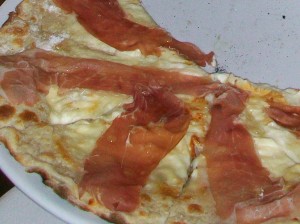 By Christopher Trela and Catherine Del Casale | NB Indy
"Pizza at Barone, and gnocchi at Sliding Door, risotto at Andrea, the burger at ARC, that steak at A Restaurant was better than good, these are a few of our favorite foods."
Yes, we're singing about food, and it's an upbeat tune for Newport Beach restaurants. The economy bounced back, and so did diners. Restaurants seemed more packed than usual, while we had our usual dilemma: so many restaurants, so little time.
Naturally, we had many memorable dining experiences, and dishes, during the past 12 months.
Here's a look back at what made our palates excited in 2013.  
In February, we experienced the Island Hotel's Cocoa Lounge, an annual dessert experience in the private dining room of the Palm Terrace Restaurant. We sampled delicacies such as pastries, tarts, truffles, cakes, mousses, chocolate, made-to-order crepes, homemade ice cream sandwiches, chocolate nachos, and caramel popcorn drizzled with chocolate. It was a decadent, over-the-top experience.
Chris had a memorable lunch with Wahoo's co-founder Wing Lam to discuss the restaurant's 25th anniversary. Over a plate of Wahoo's fish tacos, Lam talked about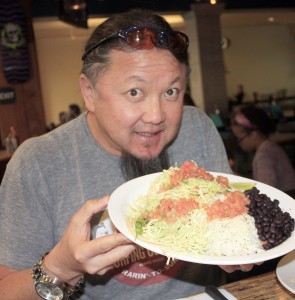 expanding from a single store in Costa Mesa to more than 60 stores in seven states, and one in Japan.
Lam's recipe for success? Simple: "Treat employees well and serve good food."
Good food – make that exceptional food – is the watchword at Pelican Hill Resort. The resorts three restaurants (Andrea, Coliseum Pool & Grill, and Pelican Grill) offer diverse culinary experiences of the highest level. Our favorite is Andrea, an impeccable Italian restaurant whose exquisite cuisine and service rank it among the top restaurants in So Cal.
This year, Andrea introduced a new chef, Luigi Fineo, who is creating seasonal masterpieces. We attended several media tastings at Andrea, and each time were blown away by the creativity and quality of the dishes. One of our favorites is an Andrea classic: risotto prepared in a parmesan wheel. Andrea is indeed dining nirvana.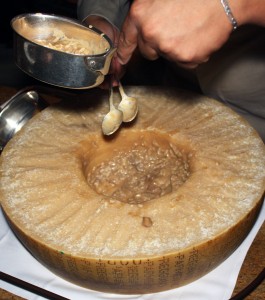 Chef Franco Barone (formerly of Antonello Restaurant) opened his intimate and inviting Il Barone Ristorante nearly three years ago, and the place has been packed ever since. One reason is his signature dish, Facci ri Veccia: baked, paper thin focaccia filled with imported crescenza cheese topped with parma prosciutto and drizzled with white truffle oil. It's thin and crispy yet bursting with flavor–easy to see why the dish is so popular, and why it was one of our favorites of the year.   
Another of our favorites was Brasserie Pascal, our go-to restaurant that never fails to make a good impression on our taste buds. We love so many of the dishes there, but our favorites are the shrimp cassoulet and the short rib. 
And then came ARC, the creation of Newport Beach resident and Chef Noah Blöm. Every dish is prepared on firewood-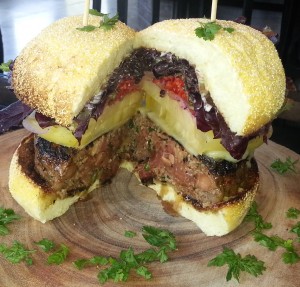 flamed frills or in a brick oven. Chef Noah offers an eclectic take on rustic cuisine unlike anything else we've tried. We sampled a number of excellent dishes, but one really stood out: the hamburger. It's a huge tower of juicy, messy goodness that we're still talking about months later (and yes, we've been back to ARC, located in Costa Mesa's trendy OC Mix,  several times since). Catherine calls ARC "classy yet casual, a great experience that's in a league of its own."
So is A Restaurant, which we dined at three times this year. We tried a number of excellent dishe, all beautifully presented. But the dish that had us both swooning with delight was the New York Block Cut, a 12 ounce steak with the fat cut off, leaving a piece of meat that's juicy on the inside and slightly crispy on the outside. Catherine ordered it cooked medium. It arrived as a baseball-sized steak on the plate with black truffle aioli on the side. We agreed it may have been the best steak we've ever had–perfectly cooked and seasoned, and melt-in-your-mouth tender. We're still talking about it months later. Kudos to Chef Jonathan Blackford!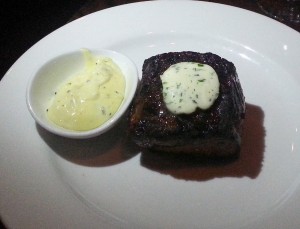 And then there was the bacon-wrapped venison at The Winery. Yes, they're in Tustin, but their Newport location opens in February, and we wanted a preview of things to come. Chef Yvon Goetz, who is still tweaking the Newport menu but promises it will be similar to his current menu, loves to serve exotic meats. His venison was a work of art. Tender, juicy, a mouthful of flavor in every bite. We can't wait for the new restaurant to open.
The Village Inn surprised us with a renewed focus on food. We tried several dishes, and the one Catherine is still talking about is the brie salad. "I'm not normally a salad girl, preferring to stick to meat and potatoes, but this salad was perfect. It had a small puff pastry filled with melted brie alongside a leafy green salad with seasonal fruit including strawberries, pineapple and honey dew, plus caramelized walnuts and an orange citrus vinaigrette drizzled on top."
We never expected to use the words "oatmeal" and "Flemings" in the same sentence, but their Wine Country Brunch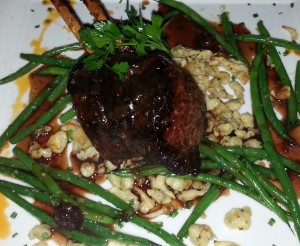 offered an array of creative takes on standard brunch fare, including Steel Cut Irish Oatmeal served with banana brûlée, walnuts, blueberries, brown sugar and warm milk. It was, without a doubt, the best oatmeal we've ever had. We love their dinner menu too (who doesn't), but it's the oatmeal we remember.
Another dish we're still raving about: the pinwheels at Sgt. Pepperoni's Pizza, which reopened in October with new owners, a new chef, and a new menu. The pinwheels are made from pizza dough, and swirled with pepperoni and other fillings. Simple, but a party in your mouth.
Other favorites: tacos at SOL Cocina, cocktails at La Cave, the revamped menu at Tamarind of London, Bluewater Grill's stuffed lobster, Aussie pies at Pie Not, gourmet treats at Sidecar Doughnuts, crepes at Wild Strawberry Café, the gnocchi and short ribs at The Sliding Door, and the holiday mulled wine at Muldoon's.
And if we had to pick our top five restaurant experiences of 2013?
Andrea, A Restaurant, ARC, The Winery, and Il Barone.
And a special nod to The Sliding Door and Sgt. Pepperoni's Pizza, our two favorite new restaurants of the year. 
Here's to a memorable year of dining. We're looking forward to what's in store in 2014.
Cheers!
Contact the writers at [email protected] and [email protected].