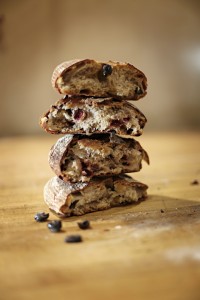 By Christopher Trela & Catherine Del Casale | NB Indy
BREAD
What do The Winery Restaurant, Balboa Bay Resort, The Golden Truffle, Pelican Hill Resort, Great Maple Restaurant, The Montage, and St. Regis Resort have in common?
They all serve their diners bread from BREAD.
BREAD artisan bakery of Santa Ana is a family owned and operated wholesale bakery that bakes bread from scratch and delivers daily to ensure a fresh product.
"It's amazing to see the response—people appreciate good bread," said BREAD owner Jonnie LoFranco.
LoFranco told us that she works closely with the chefs and bakes different bread for each restaurant. She strives to be creative, if not unique.
"The head baker and I spend a couple of hours every day talking about what we like and don't like, and how we want to improve it," she said. "We want to stay fresh. My head baker has been making bread since he was a kid, it's in his blood."
LoFranco said her breads use a fermentation process with no additives that actually helps the body digest the bread better.
BREAD recently began partnering with The Ecology Center in San Juan Capistrano. Each month customers can choose from a variety of signature loaves plus loaves incorporating ingredients from The Ecology Center's current harvest.
Among the many breads that BREAD makes are pistachio, raisin and walnut, multigrain, olive and thyme, ciabatta, and many others. In addition to their ever-growing list of restaurant customers, BREAD sells its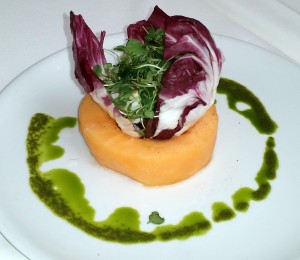 wares at a couple of local farmer's markets.
For more info, visit BreadArtisanBakery.com.
FIG & OLIVE SUMMER MENU
Christopher was at Fig & Olive in Fashion Island recently to sample their new summer menu, and as usual came away impressed with the creativity and quality of the cuisine.
New for summer are three appetizers: a refreshing melone and burrata salad with tomatoes that looks like a work of art on the plate; crab and heirloom tomato salad; and seared sea scallops seasoned with orange spice carrot olive oil tapenade.
New main courses include salmon tartar, red quinoa salad, rosemary lamb Milanese, and white sea bass papillote—a beautiful presentation baked in paper.
Fig & Olive has been popular since it opened late last year, but given its focus on a superb dining experience, it's easy to see why the place is still packing people in for both lunch and dinner, not to mention the lively late night lounge scene.
For details, visit FigAndOlive.com.
PASCAL'S GARDEN FUSION
Pascal Olhats has been having fun with his Café Jardin restaurant at Sherman Library & Gardens, and he's having fun with the library's monthly Garden Fusions dinner series.
Held this month on Thursday, July 31, the "Herbs De Provence" dinner matches Sherman Gardens' herb horticulturist Carol Younger with Chef Pascal for a four course French dining experience that includes a cooking demo by Chef Pascal plus tip on how to grow and use herbs from your garden.
The evening begins with hors d'oeuvres in the sun garden with a tasting of French wines followed by a stroll through the gardens to show how herbs can be used in a landscape display. The main course will be served on the central patio as the sun sets.
The evening ends in the tea garden with dessert.
Tickets are $50 for Sherman Library members, $60 for the public. For more information, call (949) 673-0033 or visit slgardens.org.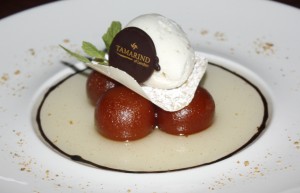 TAMARIND FOR WINE
Like a fine wine, Tamarind of London keeps getting better with age. The high-end Indian food restaurant opened nearly three years ago in Crystal Cove Promenade and has been revamping its menu, and its wine program.
Yes, spicy Indian food can be paired with wine. In fact, Tamarind has been doing regular wine-pairing dinners thanks to wine consultant Jörn "Joey" Kleinhans, a Certified Sommelier, seminar instructor and professional speaker who runs The Wine Elite (WineElite.com).
"Highly flavorful foods are demanding on the palate and necessitate flavorful, rich and bold wines," said Kleinhans. "The best pairing in the world for spicy food is German Riesling. The marriage between location and grape varietal is perfect."
We recently attending a special wine seminar at Tamarind and agree that Riesling is indeed a perfect pairing with Indian food. It went well with everything from Tamarind's signature goat cheese naan to its interesting desserts.
Kleinhans told us that he tasted every dish on Tamarind's menu and found pairings for each dish. Thanks to his efforts, Tamarind now offers a wine flight on weekends that features generous pours of four to five wines, so customers can mix and match, and discover their own perfect pairings.
Visit TamarindOfLondon.com.
CAPITAL GRILLE'S GENEROUS POUR
And speaking of generous pours, The Capital Grille in South Coast Plaza has brought back its popular Generous Pour program.
Now through August 31, guests can enjoy seven different wines for $25 per person with dinner.
The wines have been selected by The Capital Grille's own Master Sommelier, George Miliotes.
"This year's Generous Pour features a range of varietals, from the fruitiness of Carmel Road's "Liberated" Riesling to Freemark Abbey's sweet and spicy Merlot," said Miliotes. "Based on individual preferences, our servers will provide tasting notes and suggest pairings for each course, allowing guests to craft their own personalized wine dinner." Wines include a Willamette Valley Pinot Noir from La Crema, Arrowood "Catchwire" Cabernet from Sonoma, Carmel Road "Liberated" Riesling, Byron Chardonnay, and several others.
For details, visit The CapitalGrille.com.