By Christopher Trela and Catherine Del Casale | NB Indy
David Wilhelm is back!
The man who created Rouge, Chat Noir, French 75, Chimayo, Diva, Kachina and many others has returned to OC with a new restaurant concept that looks to be as popular as anything else he's ever done, and he's done a lot.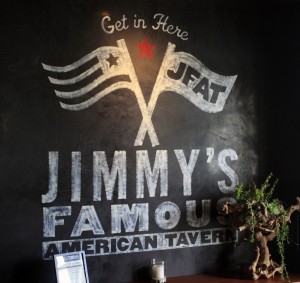 Wilhelm is an icon in the OC restaurant world. Some of the best restaurants created in this area over the past three decades were his concepts, dating back to 1986 when his development of El Torito Grille earned him Chef of the Year honors from the Southern California Restaurant Writers.
His Culinary Adventures empire (launched at the end of the millennium) was based in Newport Beach. His Chimayo restaurant – later renamed Rouge – was a fixture in Fashion Island for many years (Chef Pascal Olhats took over the restaurant several years ago and renamed it Brasserie Pascal, one of our favorite dining spots).
Eventually, Wilhelm pulled out of his business and, after doing some consulting, took his palate to San Diego, where he opened Jimmy's Famous American Tavern in 2010.
The concept was a hit, so last month Wilhelm opened a second Jimmy's location closer to his Laguna Beach home–but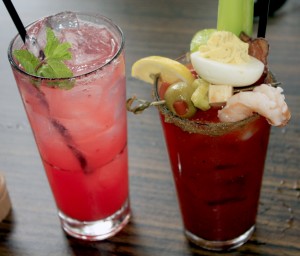 alas, not in Newport.
You'll need to drive down the coast to Dana Point to experience Wilhelm's latest concept, which we did last weekend when we were invited to a media brunch to sample the menu and talk to Wilhelm about his latest adventure.
I was a regular at French 75 and Chat Noir, as well Chimayo/Rouge, but Catherine had never experienced a Wilhelm menu. We were excited to see Jimmy's and taste some new Wilhelm culinary concoctions.
Located a burger's throw from Dana Point Harbor, Jimmy's is spacious and casual–a modern tavern with a large bar/lounge and dining areas.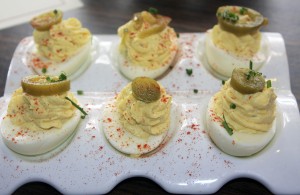 Open for lunch and dinner seven days a week and brunch on the weekends, the extensive menu boasts an array of comfort foods including burgers, sandwiches, flatbreads, steaks, pastas and seafood, all done with a Wilhelm twist.
We began our brunch with two signature cocktails: a raspberry mojito ($(9) for Catherine, and a "Meal Mary" ($15) made with Absolut Peppar with applewood smoked bacon, pimento olive, chilled gulf shrimp, pepperoncini, fontina cheese, and a Jalapeno "bedeviled" egg, for me. The latter was indeed a meal, and very tasty.
Catherine loved the Alsemith ale battered onion rings ($9), which were large with a crisped exterior, perfect for dipping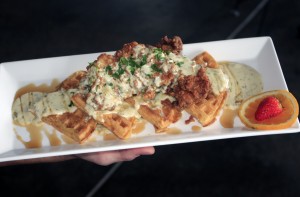 in Jimmy's very own Chipotle Ketchup (more about that in a moment). I hogged the "Bedeviled" eggs (6 for $9), which were traditional yet kicked up two notches.
One of the more interesting and delicious dishes was the malted ale waffle and buttermilk fried chicken with maple syrup and thyme gravy ($16).
"I like playing with the combination of sweet and savory, and the chicken and waffles is a great example of that combination," noted Wilhelm.
We also enjoyed the breakfast flatbread ($14), papparadelle pasta ($17) and the Jimmy slider (a mini version of the $15 burger), but fought over the "Bananageddon" dessert.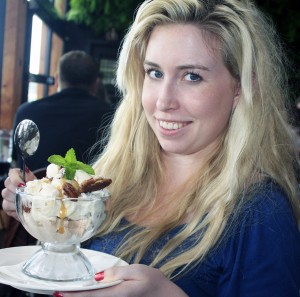 "This is a hit," stated Catherine as she dug her spoon into the mixture of brown butter ice cream, slices of banana, pecan Blondie crumbles and salty caramel sauce. "It reminds me of bananas Foster with a crunch."
Now, about that special ketchup.
According to Wilhelm, he was on safari in Africa when he sampled some ketchup made with cloves and cinnamon. It occurred to him that nobody ever does anything creative with ketchup, so he started playing around with his own ketchup recipe. When he opened his San Diego Jimmy's restaurant, his ketchup was a surprise hit.
"People wanted to buy it and take home," he told us. "I found someone who could handle the production, worked with guys in a lab who broke down the original recipe, had a label designed, and now we're going to be selling it in stores."
Jimmy's Famous American Tavern's Chipotle Ketchup will soon be hitting the shelves in Whole Foods and Gelson's, among others–look for it in the specialty food sections. It's also available for purchase at the Jimmy's restaurants.
With the upbeat ambiance and fun, creative menu, Jimmy's Famous American Tavern looks like another restaurant hit for David Wilhelm.Now, if he can just open one in Newport!
For more information, visit J-FAT.com.