By Christopher Trela and Catherine Del Casale | NB Indy
Father's Day is June 15, so we thought it might be fun to ask a few of our favorite chefs for their culinary memories of Father's Day.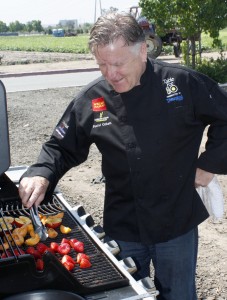 Pascal Olhats / Café Jardin
We've been a fan of Pascal Olhats for many years, thanks to his Tradition by Pascal restaurant and his Brasserie Pascal at Fashion Island. He closed both restaurants to focus on catering and consulting, and on his Café Jardin restaurant at Sherman Library & Gardens.
"I have several culinary memories with my dad," recalled Olhats, who grew up in France. "My Dad had his own specialties, like crab soup, pâtés and barbecue. My dad made great brochettes (skewered) with diced lamb, diced kidney and chicken livers, and grilled herrings. He made his own barbecues. Some were made from metallic barrels, or simple built up with bricks and rocks."
"About 10 years ago, my wife, Chris, and my youngest daughter bought me a barbecue for Father's Day. The beauty was that it came as a kit, and my daughter and I spent almost the entire day building it. That made it a perfect day together. The barbecue still works, and I remember that special day every time I light it up."
For more information, visit pascalnpb.com.
Kevin Cahalan / The Sliding Door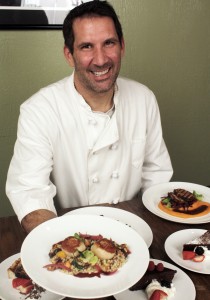 The Sliding Door Café in Balboa Village has become another of our new favorites, thanks to the serious, creative cooking of Chef Kevin Cahalan, who calls his cuisine "things that people want to eat that are made from scratch that taste good."
"Growing up on Long Island, I always looked forward to a summer of outdoor barbeques," recalls Cahalan. "The kickoff for this stretch of backyard meals was the barbeque we had each year on Father's Day. With Father's Day in mid-June, the weather on Long Island during that first barbeque was usually not as hot and muggy as it would get in July and August. However, my memories of summer barbeques with my dad can be triggered by a humid day. Something about the smell and feel of a warm sticky day brings me back to my yard on Long Island. I can hear the buzz of the Cicadas in the trees, picture the fireflies as the sun goes down, and smell the chicken being cooked by my father standing next to the barbeque with the spatula in his hand."
Cahalan's cooking is as colorful as his stories. Visit TheSlidingDoorCafe.com for more info.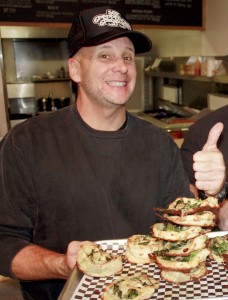 Stan Frazier / Sgt. Pepperoni's Pizza
Stan Frazier, a graduate of Corona del Mar High School who played drums in the band Sugar Ray, traded his drumsticks for spatulas and used his experience cooking for the band to win the BBC America reality TV show, "Chef Race." Frazier and three friends purchased Sgt. Pepperoni's Pizza on Bristol Street last fall, and Frazier has been remaking the menu (we love the pinwheels made from pizza dough).
"Father's Day usually meant big cookouts in our family," said Frazier. "We still do that, but a few years back my wife Jenn surprised me with a full-on fancy, sit-down catered dinner with several courses and wine pairings! I was in heaven—and I didn't have to clean up!"
For more information, visit facebook.com/originalsgtpepperonis.
Deborah Schneider / SOL Mexican Cocina
Chef Deborah Schneider's SOL Mexican Cocina restaurant pays homage to Baja street food, but Schneider told us her stepfather is the one responsible for her culinary career.
"He is a total gourmand in the true sense of the word, with exquisitely refined tastes," she said. "He is completely obsessive about the quality of everything that passes his lips. He grew up dirt poor, learned to forage for wild foods, and sold bread from a dog cart as a child to earn a few cents."
"For his Father's Day feast, I would serve him frog legs (from the river), wild morels and puffballs all fried in loads of country butter, local lamb chops, sweet corn, and homemade vanilla ice cream and Huron County strawberries," recalled Schneider. "Then, we would drink his expensive single malt scotch and play cribbage."
Visit SOLCocina.com.
Chef Cathy Pavlos / Provenance
After the success of her Lucca Restaurant in Irvine, Chef Cathy opened Provenance last month in Eastbluff, serving wine country cuisine.
"My Dad was a simple man," stated Pavlos. "I used to call him an ordinary hero. He was one of those guys who was just as happy with a peanut butter and jelly sandwich as he was with prime beef—which he preferred to eat well done, much to my dismay. He was raised during the depression with the special mindset of that generation that your needs never exceeded your grasp."
"My Dad was a challenge to cook for, not because he was so picky; rather he was too easy. No spice, no marinade, just give him a good piece of meat, some potatoes, very few green vegetables, a salad with iceberg lettuce and Thousand Island dressing, and he was one happy guy. Add a piece of warm apple pie, or rocky road ice cream and chocolate chip cookies, and he thought that he was in heaven. The only thing that would put that meal over the top for him was if Bonanza was on TV that night."
Visit ProvenanceOC.com.