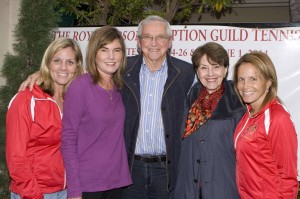 The Adoption Guild of Southern Orange County kicked off the 53rd Annual Roy Emerson Adoption Guild Tennis Classic on Saturday, May 24, with its tournament during the day followed by a kick-off party that evening.
Opening rounds were held at THE Tennis Club and Newport Beach Tennis Club.
Under balmy skies and a beautiful sunset, The Guild welcomed approximately 450 guests, both players and non-players, to the party held poolside at the Newport Beach Tennis Club.
Approximately 20 local restaurants and vendors donated fare for the hungry guests, including Il Fornaio Restaurant, Estrella Damm, 3-Thirty-3 Restaurant, Garduno's, California Pizza Kitchen, La Cave Restaurant, Ho Sum Bistro, Sabatinos Sausage Co., Avila El Ranchito, Blue Water Grill, Rubio's Restaurant, Newport Rib Co., Newport Beach Tennis Club, Trader Joe's, Hi Time Wine Cellars, Starbuck's Coffee, Woodys Diner, and Nothing Bundt Cakes.
Dinner Entertainment was provided by Island Guitarist Freddy Zuma. From 8 p.m. to midnight, it was dancing to the sounds of Steve Donn & The Heart-N-Soul Band.
The Guild extended thanks to party underwriters Tom Carr, Dennis Claus, Stephen & Jennifer Czech, The Eadington Family, Patricia Houston, Marie & Greg Brown, Heather & Larry Arnold, Gerry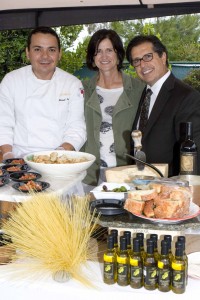 Edick & The Bellamy Family, Rod & Liz Maxson, Geoff & Debbie Sampson, Pam Selber, Bill & Suzanne Wyrick, as well as its major corporate donors, Payden & Rygel, Union Bank of CA, Coca Cola, Hi Time Wine Cellars, William Harold Jewelers, Stephen and Pam Fossler, and Jackie Glass/the Kling Family Foundation.
Chaired by Cathy Eusey, the Tournament Kick Off Party Committee included Mardi Culberson, Jane Flynn, Keri Miller, Stephanie Peleuses, Jeri Nevins, Sue Podany, Kim Mishow, President Laurie Moroch and Marta Alexander.
Spotted among the Guests were Tennis Great Roy and Joy Emerson with daughter Heidi, Marie & Greg Brown, Il Forneo's Chef Marcello and Jennifer Apollonio, Newport Beach Tennis Club Owner Steve Joyce, La Cave Restaurant Owners Mike & Laura Palitz, and Tournament Chairman Kelly Knight.
With the funds raised at the kickoff party, the Adoption Guild has raised over $100K so far this year.
For more than 50 years, the Adoption Guild of Southern Orange County has supported Holy Family Services Adoption & Foster Care Agency. With the hope of giving every child an opportunity to have a loving family, dedicated Adoption Guild volunteers work each year to present two major fund-raising events: the Patroness Tea and Roy Emerson Adoption Guild Tennis Classic in May. All proceeds benefit Holy Family Services.
Since 1961, Adoption Guild has generated over $4.4 million in funding, contributing to approximately 3000 adoptions. Visit adoptionguild.org for more information.