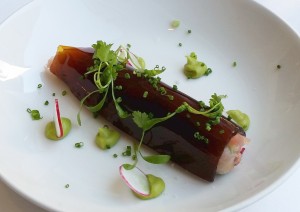 By Christopher Trela & Catherine Del Casale | NB Indy
We love musicals, and have been waiting for the Broadway hit "Jersey Boys" to come to Segerstrom Center.
We also love the theme menus that Leatherby's Café Rouge's Chef Ross Pangilinan creates to match each musical that comes to town.
Last week we dined at Leatherby's prior to watching "Jersey Boys," and once again were thrilled with Chef Pangilinan's clever menu (with dishes named after songs or themes in the show), which offers two choices for appetizers and entrees, plus a dessert, for $45 per person.
Catherine ordered the "Summer" dish of tomato watermelon gazpacho with grilled watermelon, Dungeness crab, cucumber gelee and crème fraiche espuma, while Christopher had the "Can't Take My Eyes Off of You," which was Hamachi with yuzo soy gelee, mango, jalapeno, wasabi avocado mousse, romaine, radish, cucumber and herbs.
"Wow—this is fabulous," stated Christopher after just one bite. "The combination of flavors and textures is pefect. It's savory, sweet and spicy at the same time."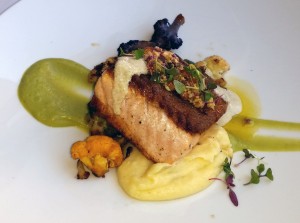 "The gazpacho is really refreshing, a perfect dish for summer," said Catherine.
Next came the entrees. Catherine had the "Sherry" dish of house made fettuccini with sherry braised beef short rib, pea tendrils, English peas, forest mushroom, and pecorino, while Christopher ordered the "Ces Soirees-la" (a popular French version of the Four Seasons song "December, 1963 (Oh, What a Night)" or Scottish salmon, almond potato puree, cauliflower, dates, capers, salmon caviar, marcona almond, and Greek yogurt with cumin.
"The fettuccine is cooked just how it should be–firm but not undercooked," said Catherine. "And the Sherry-braised beef short ribs fell apart when cut with my fork."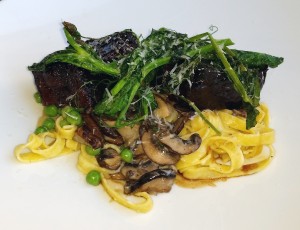 "I really like the salmon – normally I would not eat the skin, but the way Chef Pangilinan designed it, the skin adds texture and flavor to the dish. Everything fits together well on the plate and on the palate."
We plowed through our dessert ("The smaller portions let you enjoy each dessert without feeling like you had too much sweetness at the end of your meal," noted Catherine) before strolling across the place to Segerstrom Center.
We've seen "Jersey Boys" yet quickly got caught up in the story of how four guys from the streets of New Jersey struggled and made their way to the top of the music charts as Frankie Valli and the Four Seasons.
The show is packed with classic Four Seasons songs that are blended into the compelling plot.
By the end of the show, we were on our feet with the rest of the audience applauding and singing along to the encore.
"The actors had great voices—too bad modern singers don't have that kind of vocal range," said Catherine on our way out.
"Yes, they were indeed unique, as is the show," agreed Christopher. "As the song says, oh what a night."
For info on Café Rouge, visit PatinaGroup.com/caferouge.
For tickets to "Jersey Boys," which runs through July 13, visit SCFTA.org.
 Z 'Tejas in South Coast Plaza is renowned for its happy hour in the bar and patio, but the restaurant itself offers a variety of creative southwestern dishes.
The restaurant recently added several summer items to its menu, and of course we said "yes please" when invited to a media dinner to sample them.
No matter what you order, one thing you can always count on is the signature corn bread, which they deem "hospitality in a skillet." It's made the old fashioned way with their own special seasoned flour and corn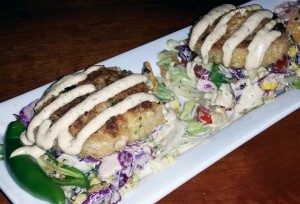 meal plus buttermilk, yogurt and creamed corn.
"I'm not usually a fan of corn bread at restaurants, but this is an exception," said Catherine after devouring a slice of the warm corn bread. "It's moist and not overly filled with corn, and I love the sweet honey butter."
The summer appetizer is a trio of crab cakes ($13.95), while the entrees include habanero chicken pasta ($15.95), blackened tilapia ($14.95) and BBQ pork chops served with grilled asparagus and potato salad ($16.95).
We both loved the crab cakes, which were served with a jalapeno remoulade ("This is a perfect appetizer to share," said Catherine), the habanero chicken pasta, and the tilapia, which had a nice spicy kick to it.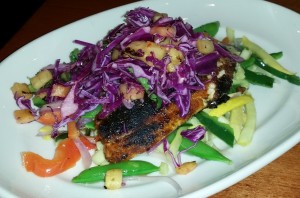 "This Habanero chicken pasta is my favorite summer entrée," said Catherine. "It's sautéed in a light habanero-citrus wine sauce, so if you aren't used to more authentic spicy food, you'll need to keep a water glass handy."
Christopher took a couple of bites of the pork chops, which looked beautiful, but he proclaimed them "a bit rubbery," and ate the asparagus, which he said had a nice smoky flavor to them. He didn't care for the accompanying potato salad, which was served cold, but Catherine reminded him that cold potato salad was a perfect summer side dish.
The portions are generous and the prices are more than reasonable, perfect reasons to give Z Tejas a try—and they're a short walk across the bridge to South Coast Rep and Segerstrom Center, making them a great spot for pre-theater dining.
Visit Ztejas.com.
The Bungalow Restaurant in Corona del Mar has been serving sensational dinners for 17 years, and now they've added sensational lunches Monday through Friday starting at 11:30 a.m. and served on the restaurant's remodeled patio.
"Our regular guests have been asking for lunch at The Bungalow for years," said Jim Walker, co-owner of The Bungalow, in a statement.
The new lunch menu includes classics such as The Bungalow cobb salad, the beef dip, The Bungalow burger, and fish tacos, as well as new items such as grilled lime chicken salad, the salmon lettuce wrap with fresh pan-seared salmon, a Mediterranean chicken salad, and other dishes.
For more information, call (949) 673-6585 or visit thebungalowrestaurant.com.